Rapid delivery firms have so far avoided the gig economy model of Uber and Deliveroo. But as they get bigger, they're rethinking their plans
The rapid grocery players promising deliveries in minutes have so far stood apart from takeaway counterparts like Deliveroo and Uber Eats. And not just because of their extra speed.
The arrival of companies like Getir and Gorillas has given many delivery riders the opportunity of direct employment for the first time – a stark contrast to Deliveroo and Uber's use of gig economy workers (Just Eat being the honourable exception). In contrast, rapid delivery companies offer full or part-time work, hourly wages, free equipment, annual holiday and performance-linked bonuses, not to mention day-to-day perks like free fruit and hot drinks. Getir has in many ways led the field, offering all riders a living wage, pensions, sick pay, paid holidays, and insurance, as well as e-bikes, e-scooters and protective clothing for all seasons. All of Getir's dark stores have a rest room for employees with free refreshments, "so they can shelter from the weather when not delivering groceries".
But the sustainability of this employment model is now in doubt. The sector's huge growth over the past year, as well as more lofty expansion plans in the pipeline, has left rapid delivery companies burning through investor cash and facing some hard truths about their futures. "Some of the companies are losing hundreds on every order they fulfil when discounts, promotions, waived fees, labour, and all other actual costs are accounted for," says sector analyst Brittain Ladd.
Dropping their existing direct employment model in favour of a gig economy style may be one way to fix it. It could not only help counter these mounting cost pressures, but enable rapid delivery firms to recruit more quickly as they look to continue their march towards comprehensive nationwide coverage. It is a lever several rapid firms are increasingly tempted to pull.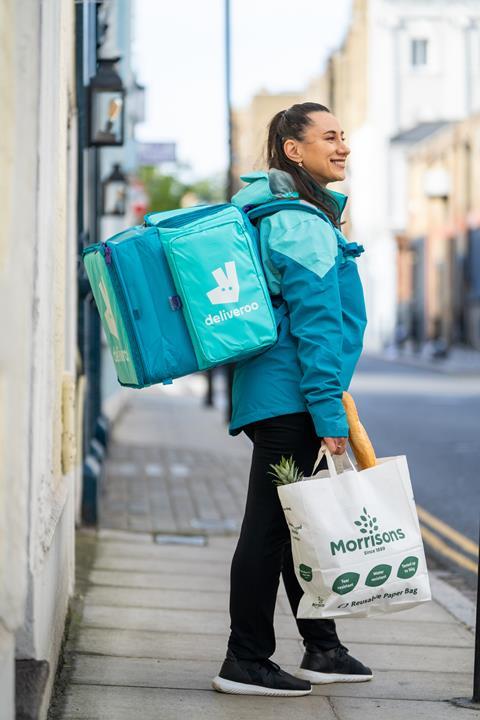 When the rapid grocers first arrived in the UK a little over a year ago, their employment model felt markedly different to the likes of Uber Eats and Deliveroo."It felt refreshing," says Jamie Woodcock, author of The Fight Against Platform Capitalism and The Gig Economy. "My instinct at first was they were seeing how the wind was blowing and they were deciding to get ahead of it."
Riders were offered permanent roles with a solid starting salary and, for now at least, they still are. The reasons given are straight out of the HR textbook. For Gorillas, it's the best way to "foster and grow emerging talent", while Turancan Salur, Getir's Europe region general manager, insists it is "only right and fair" that riders receive a living wage, given they are the "most important part of our business". Maxim Avtukhov, head of international markets for Yango Deli, argues: "It's really hard to work as a courier. They need to be compensated properly."
But for Woodcock, the reasons are slightly more complex than corporate benevolence. He believes rapid delivery firms have seen the ongoing legal cases brought against Deliveroo and Uber in recent years over the status of their workers, and been warned off following their gig economy model. These lawsuits have come at a serious financial cost, with Deliveroo revealing in its IPO prospectus last year that it had set aside more than £112m to cover potential legal costs across five separate countries.
"Riders prize flexibility more highly than those in other sectors"
Deliveroo's prospectus insists that in the UK, its largest market by sales, the "self-employed status of our riders has been confirmed in multiple court rulings". Nonetheless, investors are spooked. Andrew Millington, head of UK equities at Aberdeen Standard Investments, told the Financial Times last March there was a "big question" about whether Deliveroo is a sustainable business, citing employee rights as a key concern. David Cumming, head of UK equities at Aviva Investors, told the BBC a "combination of investment risk and social issues" had left him reluctant to invest. With rapid delivery now the apple of many investors' eyes, Getir, Gorillas and co won't want to turn them off.
Boardroom dilemma
Yet inescapably, their staff bills are mounting. The likes of staff pensions, insurance and annual holidays don't come cheap, while nationwide labour shortages mean salaries continue to mount. According to the latest ONS figures, average weekly earnings for workers are up 3.8% compared with a year ago in the three months to November. "The biggest challenge faced by the rapid grocery delivery companies is covering the costs of their operations and expansion," says Ladd.
It leaves rapid delivery boardrooms facing a dilemma. Do they try and cut staff costs by moving to a gig economy model and risk a worker and media backlash? Or continue with a direct employment model and see their expansion potentially limited due to cashflow?
Just over a year since their "refreshing" arrival on the scene with a new model of employment, many rapid players are increasingly leaning towards the former. Gopuff has already made the move, according to riders. Through its Godrive app, they can secure shifts as well as head to a dark store location and accept orders. Unlike their 'scheduled' counterparts, these on-demand drivers say they receive a per-order commission and tips, but not an hourly rate. "Our aim is to build choice and flexibility into the work opportunities we offer so that people can choose to earn their way," says Alberto Menolascina, Gopuff's UK general manager.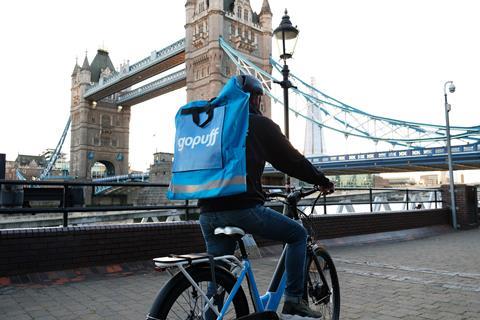 Gorillas admits it may soon follow suit, while Getir refuses to take the option off the table. It's not all about the money, they say. It's necessary to hire on the scale now required – and many riders want the added flexibly anyway.
"There's an opportunity here to see what a more progressive model of the gig economy could look like"
Gorillas' rapid expansion has seen it receive over $1bn in investment and partner with Tesco to deliver supermarket groceries. The growth has caused much buzz, but not without trouble. Gorillas has "found it difficult to recruit enough riders in the UK", says a spokeswoman. She insists there will always be an opportunity for riders to be employed on a permanent basis with flexible zero-hour contracts, yet admits that a "gig economy style of employment" could soon be part of its offer.
"Some riders like the flexibility offered by the gig economy style of employment, so this is something we're keeping in mind to potentially integrate into our current employment model," she adds.
'Offering flexibility' might sound like PR spin for cheaper labour, but there is certainly some truth in the argument that flexibility is now a priority for would-be riders. "Almost every worker I speak to on these platforms wants flexible work," says Woodcock. "It's a massive driver."
Deliveroo Hop
Hourly wage: Hop uses Deliveroo's normal rider pool who are paid by the delivery. Deliveroo claims the typical rider earns between £4 and £5 per order and an average £13 per hour at the "busiest times"
Contracts offered: Gig economy only
Gear provided: Bag and uniform
Other perks: Free hot drinks from select partnering restaurants, staff discounts
What it says about working there: "Work when you want to. Reach your earnings goals. Get round-the-clock support"
Getir
Hourly wage: "Guaranteed living wage." Minimum of £10.85 plus additional bonuses and tips
Contracts offered: Full-time and part-time
Gear provided: E-bike, helmet and bag, smartphone and uniform
Other perks: Road safety training, courier room with kitchen and heating facilities, 20 days' holiday, pension scheme
What it says about working there: "Don't worry — our model is what makes the delivery super-fast, we don't expect you to be super-human"
Gopuff
Hourly wage:£9 to £11 per hour plus tips
Contracts offered: Typically part-time shifts of six to eight hours, with breaks provided. Also offers 'unscheduled' work through its Godrive app, paid per order
Gear provided: E-bikes and e-mopeds, uniform
Other perks: Additional performance-based bonuses, employer pension contribution
What it says about working there: "An exciting opportunity with a competitive hourly rate, benefits, opportunity for progression as we scale rapidly and much more"
Gorillas
Hourly wage:£11.50 plus tips
Contracts offered: Part-time (20 hours per week) and full-time (40 hours per week)
Gear provided: E-bike and "the best rider outfit on the streets"
Other perks: Performance-based bonuses, staff discount
What it says about working there: "Gorillas' rider crew is the backbone of Gorillas' vision". The company has suffered strike action in Germany but says 90% of its riders would recommend it as an employer
Jiffy
Hourly wage:£10 to £11 per hour
Contracts offered: Full-time, 36.5 hours per week. Part-time, minimum of 15 hours per week with the possibility of overtime
Gear provided: Uniform. Own e-bike or moped required
Other perks: Tea and coffee area with fruit and snacks, bad weather bonus scheme
What it says about working there: "You will be the most important point of contact to our customers so it is crucial to have exceptional customer service skills"
Would the gig model make riding for the rapids more dangerous?
A report by Social Market Foundation (SMF) late last year backs this up. It found that "riders prize flexibility more highly than those in other sectors", with 40% of the 7,000 current Deliveroo riders surveyed putting the ability to choose their hours in their top five criteria for choosing work. In the general workforce, it's just 20%. The report also found 91% of Deliveroo riders "do not want to become employees, though most would like to combine self-employment status with more benefits".
"Riders make an informed choice to ride with Deliveroo in preference to other activities, often because they value the flexibility this offers more highly than they prize the characteristics of conventional employment," the report concludes.
It is a view echoed across the sector, even when full-time employment is on offer. Getir riders, for example, have even started asking for more flexible working as an option, says Salur. "We have had some people asking if they can do gig economy. This is the riders themselves asking for it," he explains. "Everyone's requests are different depending on their schedule, their work-life balance. So we could offer that option maybe in the future." Last month, Getir announced plans to create 6,000 new jobs by the end of the year, and Salur insists cost will not be "the principle consideration" when determining how many of these will be 'gig'. "Our business can still make money even when we employ all riders," he says.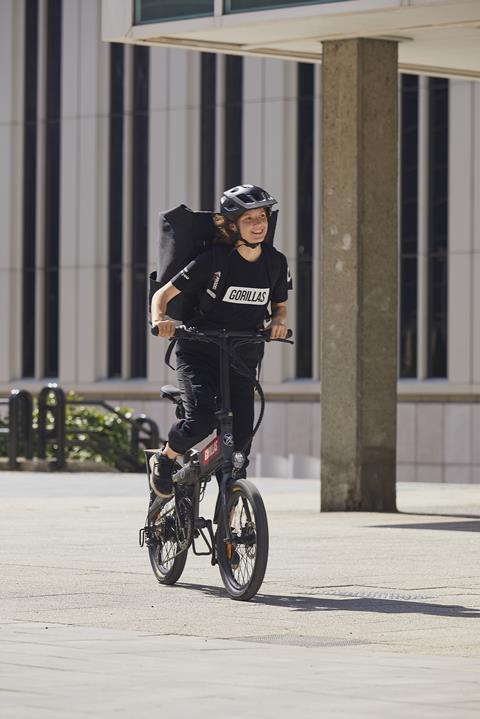 Risky business
A move by Gorillas, Gopuff, or any other rapid delivery player into the world of the gig economy will inevitably come with a degree of risk. The direct employment model has kept the sector's reputation sweet with investors and the press, made it attractive to riders, and helped it maintain a consistent workforce that avoids the costly process of competing for new workers.
Yet the now seemingly inevitable jump must not necessarily be marred by any of the negative connotations now associated with gig economy workers if the right steps are taken, says Woodcock. A happy medium can be reached that provides gig work flexibility with better per-order pay and benefits, he argues.
Pay will undoubtedly be one of the biggest sources of concern for riders. A report last year by the Bureau of Investigative Journalism found a third of UK Deliveroo riders in their sample made less than £8.72 an hour, the national minimum wage for those over 25. "Because gig workers spend a significant amount of time unpaid – waiting for jobs – many of them fall below the minimum wage threshold," says Mark Graham, director of the Fairwork Foundation.
Deliveroo hit back at the Bureau's findings, calling them "unverifiable, misleading claims from a fringe organisation who claim to have spoken with 0.6% of Deliveroo riders" at the time. The company insists its riders earn more than £10 an hour on average for the time they spend assigned to orders and an average of £13 in peak times – roughly in line with the hourly wages of other rapid delivery players.
Yet regardless, as Woodcock says, gig economy work could provide the best of both worlds for employer and employee alike. While riders could get an unprecedented combination of flexibility and benefits, businesses could acquire greater recruitment flexibility at lower cost.
"There's an opportunity here to see what a more progressive model of the gig economy could look like," says Woodcock. Riders are now waiting to see if rapid grocers can deliver it.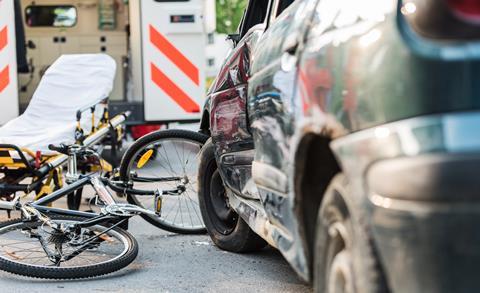 Being a courier can be dangerous work. A 2018 study of gig economy couriers and drivers by UCL concluded the pressures that come with being a self-employed courier may significantly increase the risk of being involved in a collision.
The majority of those surveyed (63%) across several delivery companies were not provided with safety training, and one in 10 reported they had been in a collision while working.
The need for speed at rapid grocers arguably pushes riders harder. But as one rapid courier told The Grocer: "Hourly rates tend to keep you at a safe speed."
That could change with a switch to gig economy working. BikeSafe – a police-led training scheme that's helped thousands of riders significantly improve their skill and safety – says it is keeping a "watching brief on any evidence that suggests there is any conflict in that regard". It hasn't seen any issues yet.
"The strategic aim of a provider to deliver within a certain timeframe is something we are keen to impress upon fleet riders as something that should not interfere with their decision making and road safety considerations and obligations," says Superintendent Kevin Mulligan of BikeSafe.
The training provided to riders is varied. When the rapid grocers first arrived in the UK, courier applicants were put through their paces with time trials as part of the onboarding process.
With a fiercer recruitment drive now underway, it's now a case of "you just go, show your ID and right to work, and they will send you a contract", another rider told The Grocer.
Getir is the only rapid grocery company working with the BikeSafe scheme to provide rider upskilling workshops across their UK hubs. As such, the company says it has been "recognised as the best in class for safety".
"It goes without saying that we are keen for others to come on board and step up to the same level," Mulligan adds.