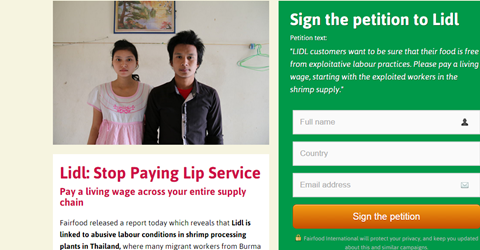 Lidl has insisted it is committed to paying fair wages as a campaign to get the discounter to pay a living wage to workers in its shrimp supply chain is on the verge of reaching 100,000 signatures.
Campaign group Fairfood International launched the petition in April, claiming Lidl was "linked to abusive labour conditions in shrimp processing plants in Thailand", where Burmese migrant workers were being paid unreasonably low wages and forced to work long hours.
Nearly 92,000 consumers have signed up to the campaign to date, and Fairfood is now preparing for a final awareness push across its social media channels to hit its target of 100,000 signatures. This will include UK-specific activity.
"We are running the petition together with SumOfUs and they will give it another push to their supporters in the UK," said Fairfood campaign manager Imke van Schaaijk.
"This petition is very important because it gives consumers the opportunity to express their concerns about the poverty wages in Lidl's supply chains," she added. "The petition shows that almost 100,000 global consumers agree that Lidl should take their responsibility and ensure living wages to global food workers in their supply chains, starting with their tropical shrimp supply chains. We wonder whether Lidl can afford to ignore 100,000 signatures."
Most signatures have come from consumers in the UK, the Netherlands and Germany, according to Fairfood. Once 100,000 signatures have been reached, Fairfood will work out how best to hand over the petition to Lidl.
"We have been in contact with Lidl and plan to further discuss their commitments regarding paying living wages in their supply chains once we hand over the petition," said van Schaaijk.
Lidl said: "Lidl is committed to ensuring that all workers in its supply chain receive fair pay and we are already in direct contact with Fairfood about this important topic."