Nigel Dunlop is to step down as CEO of Moy Park Europe at the end of the year – with FD Janet McCollum taking over from 1 January 2014.
Dunlop, who joined from Gallaher in early 2008, led Moy Park's integration into the Brazilian Marfrig Group - one of the world's biggest protein processors – turning round the loss-making Northern Ireland poultry specialist and helping it achieve record profits, while doubling sales to almost £1.5bn. And with the business "strong, profitable and growing", it was "the right time to step down," said Dunlop, who has "one or two things running" but wanted "to take a little time out".
Earlier this year, Moy Park announced a fivefold increase in 2012 pre-tax profits, to £24.4m on turnover up 1.6%, to £1.09bn.
"It's been fantastic, working at Moy Park. We've empowered our people to make more decisions, and we have invested a lot in innovation"

Nigel Dunlop
And in a sign of its growing confidence in Moy Park, Marfrig passed responsibility for its entire European operations – including its Keystone Europe, Seara and Marfrig business units – to Moy Park Europe, promoting Dunlop to the role of CEO, Moy Park Europe in April.
During Dunlop's tenure, Moy Park also bolstered its poultry operations with the purchase of Northern Ireland's O'Kane Poultry, giving it a foothold in turkey supply.
But the majority of Moy Park's growth has been organic, as Dunlop refocused the business from a protein-based farming-focused operation, to a customer and consumer-oriented food business.
"It's been fantastic, working at Moy Park," said Dunlop. "[When I joined,] Moy Park had just been bought and was going through some challenging times, with the first big commodity hike squeezing the business badly. I was asked to help the business through that phase, and thankfully we got through it and turned it round."
After a root and branch restructure, Dunlop turned a £40m loss in 2008 into a £20m profit in 2009, and £30m in 2010. And while a second commodity squeeze hit profits in 2011, it remained profitable before bouncing back with a fivefold increase in profits in 2012.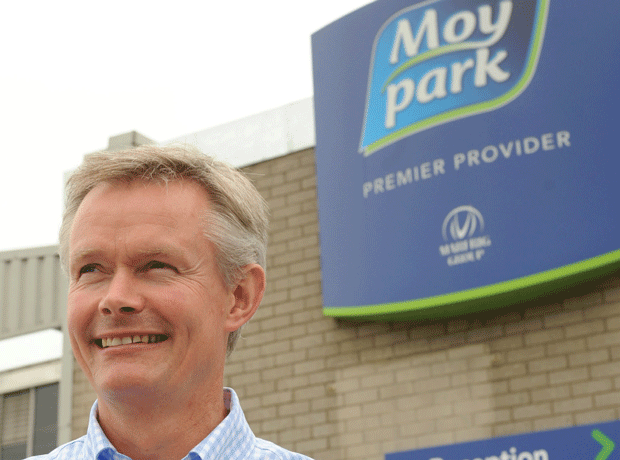 Read this
Savour the samba (and Jamie) says Moy Park
Northern Ireland's biggest food company is, in fact, Brazilian…
"We've empowered our people to make more decisions, and on the customer side, we have invested a lot in innovation, category and consumer marketing and food development.
"The journey we're on has involved working more closely with customers, not just to sell to them, but to help shape and drive their businesses. Without question strong consumer insight has been vital, and recently we introduced a head of insight, who was formally working with Red Bull in California. It's another big step in our journey.
"It's still very competitive, of course, even in the last 18 months, but Moy Park is in good shape, trading positively against 2012, and I'm confident that with Janet in place, the business will go from strength to strength."
Marcos Antonio Molina dos Santos, CEO and chairman of Marfrig Group said: "I would like to express my sincere and warmest thanks to Nigel for his personal contribution to the success of Moy Park and for his support to the wider Marfrig Group during his time with the company.
"I would also like to congratulate Janet on her appointment as CEO of Moy Park and wish her every success in the new role. Between now and the end of the year Nigel will work closely with Janet to ensure a smooth and effective transition for the business," he added.
Moy Park veteran
McCollum, a 20-year Moy Park veteran, will succeed Dunlop on 1 January 2014. Having started her career at Coca Cola and Schweppes Beverages, she is an associate member of the Chartered Institute of Management Accountants and sits on the main board of the Northern Ireland Chamber of Commerce.
"Janet is fantastic," added Dunlop. "She's been my planned successor for some time, and was a big part of the turnaround. As an outsider who came in [from Gallaher], it's quite nice to move on with someone inside the business taking it forward, and she has the full support of Marfrig."
This week, Moy Park also appointed Barney Kay as general manager of its UK broilers division – a newly created role. He was previously NFU regional director for the North East, a role he had held since July 2011.