Blue Planet has put plastic packaging under the spotlight, but there is a lack of consensus from campaigners and producers over what the problem is – let alone how to solve it. So who will lead the sustainability charge? Check-out our list
Concern about packaging goes in waves. But late 2017 marked a sea change in UK attitudes. From the moment the final episode of David Attenborough's Blue Planet II aired - with its brutal sequences of sealife trapped or poisoned by plastic waste - there has been an unprecedented focus in the sector: it's not a war on packaging per se; it's a war on plastic. Among packaging and fmcg suppliers alike there is broad consensus that Blue Planet had a greater impact on national views towards plastic than any other event - ever. It brought together many strands of thinking - around plastic bags, single-use coffee cups, and soft drinks bottles - into one ball of decisiveness. So it's hardly surprising our packaging power list is dominated by those making strides towards tackling plastic in some way.

Arguably the most powerful force in this movement is Defra secretary Michael Gove, whose environmental zeal has resulted in countless pledges since he came into office, while in January prime minister Theresa May announced the government's 25-year plan to eliminate avoidable plastic waste.
Packaging in numbers
£11bn - is the total value of the UK packaging industry
2042 - is the year by which government intends to eliminate avoidable plastic waste
8 million - tonnes of plastic waste are estimated to enter oceans each year
30% - of plastic packaging from consumer products is estimated to be recycled in the UK each year
But it's the industry's response to these forces this list is focused on. In recent months, commitments to develop more eco-friendly packaging have come thick and fast among retailers and suppliers, including Iceland's pioneering commitment in January to axe own-label plastic packaging within five years, and a Waitrose pledge to stop using black plastic trays by the end of 2019. Last month came the decomposable Choose Water bottle from entrepreneur James Longcroft, and The UK Plastics Pact, a Wrap-led initiative backed by almost 60 suppliers, retailers and organisations to slash plastic use in store and across the supply chain.

All laudable moves. But "CEOs of big multinationals have a big challenge" ahead to make good on those commitments, believes Bart Devos, worldwide CEO of metallised paper leader AR Metallizing.

The effort to save the Earth from the plastic scourge isn't as simple as, say, switching from PET drinks bottles to cans, adds Alison Rothnie, senior sustainability manager at Britvic. "Plastic bottles are resealable, cans aren't. Plastic allows consumers to see the contents, cans don't. You have to take functionality into account."

There are myriad competing views on the best approach. For Adrian Griffiths, CEO of Swindon-based Recycling Technologies, the food and drink industry has done "a terrible job of selling the enormous benefits of plastic packaging for food". Switching to other materials risks greater food waste and higher carbon emissions, he warns, while new alternatives to plastic - such as compostable bottles - "can take an enormous time to work through, and some of them can be disasters".

Others insist the industry needs to put an end to the "poisoned chalice" of petrochemical-based plastics once and for all. Dr Ryan Taylor, co-founder and lead scientist at Scottish startup CuanTec, who is working on a scalable method for converting the chitin from shells of shrimp and other crustaceans already in the human food chain into flexible bioplastic, believes plastic's time is up. A lot of microplastics that end up in the sea, particularly PET, leach plasticisers that are "known carcinogens" and disrupt fish DNA. It's not the sort of fish humans ought to be eating, he adds.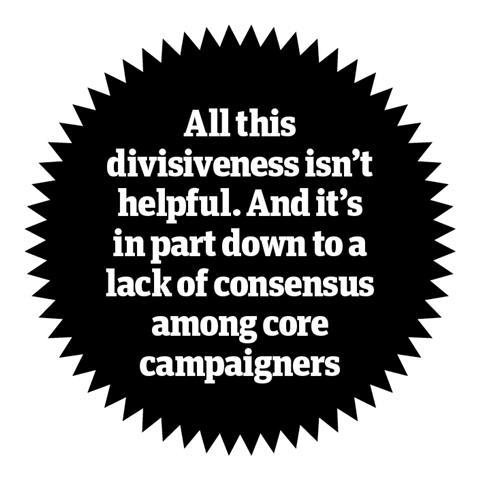 With CuanTec's state-of-the-art innovation "at least a year away from fully scaled-up production", the onus could fall on glass as the most viable alternative in the interim, he believes. But that comes with its own problems as recycling needs "an awful, awful lot of energy." Glass can be easily damaged too, leading to waste and safety issues.

Paper is a similar story. Packs often have wax or plastic coatings, stymying the biodegrading process. Plus, recycling takes "some quite harsh and horrific chemicals". Meanwhile, aluminium might be infinitely recyclable, says Taylor, but it corrodes in the sea, leaching chemicals that have been shown to cause cognitive problems in children.

In other words, the path forward for packaging is about as clear as a plastic carrier bag. That's why the new initiative led by Wrap to bring movers and shakers of the packaging world together is so important - albeit with some notable absentees, including influential retailers Iceland and Co-op (both featured on our list for their important work). It isn't the only collaborative scheme, either. The Cambridge Institute for Sustainability Leadership has sought to unite soft drinks giants to eliminate plastic packaging waste from their supply chains ahead of the government's 2042 target. Participants include Nestlé Waters, Danone Waters, Lucozade Ribena Suntory and Highland Spring - but not Coca-Cola, which teamed up with Tesco for another solution. Meanwhile, the Confederation of Paper Industries is set to kick off its Beyond the Box push to promote the benefits of corrugated cardboard "as a material that comes from both 100% sustainable and renewable sources" and has "unsurpassed recycling rates".

All this divisiveness isn't helpful. And it's in part down to a lack of consensus among core campaigners in this area, such as Greenpeace and the Ellen MacArthur Foundation, according to Sanjay Patel, founding partner of Packaging Collective, a not-for-profit created to unify the packaging industry. "We, as industry, have to stand up for ourselves." Patel would like to create a "London Tube map" of the numerous connections between suppliers, campaigners and governmental bodies. "It's that kind of line of sight that's missing, so there are lots of parallel initiatives going on." And the impact as a result has been marginal so far, he believes.

Of course, while all this vital work goes on, the £11bn industry struggles still to convince food and drink manufacturers of its importance. "Packaging has always been treated as the poor relation," says Howard Wright, senior creative and strategy director at design agency Equator. Suppliers spend effort, time and money on making food exciting, innovative and trendy "but it feels as if five minutes before they're finished, they go 'oh, and we need to put it in a box'". That's a mistake. A pack is "there at point of purchase. The consumer invites it into their home and life, and interacts with it." Packaging starts the "whole emotional engagement between product and consumer". A pack must protect and preserve, but it must also be seen as a 3D object with "every face important". Careful and clever design can even lend itself directly to sustainability by allowing the product "to sing out," he adds, requiring only simple, pared-back packaging.

Vast, complex and under siege, every element of the packaging supply chain must play a part in working towards the sustainable sector the public now so urgently demands. And we believe the 10 people that follow will be more instrumental than most in achieving that vision.
Here is our pick of the 10 most influential operators in packaging right now…
---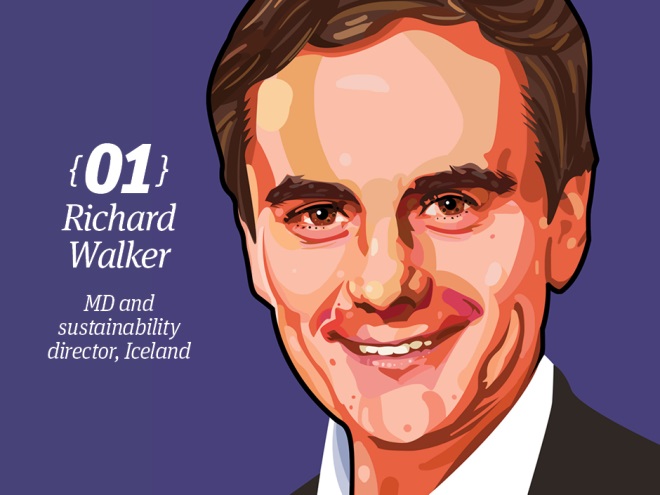 Michael Gove is a given in terms of influence over policy. And David Attenborough has pricked the public's consciousness via his graphic portrayal of the scourge of plastic packaging pollution. But this list is focused on protagonists who are influencing change from within, and Iceland's newly appointed sustainability director is certainly doing that, masterminding the industry's boldest and most pioneering move to tackle the problem.

On 16 January 2018, Iceland's MD vowed the frozen food specialist would become the world's first major retailer to eliminate plastic packaging from all own-label products within five years. His timing - whether by accident, design, or both - was immaculate, closely following Blue Planet II's heart-wrenching finale and the government's unveiling of its 25-year environmental plan.

Kicking off with the launch of two ready meal ranges in paper pulp packs, Walker has set out to prove the UK supermarket sector has the potential to go plastic-free, and recognise that the world has "woken up to the scourge of plastics". The onus, Walker insists, is on retailers to take a stand and deliver change. "Other supermarkets, and the retail industry as a whole, should follow suit and offer similar commitments during 2018," said Walker, directly challenging rivals. And they did. Sainsbury's began using cartons from sustainable packaging firm RAP, the Co-op announced it would pour own label water into recycled plastic bottles, and Selfridges launched the world's first edible water bottle.

Inspiring praise, jealousy and criticism in some quarters, the Iceland boss has pledged not to pass on extra costs to consumers and has backed himself to increase sales as a result of his ambitious sustainability position - and it's not limited to reducing packaging either: last month, Walker threw down another gauntlet to the industry, pledging to remove all palm oil from Iceland own label food by the end of 2018, to tackle "devastating" rainforest destruction in southeast Asia.

Walker has also shunned the recent Wrap pact (involving almost 60 industry giants), claiming it doesn't go far enough, fast enough. That's what you call setting the agenda.


---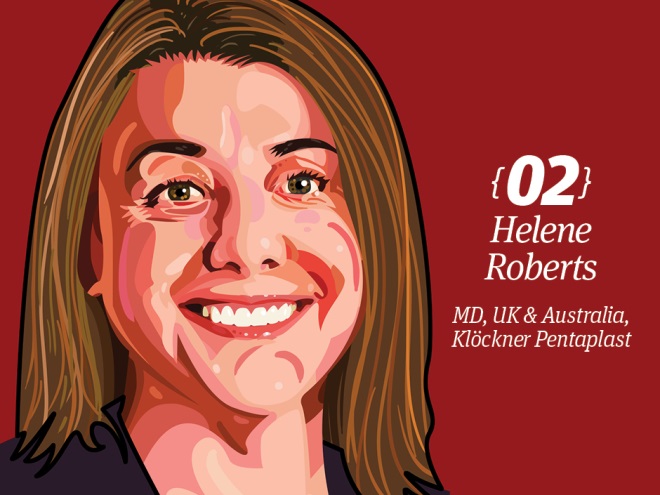 Roberts' CV puts her in a sweet spot where major strands of the packaging industry coalesce. Her experience straddles science, retail and supply of plastic, film and cardboard.

Currently, she is Klöckner Pentaplast's MD for UK & Australia (which in spite of the geographical distance have common packaging needs). The company became a $2bn powerhouse in the rigid and flexible film market last year when it acquired Linpac, where Roberts was marketing & innovation director.

She's now the head of a UK top-three plastic packaging supplier, and sustainable development is top of her agenda. Klöckner Pentaplast is the country's largest buyer of recycled PET, a material in which Roberts is exceedingly au fait thanks to a PhD in polymer engineering.

Before that she spent 14 eventful years at M&S, where she held the title of head of packaging and spent time overseas, transforming the food-to-go segment by dropping plastic in favour of more eco-friendly - and classier-looking - cardboard skillets. She was also pivotal in moving M&S meat into vacuum-packed skins to reduce waste - a format that his since been widely copied. Post M&S roles include senior stints at Sealed Air Food Care, Graphic Packaging International - Europe, and cardboard supplier Benson Group before the move to Linpac.
---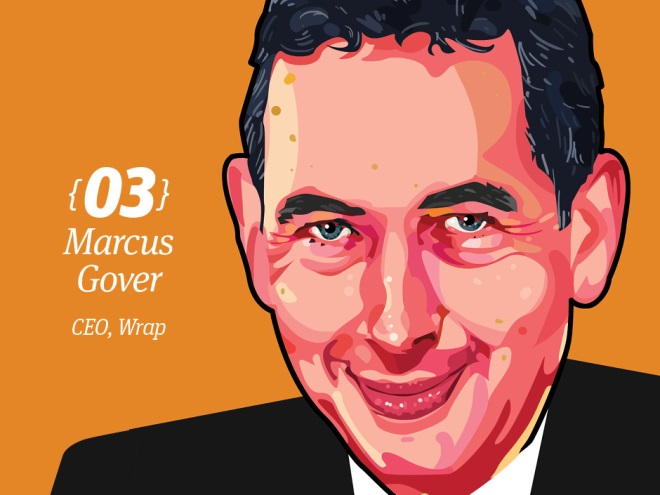 Best known in recent years for its work to unify industry efforts on food waste, Wrap last month appeared to return to its packaging roots, with Gover responding to the changing mood music by setting up The UK Plastics Pact, a collaborative initiative bringing together 60-plus brands, retailers, suppliers, NGOs and government bodies in a bid to collectively eliminate single-use plastic by 2025. Only weeks old, the initiative has already attracted a great deal of scrutiny, with idealists rooting for its success while cynics forecast its failure.

But whichever side you sit, it's hard to deny the scale of the pact's ambition, with its plan to draw together hugely disparate businesses and strands of thought.

It's a bold move for a guy who - aside for one nerve-jangling encounter with John Humphrys on Radio 4's Today programme - has shown unshakeable calmness in leading Wrap since taking on the top job in 2016. A conscientious sort who doesn't covet the limelight, Gover has the tools for success too, with a head for big numbers, a degree in chemical engineering and a PhD in combustion.

His wealth of experience includes a 25-year stint in the environment sector too, in areas including engines, alternative fuels, clean coal tech, emissions monitoring, water, waste management and renewable energy.

And before joining Wrap in 2007, he was commercial director of Biojoule too, a startup that developed tech to produce fuels and electricity from under-utilised biomass resources and agricultural wastes.
---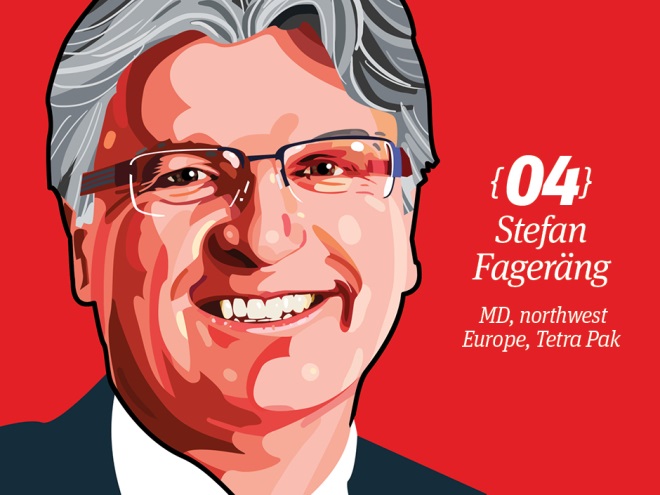 "When I compare the penetration we have in the UK to other markets, it's very low," Tetra Pak's MD for northwest Europe told The Grocer in a frank interview a couple of years ago. "Our portfolio is not well-known enough. So we have to get out there and show them what we've got."

Yet ask the average British shopper to name a food & drink packager, and the first (and possibly only) player they'll mention is global conglomerate Tetra Pak. Its functional cartons have been ubiquitous in grocery since the 1950s. The Swedish company might not be the biggest or most exciting, but it's the most distinctive, and self-promoting. And after losing out in recent years to see-through plastic in many recent applications (such as soup and milk), its fortunes have been buoyed in the UK by Tetra Pak usage in on-the-go breakfasts and coconut water.

Now, in spite of being notoriously hard to recycle here in the UK, suppliers are turning to Tetra Pak in their droves for alternatives to PET. Radnor Hills and One Drinks have both taken the carton route this year, while the soft drinks industry is eyeing up the Tetra Top carton bottle with its 80% plant-based material. In February, London's Museum of Brands recognised the Tetra Rex Bio-based carton, manufactured from bio-plastic, as Forest Stewardship Council-certified paperboard.

Tetra Pak has made a new commitment to address the recyclability issue too, pledging in January to ensure solutions are in place across Europe by 2030 so its beverage cartons can be fully recycled - in support of the EC's Plastics Strategy, announced as part of the EU Action Plan for a Circular Economy.
---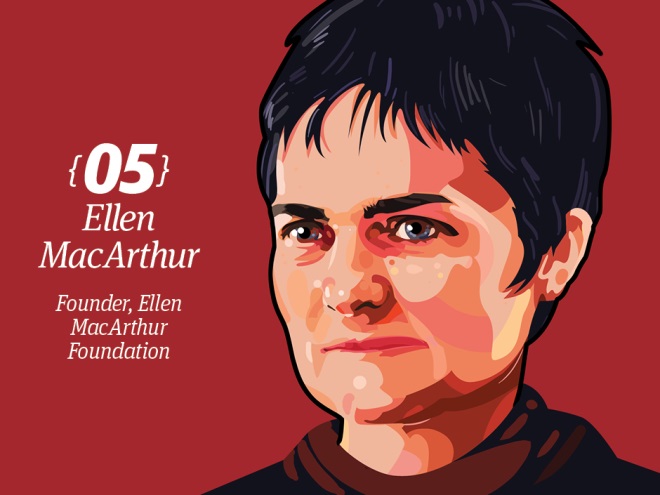 The former sailor's campaigning organisation was pivotal in the launch of the UK Plastics Pact last month, adding a level of weight to the initiative far beyond its years.

Only launched in 2009, the Ellen MacArthur Foundation has grown in influence at a rate of knots. Within its first two years it was presenting an analysis on the circular economy to the World Economic Forum and is already widely respected by the packaging industry, viewed by many as having greater credence than some longer-standing environmental campaign groups such as Friends of the Earth, with admirers citing the foundation's adherence to science over dogma in striving for a circular economy.

That level of respect was illustrated in 2016 when its prediction that, at the current rate of dumping, the oceans by 2050 will contain more plastics than fish by weight, was widely accepted as a fact.

The dedication MacArthur and her charity have shown to campaigning has attracted some seriously impressive partners too - Unilever, Danone, Google and Nike among them. And there have been results: with the foundation's input, Danone has been able to commit to 100% recycled plastic bottles by 2025 for its Evian brand, which will see the mineral water brand adopt a 'circular' approach to plastic usage. The United Nations Environment Programme has taken note of MacArthur, too. In January, the world's leading environment authority signed up her foundation to a partnership to "scale up and accelerate" the shift towards a circular economy on the global stage.
---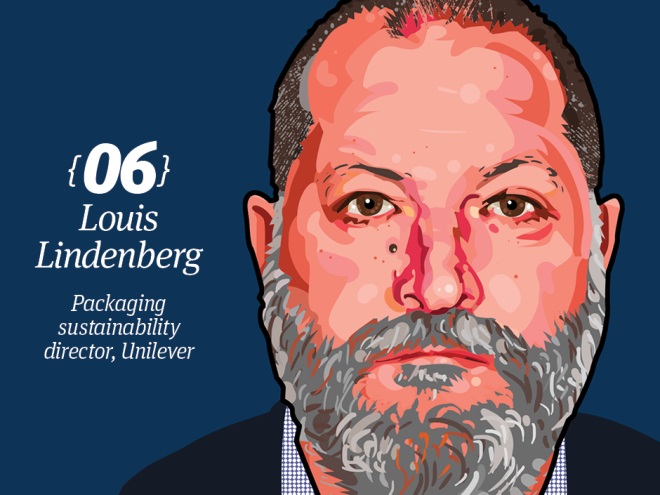 At Unilever, thinking about packaging from day one is part of the culture, say industry insiders, and the eco-friendly part of its mission has been consistent and more convincing than rivals.
Driving this in-built sustainability behind packs is the active and well-regarded Lindenberg, who took his London-based, though globally influential, role in 2011, having already spent 12 years in packaging at the Marmite owner.

With a very wide brief, he and a small team serve as 'internal consultants' to help drive the company's Sustainable Living Plan, taking a lead in educating consumers about their responsibilities to Mother Earth.

In January, the supplier announced plans to ensure all its plastic packaging is fully reusable, recyclable or compostable by 2025, as a key priority in achieving the UN Sustainable Development Goals 12 (sustainable consumption & production) shifting away from a 'take-make-dispose' model of consumption to one that is fully circular.
---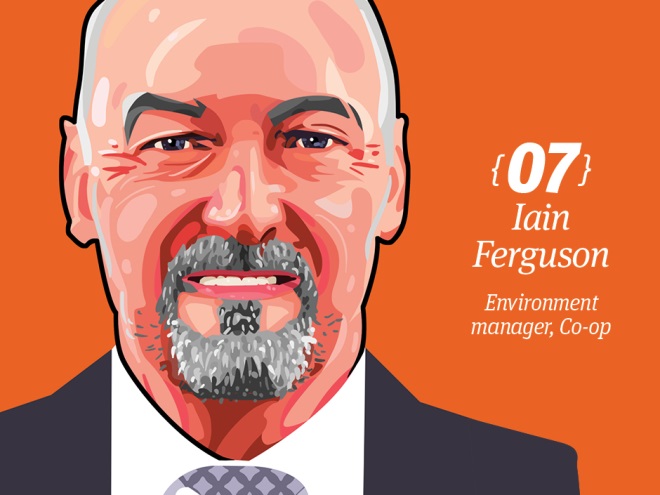 While the Co-op's announcement that it would switch own-label water to recycled plastic bottles came on the heels of both the government's plastic commitment and Iceland's high-profile call to arms against the plastic scourge, it would be vastly unfair on environment manager Ferguson to consider him a follower.

In the role for the past 11 years, Ferguson is a thought leader, a mover and a shaker, say his peers. An example of his smart thinking came 12 months ago, when the retailer announced it would reduce its landfill waste by introducing recyclable packaging for its pizzas, replacing polystyrene discs with cardboard ones across its 17 own-brand pizzas and preventing 200 tonnes of polystyrene boards going to landfill.

Ferguson is also unafraid to risk ruffling feathers. Earlier this year, he proposed the UK adopt the French system of taxing supermarkets more for using material not easily recyclable, while taxing less for using sustainable and recyclable packaging.
---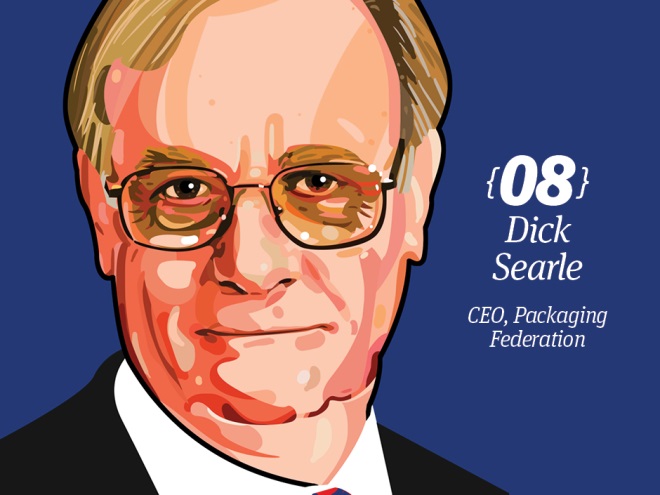 Quite possibly the best-connected man in UK packaging, Searle has spent more than 50 years in the industry. Now 73 years old, he has been CEO of a number of packaging groups, including Britton, and his career has touched on most of the material sectors of the industry.

He's held his position as the head of The Packaging Federation since November 2006, doggedly and outspokenly fighting the sector's corner with a combination of diplomacy, straight talk, enthusiasm and media savvy.

The only non-food & drink rep on the FDF's Brexit roundtable, Searle was appointed as one of 30 "industry champions" for the government's 2012 Make It In Great Britain campaign.
---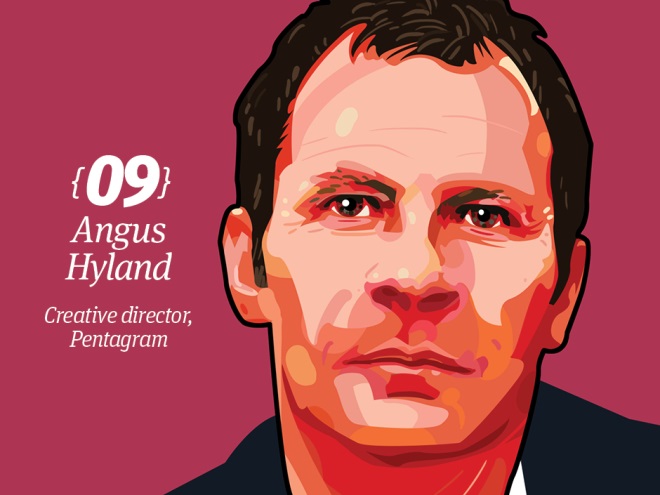 From bold sandwich boxes at Eat to the brightly coloured charm snacks bags for Nuts.com and Van Leeuwen ice cream's tubs, Pentagram's work has class and allure.

The world's largest independent design agency is 45 years old but still has a sense of craft. And there's no risk of sameness: each job is unique and unpretentious.

In his 20 years as a Pentagram partner, Hyland has been the recipient of more than 100 awards for design. His work is not limited to packaging: he developed the new Berry Bros & Rudd identity, and the 2013 rebrand of London food retail chain Square Pie, as well as undertaking a vast array of projects for clients outside food and drink: from global financial services group Grant Thornton to National Museums Liverpool. He has also written eight books about his craft.
---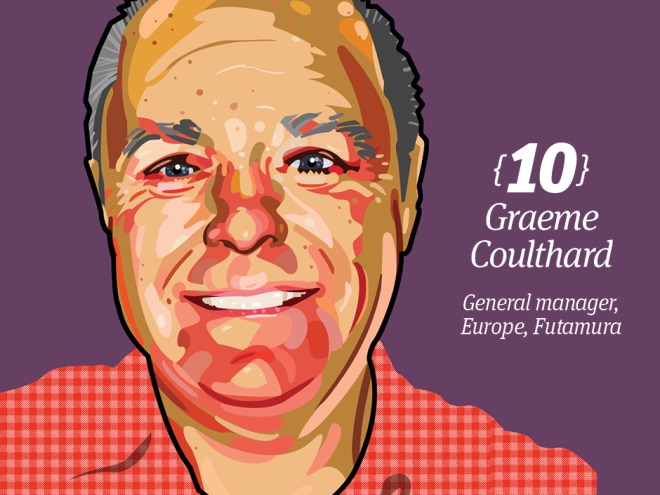 Futamura acquired Innovia Films' cellulose business in July 2016, and the privately owned business, founded 71 years ago in Japan, now dominates the UK's cellulose supply sector, even owning the rights to the Cellophane name.

Based at a manufacturing site in Wigton, Cumbria, Coulthard, a veteran of the plastic films sector and an Innovia alumnus, oversees the European arm of a company said to be making great moves in the area of renewable and compostable non-plastic packaging films.

Its NatureFlex is a range of adaptable bio-films based on wood pulp from managed plantations. It can be home-composted, biodegrades in water, and is certified to the European norm for industrially compostable packaging (EN13432).

Iceland says Futamura, which recently reported a huge uplift in NatureFlex sales to suppliers and retailers, is of particular interest to the frozen specialist due to the bio-degradable range of materials it offers.