Ethnic diversity is improving across fmcg boards – thanks in no small part to this inspirational lineup of black leaders in grocery, many of whom are determined to help others follow suit
Black talent is gaining recognition in fmcg. Thanks to a series of accomplished individuals paving the way – as chairs, founders and senior executives – the grocery industry is becoming a more inclusive place to work. And plenty more talent is coming through the ranks.
Ethnic diversity at leadership level has significantly increased in retailing, for example. The British Retail Consortium's 2023 D&I report found the number of retailers with all-white boards fell from 81% in 2021 to 36% in 2022. In 2021, 68% of retailers had all-white executive committees. That figure fell to 34% in 2022.
The numbers are encouraging, though grocer leadership still doesn't accurately reflect the wider UK population. What's more, momentum in getting people of colour into leadership roles is slowing significantly, the BRC notes. "Almost all D&I strategies include ethnic diversity as an area of focus. However, data is not complete, and too few companies are focusing on specific populations, such as black leaders," it says.
Ultimately, there is no substitute for seeing people who look like you in positions of power in the industry. To achieve this aim, Marks & Spencer partnered with non-profit 10,000 Black Interns to offer paid internships to students, graduates and school-leavers who may not previously have considered the grocery and retail industry as a viable career choice. Graduates of the programme may well become industry leaders in years to come.
Today, many of the leaders in the list are determined to expedite that process – setting up networking groups and collectives to amplify their voices and make waves in fmcg.
These are the 10 most influential black leaders in fmcg for 2023.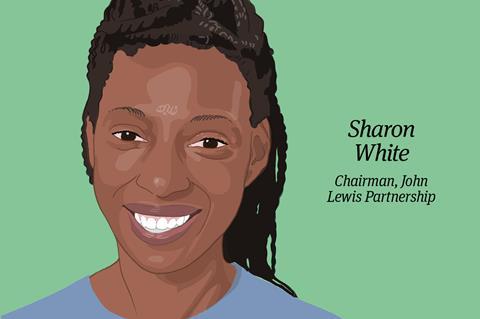 Sharon White
Chairman, John Lewis Partnership
After three-and-a-half years running one of the UK's most iconic retailers, Dame Sharon White announced earlier this month that she would stand down as executive chairman of the John Lewis Partnership at the end of her five-year term in 2025.
Her tenure will certainly be remembered as a tumultuous period, starting as the pandemic gripped the country and frontline retail was thrust into the spotlight, followed by a global supply chain crisis, before high inflation and the cost of living crisis hit JLP "like a hurricane", in White's own words.
These challenges only added to the pressure on White – a previously high-flying career civil servant – after the hospital pass she had received in inheriting a troubled, anachronistic business with a new and unworkable restructure, in which the management of Waitrose and John Lewis were combined.
White has proved fearless in her willingness to tackle some of JLP's most deep-seated problems, closing loss-making stores, cutting head office costs, reducing debt, ending the Never Knowingly Undersold pledge. She also sought out a way for the partnership to make money outside its core retail focus through a move into property development.
While White admits the turnaround will be slower to achieve than she had hoped, she has broken the glass ceiling not only for women in business but for black business leaders, and topped the 2023 Power List of the most influential black people in the UK today – ahead of Stormzy, Marcus Rashford, Sir Lenny Henry and many other celebrities.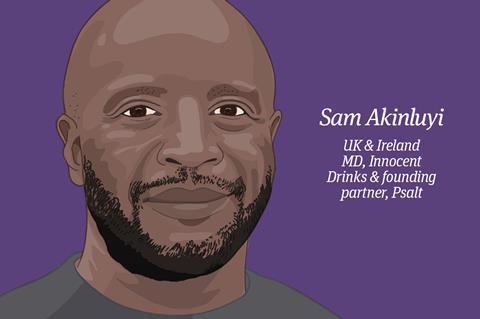 Sam Akinluyi
UK & Ireland MD, Innocent Drinks & founding partner, Psalt
In a 20-year career in grocery, Sam Akinluyi worked at Nestlé, General Mills and Mars before joining Innocent Drinks in 2021 as MD. He's conscious of his trailblazing role. Writing in The Grocer about the under-representation of black individuals in senior positions in fmcg, he recalled how as a 33-year-old grocery channel sales director at Mars, he knew of no black leader more senior in the industry.
In an effort to change that landscape, Akinluyi has taken on several roles with non-profits in recent years, aiming to share his wealth of experience with leaders and aspiring talent. That's included chairing the board of trustees for youth charity Future Skills for the last 11 years and acting as an advisor to Young Foodies since 2018.
But the main engine is Akinluyi's own project Psalt, a brand accelerator that works specifically to help up-and-coming talent from under-represented demographics to launch their career, provide organisational development support, and accelerate brand success for entrepreneurs at black-owned brands (although Add Psalt is not currently taking on any new brands).
Psalt's mission is driven by helping people achieve success whatever their background or talent, but it does so by promoting the value of taking an ethical approach. He maintains that role alongside his day job at Innocent, which shares the same commitment to people and planet.
Christarose Maphosa
Buying manager, Tesco
When Christarose Maphosa started heading up Tesco's £160m fresh division, she was one of its youngest-ever buying managers. It's a position she took on after her first experience in the industry, as a food technologist for Sainsbury's.
Since joining Tesco three years ago, Maphosa has thrown herself into the role in every sense.
She has become equality, diversity and inclusion lead for the fresh category, which comprises some 200 colleagues.
She has also taken it upon herself to spot new, diverse-owned brands and bring them to the attention of Tesco. But "because Tesco is so big, it's not always set up to support small suppliers", she says.
It got her thinking, and in July 2023, she had the idea for Onyo: a London pop-up shop filled with items from some 20 or so brands she wanted to highlight. She booked the space for one weekend in November that same evening. Leveraging Maphosa's expertise in building ranges, the project will enable brand owners to meet buyers from across the retail landscape. The event is already oversubscribed – about 60 brands got in touch – so Maphosa has plans for another in the new year.
"Onyo was born out of the frustration of not seeing diverse-owned brands on shelf," says Maphosa. She plans to amplify different founders on fitting seasons and occasions throughout the year. For example, highlighting female founders on International Women's Day to boost their value and maximise the opportunity for them.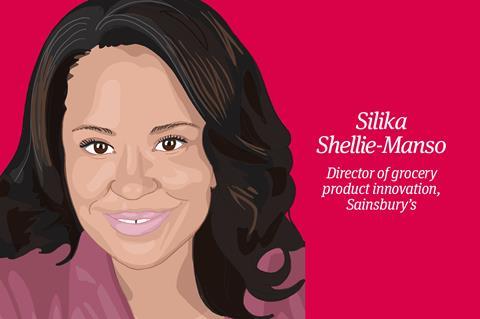 Silika Shellie-Manso
Director of grocery product innovation, Sainsbury's
Silika Shellie-Manso came to Sainsbury's after a series of high-profile jobs at Nestlé Waters, Mars and Disney. She has since become the driving force behind the £1m incubator programme Thrive with Sainsbury's, which is run in collaboration with Foundervine and Mission Ventures.
The free 16-week scheme was set up to support entrepreneurial black-led food and drink startups by equipping businesses with the funding, industry knowhow and networks to launch their products successfully into one of the country's biggest retailers.
As a previous head of future brands, Shellie-Manso was perfect for the role, with a track record of bringing new and innovative brands to supermarket shelves. And the retailer pledged to help nine applicants with a grant of £20,000 in addition to individual and group support sessions aimed at propelling them towards success with a listing.
In total, the scheme had some 450 applicants. It goes some way to dismissing the notion that black founders and entrepreneurs are simply not out there, she says.
At the of time of launch, Sainsbury's committed to three of the brands hitting shelves in 2023, with additional funding of up to £105,000 available for each successful brand. By the end of 2023, Shellie-Manso expects to see five brands on shelf, with hopes for another two in the new year.
She says the issues facing black founders are three-fold.
"Half a percent of investment in the UK goes to black founders, so most of the founders in the black founder community are using their own personal savings to invest in their business while working full time. Every single founder on our program had a full time job."
Issues two and three are a lack of network and social capital, as well as inexperience in navigating the fmcg industry. That's where the 250 hours of masterclasses the Thrive scheme runs comes in.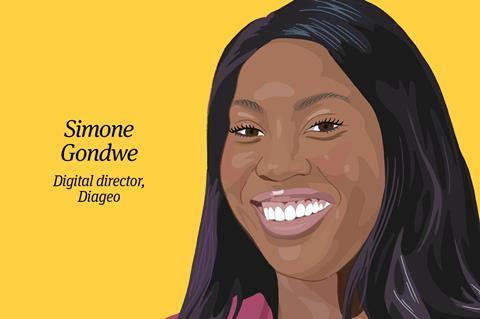 Simone Gondwe
Digital director, Diageo
Looking at Simone Gondwe's CV, it's clear she's no stranger to putting in long hours. As well working as digital director at Diageo, she put together the Black FMCG Collective to bring together black people working in the industry. She also founded a consultancy agency, Simfluence, to help young women starting out on their creative journey.
"There are currently no black CEOs in the FTSE 100," she says. "So the Black FMCG Collective started because I felt I was alone a lot in the industry. I really struggled to see people who looked like me."
The group started out on WhatsApp in 2020, in the wake of the cultural awakening prompted by George Floyd's murder. The group soon spilled into the physical world, with its 180 members meeting to exchange ideas. The make-up of the group is not just black fmcg professionals, but allies aiming to recruit and retain more black talent. "We are now the largest professional network within fmcg representing the black community."
It's those same aims that attracted her to Diageo, she adds. In her previous roles at McCormick, she was the youngest director and the only black, female director in Europe. But she was excited by the drinks supplier's ambition to fill its leadership roles with 50% women and 45% from ethnically diverse backgrounds by 2030. In June 2023, 36% of its board and 43% of its leadership population was ethnically diverse.
Earlier this month Diageo hosted over 100 professionals across the industry for the Black FMCG x Diageo Spirit of Resilience event. "It warmed my heart to see how much momentum is gathering," says Gondwe.
Wilfred Emmanuel-Jones
Founder, The Black Farmer
When Wilfred Emmanuel-Jones says he is 'The' Black Farmer, it's not hyperbole. His face and personal story is front and centre of his brand, celebrating the intersection of British and Caribbean culture from his perspective as one of the Windrush generation.
In retail, The Black Farmer offers fresh sausages to the mults. It also has a special partnership with M&S, which has seen the pair launch co-branded products from jerk sauce to food to go, intended to give M&S shoppers a taste of the Caribbean. Meal kits are also sold via Ocado, as well as on a DTC site that offers a selection of groceries akin to a farm shop, and he's even opening a physical farm shop in Brixton next month.
His influence doesn't end there, however. Emmanuel-Jones is a big supporter of startups, running an incubator scheme called The Hatchery. Success stories include meatball brand Smorgasbord and Gym Kitchen, with support also for Emmanuel-Jones' daughter and neighbour brands in Devon.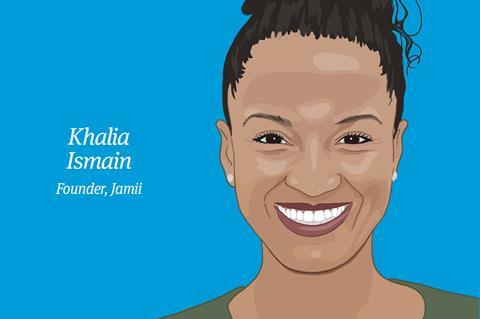 Khalia Ismain
Founder, Jamii
Jamii has been called the black Amazon. A marketplace for a variety of wares, all the brands have one thing in common: a black creator. From food and drink to flowers and birthday cards, jewellery, cosmetics and homewares, it really does have everything.
Khalia Ismain launched the venture alongside University of Manchester classmate Terory Briscoe-Larebo in the wake of the first Black Lives Matter movement in 2016 to champion independent black British brands.
Now it's a family affair, with items hand-picked by the team to showcase on the website. Though online, Jamii has occasionally hosted physical pop-up shops in London, and also runs workshops for brands to help expand their knowledge of marketing and retail initiatives.
Ismain is also a programme manager for black entrepreneurs at Lloyds Bank, which supports the Black In Business initiative alongside Channel 4. Jamii provides £15,000 worth of support to shortlisted candidates that don't receive the full package.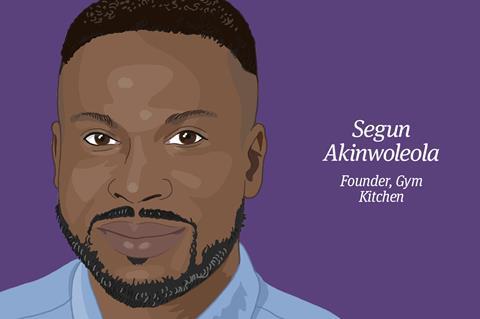 Segun Akinwoleola
Founder, Gym Kitchen
Segun Akinwoleola turned a passion for the gym and macro counting into one of the country's most recognisable healthier, protein-rich food brands. From lentil pouches to chilled ready meals and yoghurts, the brand has a lot of products on a lot of shelves.
Prior to launching Gym Kitchen in retail in 2020, Akinwoleola held a series of positions within other fmcg businesses, from Tesco to Revlon and The Black Farmer.
In fact, Akinwoleola's brand is an alumnus of The Black Farmer's incubator scheme The Hatchery. But he's now rivalling his former employer for brand recognition as a face of the industry and an active voice for black-owned businesses, including participating in Tesco's Black History Month festivals and networking events. And Gym Kitchen recently received a Channel 4's Black In Business grant, which awards £100,000 worth of Channel 4 airtime to brands for their ads.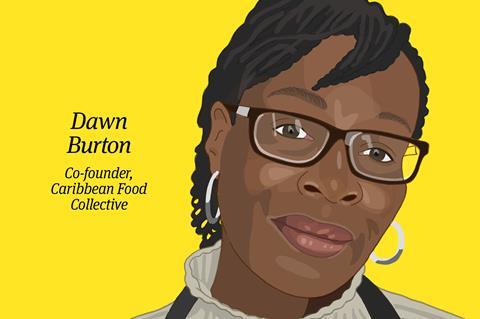 Dawn Burton
Co-founder, Caribbean Food Collective
Dawn Burton and Marsha Barnett have had a busy few years. From running their own separate catering businesses, they found there wasn't a lot of support for business owners like themselves.
Months of head-scratching led to them setting up the Caribbean Food Collective, which facilitates networking and discussions between business owners specialising in Caribbean products – be it fmcg, foodservice, takeaways, imports and exports or DTC. The Collective promotes its member brands on social media and joined the British Takeaway Campaign, in which representatives from different cuisines meet to discuss the macro trends affecting their businesses.
Burton and Barnett soon started thinking bigger. Seeing a rise in demand for Caribbean takeaways, they decided to set up the UK Caribbean Food Awards, which launches this month and features categories for sustainability, shops, bakery and drinks.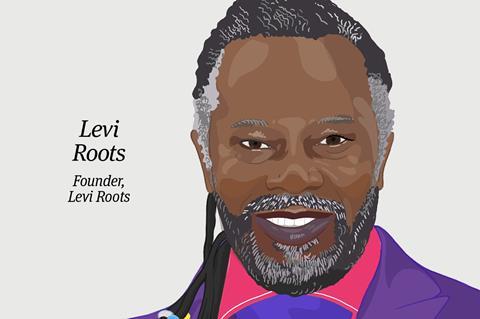 Levi Roots
Founder, Levi Roots
The Levi Roots empire has grown well beyond the Reggae Reggae Sauce that burst onto the scene on Dragons' Den in 2007.
Having sung his way to investment and a listing in Sainsbury's, Roots quickly broadened his range. Currently, it includes more sauces, drinks and a meal kit tie-up with Muscle Food. In the past, there have been plenty more SKUs, including ready meals, Jamaican patties and ice cream.
In addition to his brand, Roots has appeared on TV with his own cooking show and has a plethora of cookbooks. He makes regular trips to Jamaica, where he was born, to invest in its economy. Roots has been a pioneer in bringing Caribbean cuisine to the mass market and, 16 years after finding fame, he has admitted that he's nearing retirement – even if appetite for his brand shows no sign of slowing down.