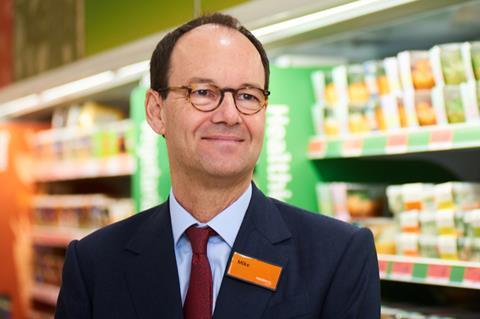 Top story
Sainsbury's (SBRY) CEO Mike Coupe has announced his intention to retire in May, when he will be replaced by current retail & operations director Simon Roberts.
Coupe will leave the post after six years at the helm and 15 years working for Sainsbury's.
He will remain a director from 1 June until the AGM on 2 July 2020, at which point he will retire from the company.
Roberts has been selected as his replacement after a search process led by chairman Martin Scicluna, assisted by external headhunters, which included both internal and external candidates.
Roberts will assume the role of CEO from 1 June 2020.
Scicluna commented: "Mike is an exceptional chief executive. His knowledge and understanding of the retail sector and customer behaviour is second to none. Mike has been bold and ambitious on behalf of our shareholders, customers and our colleagues. Investing heavily in convenience, online and our digital capability, selling Sainsbury's pharmacy business and acquiring Argos and Nectar have all been sound strategic moves. These set us up well as we come together to create one multi-brand, multi-channel business for our customers.
"Mike has spent more than 15 years working for Sainsbury's and he has added enormous value to the business, to our colleagues and to our shareholders over that time. The board and I are very grateful to him for his service and we look forward to continuing to work together until the AGM. I know that Mike will continue to be dedicated and passionate about the business throughout this time.
"I am delighted to be able to confirm Simon Roberts as Mike's successor. Simon has been extremely effective during his three years at Sainsbury's, leading our store teams through great change in that time. Simon is a dedicated, determined and enthusiastic champion of the customer and of our colleagues and has overseen sustained improvements in our competitiveness during his time so far. I would like to congratulate Simon on his appointment; I and the board are looking forward to working closely with him over the coming years."
Coupe added: "I feel very privileged to have spent almost six years running Sainsbury's, in a period that has been the most challenging and competitive of my 35-year career in retail. Sainsbury's is a very different business today to the one I took over in 2014. I have focused on setting the business up to deal with the strategic challenges of our industry.
"I am proud that almost 20% of our total sales now come from our online channels and that we are becoming one multi-brand, multi-channel business, able to continue to evolve and adapt with customers' ever-changing needs. Adding Argos and Nectar to the business improves our ability to make shopping increasingly convenient for customers and to reward them for their loyalty. We have also been focused on investing in value so that customers feel confident they are getting quality food at great prices when they shop with us.
"This has been a very difficult decision for me personally. There is never a good time to move on, but as we and the industry continue to evolve, I believe now is the right time for me to hand over to my successor. Martin and I both believe the business is well set up, with a strong management team and a clear plan for the future. I am delighted that Simon will be the next chief executive and am confident that he is the right choice for our customers, our colleagues and our investors. I will do everything I can to set Simon up for success and will remain committed to Sainsbury's well beyond my departure."
Roberts said: "Sainsbury's is a tremendous business, with over 27 million customers a week and market-leading brands across food, general merchandise, clothing and financial services. Sainsbury's is led by a highly experienced and committed management team and I am really excited about working together with our 178,000 colleagues to become one multi-brand, multi-channel business. As we come together, I am feeling hugely energised by what we can do for our customers and our colleagues. I firmly believe in our ability to create value for our shareholders as we continue to evolve and adapt this great business for the future.
"I would also like to thank Mike for his leadership of Sainsbury's over the past six years and for all his support since I joined the business. I have huge admiration for him. He is an outstanding retail leader and I look forward to working closely with him as we hand over in the coming months."
Roberts' base salary on appointment will be £875,000, with a pension benefit of 7.5% of salary, in line with the pension opportunity offered to the workforce generally.
For 2020/21, from appointment, his incentive opportunity will be in line with Coupe's.
Coupe's salary and benefits will continue until he retires from the company on 2 July 2020, but he has agreed to waive any entitlement to bonus and share awards in relation to his period of employment during the 2020/21 financial year.
Morning update
US expansion has helped WH Smith (SMWH) post a 7% rise in total revenues in the 20 weeks to 18 January 2020 even as its like-for-like sales slipped.
Group-wide total sales were up 7% in the period and like-for-like revenue down 1% for the 20 weeks.
In travel, total revenue was up 19% (up 5% excluding InMotion and its recent Marshall Retail Group acquisition in the US) with like-for-like revenue up 3%.
In its UK Travel business, WH Smith said it saw good sales growth across all key channels with strong sales per passenger driven by initiatives and ongoing investment. Gross margin was in line with plan. Its store opening programme in the UK remains on track and it expects to open around 15 to 20 new units this year, including eight units in hospitals and a new flagship pharmacy format at Heathrow Terminal 2.
Its key strategy to grow its travel business outside of the UK continues to "progress well".
It completed the acquisition of US travel retailer MRG ahead of plan on 20 December 2019. The store opening programme for MRG remains on track and integration into the WH Smith Group is "progressing well". Since announcing the deal on 17 October, WH Smith has won a further eight units in the US, which include MRG, WH Smith and InMotion branded stores "demonstrating the growth opportunities we see for the group in the US".
Outside of the US, its continues to make "good" progress and has recently won a tender at Berlin Brandenburg Airport to open three units, including the first InMotion store in Germany.
Following the acquisition of MRG, WH Smith Travel operates over 600 stores outside of the UK (including over 280 stores in North America) and over 590 stores in the UK, making a total of nearly 1,200 Travel stores across 32 countries.
Its High Street business, saw both total revneues and like for like sales drop 5%, though gross margin was ahead of plan.
The group has identified £3m of additional high street cost savings which will be weighted towards the second half of the current financial year, bringing the total cost savings for the year to £12m.
CEO Carl Cowling commented: "During the period, we completed the acquisition of MRG ahead of plan and integration into the Group is progressing well. This acquisition is in line with our strategic focus to grow Travel, almost doubles the size of our International Travel business and accelerates growth in the US, the world's largest travel retail market. Since announcing our intention to acquire the business, we are delighted to have won a further 8 new units in the US.
"Our High Street strategy continues to deliver through continued gross margin gains and tight cost control.
"Looking ahead, we are on track for the current year and as we continue to grow our share of the global travel retail market, the group is well positioned for the years ahead."
Listed agriculture group Wynnstay (WYN) has said its results for the year to 31 October "reflect difficult market conditions for the agricultural sector".
The group suffered from unseasonal weather impacting feed demand in key feed trading months, while farmers tightened spending in response to weaker farmgate prices and political uncertainty.
Revenues for the year increased to £490.6m from £462.7m, mainly reflecting commodity price inflation.
However, gross profits remained flat despite the sales increase at £62m compared to £61.7m last year.
Underlying group pre-tax profit fell back to £8m from £9.6m.
Within its Agriculture division, feed volumes contracted significantly but the reduction was in line with market trends, while Glasson Grain delivered an "exceptionally strong" performance, driven by increased fertiliser volumes, reflecting market share gains in Scotland, and higher sales of specialist added-value animal feed products.
The good harvest in 2019 helped to generate an above-average sector performance from GrainLink, its grain trading operation, and the seeds operation performed well in challenging conditions.
The performance of its Agricultural Merchanting Division was similarly affected. Lower demand for bagged feed and feed-related products were the principal factors behind its reduced contribution to group profits. It rationalised our depot network from 59 sites in 2018 to 55 by the end of the financial year.
CEO Gareth Davies commented: "This has been a difficult year for the agricultural market as a whole, and Wynnstay's results reflect this. Weather conditions reduced demand for some of our core products, particularly feed, while reduced farmgate prices and ongoing political uncertainty lowered farmer confidence and spending across the sector.
"As we look across the new financial year, we expect another challenging period. Nonetheless, we are well-placed to navigate through, and see opportunities to potentially strengthen our position within the agricultural supply chain sector, supported by our strong balance sheet."
Ocado (OCDO) will today talk through investors on the impact of its adoption of IFRS 16 for its full year 2019 results that be announced on the 11 of February 2020.
Additionally, following the closure of the joint venture deal with Marks & Spencer, Ocado Group will be adopting updated segmental reporting.
However, its presentation today will not contain any information on current trading or an update on its Christmas performance.
On the markets this morning, the FTSE 100 has opened up 0.3% to 7,629.7pts.
Sainsbury's is down 0.9% to 210.5p on this morning's news, WH Smith is down 1.7% to 2,496p and Wynnstay is down 5.8% to 275.5p.
Risers include Glanbia (GLB), up 4.4% to €10.70, FeverTree (FEVR)., up 3.5% to 1,544.5p and PayPoint, up 2.5% to 2.5%.
Fallers include PZ Cussons (PZC), down 1.7% to 199p, Greencore (GNC), down 1.3% to 240.1p and Reckitt Benckiser (RB), down 0.9% to 6,058p.
Yesterday in the City
The FTSE 100 fell a further 0.5% yesterday back to 7,610.7pts on continued concerns about the coronavirus outbreak in China and its potential spread.
Hotel Chocolat (HOTC) dropped 8.1% yesterday back to 455p, while other fallers included Glanbia (GLB), down 5.3% to €10.25, Nichols (NICL), down 2.6% to 1,382p, Imperial Brands (IMB), down 2.6% to 1,985p, Cranswick (CWK), down 2.5% to 3,484p and Sainsbury's (SBRY), down 1.7% to 212.4p.
Fever-Tree (FEVR) recovered 2.7% after its huge plunge on Monday to end trading at 1,492.5p.
SSP Group (SSPG) rose 2.7% to 682p after announcing a "robust" start to its financial year and the acquisition of German travel catering business Station Food.
Other risers yesterday included McColl's (MCLS), up 2.4% to 46.3p, Pets at Home, up 2.4% to 286.8p, and Associated British Foods (ABF), up 1.4% to 2,664p.