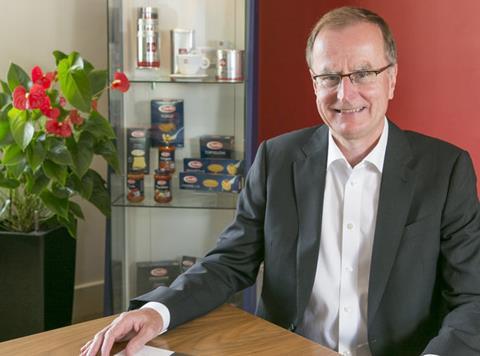 Snapshot
Age: 59
Place of Birth: Kettering, Northamptonshire
Family: Married with two children
Potted CV: Began in sales at United Biscuits before joining distributors Parrish & Fenn for eight years, and then to United Preservers, which handled Sacla' and Lavazza. Left to start own business at the age of 35
Best career decision: Starting my own business
Worst career decision: Trying to launch into the chilled sector with Greek yoghurts
Career highlight: Taking on Illy
Best piece of advice: Never start your own business until you've worked for a blue chip company. I would tell anyone to start their own business but don't do it till you've lost someone else's money
Business idol: Richard Branson
Hobbies: Skiing
Favourite meal: Pasta
Favourite film: Captain Corelli's Mandolin
Brexit - yes or no: My opinion is that we are best in Europe
As omens go, it was dramatic. Euro Food Brands had just done a deal to distribute a chilled range of Greek yoghurts (this was 1999). "We signed the contract in Athens and then there was an earthquake," MD Stephen Barlow recalls.
Fast-forward 17 years, and Barlow can laugh. The Greek yoghurt launch may have been a spectacular failure but flops are few and far between for the Northampton-based third-party sales and distribution company. Celebrating its 25th anniversary this year, Barlow and operations director Mike Adams have grown sales from £10m in its first five years to a predicted £82m in the year ending March 2016, with a booming portfolio of 20 international brands from Europe, Asia and North America.
So what are the secrets of its success? How has it been able to grow in such a challenging market? And what does EFB have planned for the future?
Since the recession, growth has actually accelerated (up 63.6% in the past five years), and Barlow admits the intensity of competition has actually been beneficial. "Brands find not only can they save money, but they can develop a business faster, focus on marketing and product development."
But third-party sales and distribution isn't easy, as the demise of well-known rivals attests. And Barlow is not surprised new operators haven't ventured into sales & distribution. "To start up you need a lot of money, and a lot of time to be able to trade with all these accounts."
You also need to work on very low margins. That was as true when Euro Food Brands launched in 1991 – in the depths of another recession – as it is today. It did this through focus. "The other distributors all had massive sales forces and were [servicing] the total market, including the independents. Whereas we concentrated on the top multiples. As a result we didn't have the massive overheads of other companies and we were able to work on very small margins. That was how we managed to attract brands."
First to be convinced was Italian pasta brand Barilla, which left Barlow's former employer Parrish & Fenn to sign up as its sole UK distributor. The then little-known Illy coffee followed in 1993. Teaming up with EFB, it first won a listing in Selfridges before moving into Michelin-starred restaurants. Two decades later, Illy is drunk in 140 countries and 50,000 outlets.
So, having grown to such a size, what stops it cutting Euro Food Brands loose? It's all about business plans. "We talk about where they want to be in three years then put the infrastructure in place to make sure they can achieve their objectives," says Barlow. "That's why today we have the Illy brand where it is: from the very beginning we listened to what they requested. Unlike other companies, we want to be there for the long-term so we have a three to five-year plan in place per brand."
Open-minded
EFB also puts its money where its mouth is. "For every brand we handle we take title to the goods," says Barlow. "We're working in full partnership with our suppliers. They have one delivery point, one customer and we have open book accounting – our suppliers know everything there is to know about the business."
Over the years, EFB has been able to extend its reach to cover the whole grocery market (it even has a "reasonable business" with the discounters) as well as department stores and restaurants. Foodservice is the most labour-intensive, with 7,000 customers and a dedicated sales force of 35. Some sales also go via wholesalers, where these offer better regional coverage of fine food outlets than a national operator, Barlow explains.
In the case of Illy, the company also sells direct. Black Friday proved a winner, with more coffee machines sold during the promotion than in the preceding 12 months. But Barlow doesn't plan to try and replicate that success across other categories. "You can't seriously compete with the major mults on food."
Instead, Barlow and his team will focus on finding new brands. Danish soft drinks producer Little Miracles and Canadian gluten-free cereal brand Nature's Path are the latest arrivals. "We're inundated," he adds.
Barlow remains "open-minded" to more, with one caveat. "We will never sell anything that competes with what we have," he says.
Or Greeks bearing gifts, presumably.