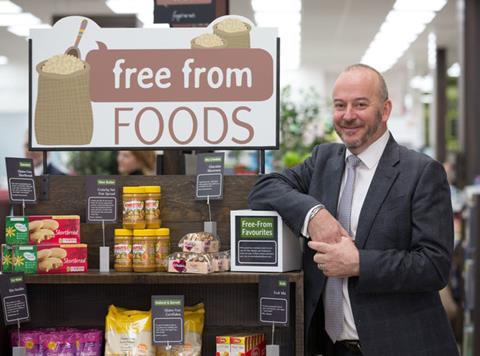 The British diet doesn't enjoy the healthiest of reputations. Think fatty fry-ups, huge Sunday roasts or a large cod n chips covered in salt. But over the past few years, the UK has become increasingly health-conscious. Free-from, protein-enriched, carb-light superfoods are everywhere. And nowhere are they more prevalent than at Holland & Barrett.

Quietly, over the past seven years, Holland & Barrett has evolved from a pokey chain shifting heavy bottles of pills and bulky bags of Brazil nuts into an emporium of all things good for the body, mind and soul.

The pills and healthy snacks are still there, but the range is more diverse and more interesting: everything from pick n mix protein powders (for gym bunnies) to snail gel (for smoothing encroaching wrinkles). And they have been joined by all sorts of health-related grocery, from speciality low-carb pasta and rice to gluten free vegetable gravy. "We work with some very passionate small companies," says CEO Peter Aldis. "Sometimes we even invest in them. We are now a platform for people to launch brands."

Appointed in 2008 - 18 years after taking a pay cut to join as an area manager - Aldis vowed to drive Holland & Barrett into the future, telling the Daily Telegraph two months after his appointment that his mission was to shed the chain's 'beans and sandals' image. It sounded lighthearted, but it would involve comprehensive changes to ranging, space planning, the store environment, staff training and the supply chain. So, seven years on, does he feel he has succeeded?

"Note to self, don't be shy here," he says quietly, with a chuckle. "Well, we haven't finished by any stretch. Historically we were a bit fuddy-duddy, a bit staid, a bit out of touch. The old regime was very old school, very focused on linear footage and sales per sq ft, always asking is a SKU or category worth the space? Now we have modernised. And we have become a trusted brand, because we take product quality and sourcing extremely seriously. We deserve our reputation now. Before, I don't think we were loved."

Is the chain loved today? The numbers suggest the UK is growing increasingly affectionate at any rate. They have steadily improved since Aldis took over. In its last set of accounts, sales for the retail arm of the UK operation (excluding online sales) were up 5.5% to £368.8m, while pre-tax profits rose 5% to £89.5m, according to Companies House.

It makes the impact of the 2008 global financial crisis, which struck 15 days after Aldis took over, a distant memory. "Our first two quarters weren't good," he recalls. "But we pulled it round in the second two. Since 2010 we have had ongoing growth."

Store numbers have also been on the rise. In total it operates 1,046 shops in the UK and overseas, including its GNC and MET-Rx sports nutrition fascias. About 740 stores are in the UK and Ireland, with another 300 stores in Europe and other overseas markets including Singapore, Malta, Dubai and China.

At the same time the entire estate has been undergoing an ongoing revamp since 2010, when private equity owners Carlyle Group stumped up $4bn for Holland & Barrett's parent company NBTY. Aldis says the stores that "will provide the best return" take priority. It's accelerated to about 80 a year, so it will take "a few years" to get there.

Education

The positive numbers are down to staff training, Aldis believes. "I know everyone says that, but our USP is our knowledge. We put our employees through intensive training (78% are qualified to A-level standard, he says). It sets us apart from buying vitamins from Amazon, for example.

"Ultimately the customer will be happier because the product will work. A supplement for PMT is one thing but a supplement for stress is another. And we believe in what we are selling. We don't sell snake oil.

"You hear about people buying slimming pills on the internet and overdosing. Well, there is no magic pill that makes you lose weight. But there are lots that can help you lose weight if you understand them. There are fibre tablets that make you feel full so you don't snack. Others speed up the metabolism. But you still need advice. You can't lie on the couch, take a pill and lose weight. We are trying to understand how to educate the consumer when we don't have the space in stores today. We want to try and bring it all together."

Hence its latest iteration: Holland & Barrett More. The first concept store opened in April in Chester, on the 5,490 sq ft site of a former Waitrose, making it around five times the size of a typical store. It boasts the largest free-from range in the UK, with some 700 SKUs on shelf.

"It's doing well," he says. "The target remains 50 More stores. How long it takes is less clear. We are confident of six this year and we'll do more if we can. It's exciting and the right way to go."

The new concept will not preclude conventional store openings, though. "More is 5,000 sq ft to 10,000 sq ft and I want some in Central London and there are big out-of-town locations. But equally we opened a 1,500 sq ft store in Tottenham this year and it's done brilliantly. When we open we hit the ground running, so the capital expenditure we are making is giving us an immediate return."

Online is also growing. Holland & Barrett launched its first e-commerce site way back in 1999. It is now "in the process" of launching click & collect nationwide (it's currently piloting the project at all stores inside the M25). Aldis says online sales equate to about 8% of total sales. "They will be 10% next year," he adds. "That's good."

Protein fad

Of course, to some extent Holland & Barrett has ridden on the back of the health boom, and the fact the protein fad has gone mainstream. But it's been clever too, typified by the success of its pick n mix style sachets (called 'Whey to go'), which enable gym bunnies to trial protein powders before they commit to a big pot.

As for the next big health trend, he says pea, hemp and soy protein could begin to rival whey, which he says is shooting up in price as demand increases ("as a byproduct of dairy there is limited supply"). And he predicts that same supply and demand equation will see a sharp rise in the price of manuka honey.

"It is magic in a jar. It's going to get bigger and better. It's incredible. The biggest problem the world will have is that it only comes from one place so it's only going to get more expensive."

Others would argue the biggest problem with manuka is that the market is dogged by fraud, given that 1,700 tonnes of manuka are produced in New Zealand every year while an estimated 10,000 tonnes are sold in the UK market alone.

"There are issues," he says. "The New Zealand government is being a bit indecisive over what the standard should be, and there is a trade association that has a trademark, which costs a hell of a lot. And you get people doing blends. That's what annoys me, people taking 2% of manuka, putting it in a jar with a load of other honey and calling it manuka. It's disingenuous. It's in there, but the small print shows it's a blend. We want to take an ethical stance, so now we are working directly with a farmer in New Zealand to move towards sourcing the vast majority from a single source to guarantee our supply chain."

Innovation

More manuka is just one element of a "very strict focus" on NPD. "I expect 6% of sales to come from NPD and 22% of sales to come from NPD introduced in the past three years," he says. "We are building a team to work on NPD at that higher level, to understand trends. When we get it right it's extremely lucrative, as opposed to hopping on the back of a brand at launch."

Own-label products represent "around 60%" of sales, about 10% more than when Aldis took over. "I'm happy where that is. It's important to keep bringing in innovative brands but you've still got brands like Seven Seas that are important to us. We are constantly innovating and coming up with new products. And now people are looking at us, so we have to protect our share."

Such sharp focus will please the Carlyle Group. Aldis says his relationship with them is "brilliant".

"The classic private equity model cuts the operation to the bone to be as efficient as possible, establishes the key areas to invest in to give a better return and gets the timing right for an appropriate sale. But I found my relationship with them to be a lot more sophisticated than that."

Carlyle Group is "bombarded" with reports saying "retail is dead, no more high streets, everything will be e-commerce. And they have bought a retail business and I want more stores, so they must think I'm mad. But actually, we sat down and talked about how towns work, we opened more stores, they watched carefully, and they are getting a very positive return. And we have accelerated, opening 85 stores a year. And they are continuing to invest."

Aldis suggests his "direct" approach helps communication between the two. "I'm not one for politics. That doesn't help internally because I need to watch my Ps and Qs more than I should do. I can be too direct with people who work for me. But with Carlyle there are no airs and graces, there are no games. It is what it is, and I love that relationship."

As for what the future of the relationship will hold, there were rumours that Aldis planned to take Holland & Barrett Stateside in April, but the move is currently on hold. "We did a lot of work on it last year so we could understand the implications," he says. "It's a big leap of faith and we were close to signing up. But at the same time we had two major acquisitions going on in the background, so we stalled it. Now we think organic growth in Europe is best. It's not that we will never do it. I am sure we'll be back on to it. A lot of groundwork has been done."

And he has plenty to keep him busy on the home front in the meantime.
Snapshot
Age: 51
Status: Married, five children
Potted cv: Quit A-levels age 17 to take a job at Currys in 1982. Joined Asda in 1984, then took a pay cut to join Holland & Barrett as an area manager in 1990. He became commercial director in 1998, MD in 2003 and CEO in 2008 aged 44. He is now celebrating 25 years at the firm
Best career decision: To stay at Holland & Barrett
Worst career decision: Not finishing my education
Best career advice: Pay attention to the detail. And listen to the customer. Be frank, be open and be honest. Avoid negativity
Worst career advice: Don't stand up and be counted. Don't be a hero.
Last good film: It was a TV show called The Tunnel
Favourite H&B product: Bootea. It's doing very well. It's very effective, it's a detoxifying tea
Favourite indulgence: A nice pint