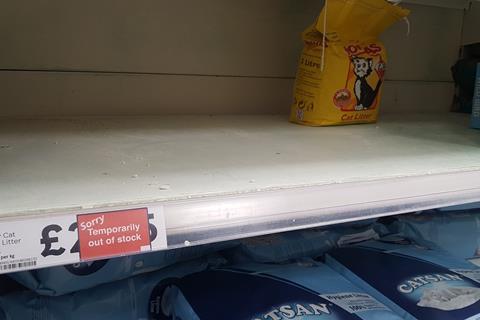 Supermarket shelves have been left empty of cat litter following a major supplier's fall into administration.
Bob Martin, which accounted for a large proportion of the UK cat litter market including supermarket own-label, appointed administrators in November and parts of the business were sold to Pets Choice.
But complications in transferring supermarket listings from Bob Martin to Pets Choice have led to a widespread cat litter shortage across a number of supermarkets. Stores seen with no cat litter available in recent days included a medium-sized Co-op, while Sainsbury's was unable to provide any with an online delivery.
A Tesco Extra was left with only one variety last week, Catsan Hygiene Plus in 10-litre bags. This week stocks appeared to be recovering slightly, but availability at the store remained limited to the same brand, with the exception of a single bag of Thomas cat litter.
Tesco today confirmed the shortage. "We are aware of the shortages of cat litter products across the market and we're working hard to resolve this and to have full availability again soon," a spokeswoman said.
A Sainsbury's spokeswoman said: "Some stores are running low on some cat litter lines but we continue to offer a number of options. We're working to replenish as quickly as possible and are sorry for any inconvenience this may cause."
The sale to Pets Choice on 28 November, a day after administrators were appointed, saw the company acquire the Bob Martin (UK) Healthcare brand including flea treatments Clear and Clear Plus as well as cat litter brands such as Felight.
However, it led to Bob Martin brands losing much of their presence across a number of supermarkets.
Pets Choice said the transfer of supermarket listings from Bob Martin had resulted in delays.
"Since the acquisition of Bob Martin Healthcare business and assets in late November 2019, both the teams at Pets Choice and Bob Martin have been working tirelessly to ensure that it is business as usual after Bob Martin entered into administration," a spokeswoman said.
"However, the transfer process to move the listings from Bob Martin Company to Pets Choice can take time due to the necessary procedures and regulations.
"Pets Choice Ltd and Bob Martin brands are now pleased to confirm that the listings have been transferred and deliveries have already restarted, so Bob Martin customers will be able to purchase the Bob Martin products imminently.
"Production at both UK Bob Martin factories has now recommenced, and normal supply should be available shortly."
"Should any customers require further information please contact your Bob Martin account manager for further updates and we would like to take this opportunity thank our customers for their continued support and patience throughout this transition."
It was hoped it would be "business as usual" by the end of January, she said.