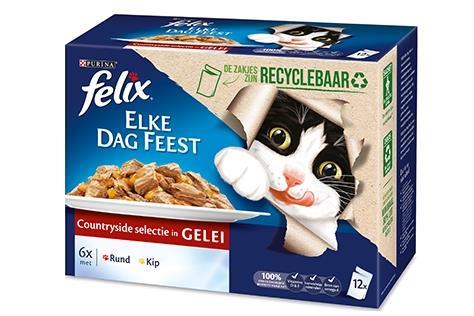 Nestlé has created what it claims is the world's first recyclable retort pouch for wet petfood.
Its new Purina Felix pouches are made with polypropylene, which allows them to be "lightweight and recyclable whilst being high-heat resistant and equipped with the appropriate product barrier properties", according to the fmcg giant. They will first be launched in the Netherlands in a year-long pilot.
They were developed in partnership with packaging giant Amcor, which branded the packs "a technical breakthrough that demonstrates both companies' long-term commitment to more sustainable packaging solutions".
Crucially, they can be recycled within the Netherlands existing recycling streams. However, it would be a patchier picture if they were to launch in the UK.
"Currently in the UK only 16% of councils collect flexible plastic. We therefore recognise simplifying plastic structures in our packaging is only part of what we need to do," said Nestlé UK & Ireland group packaging manager Alison Bramfitt.
Purina's current pouches can only be recycled in the UK via Nestlé's partnership with TerraCycle, for which they must be returned to drop-off locations at participating shops and Cats Protection centres.
Purina is also looking at "new paper-based materials and piloting reusable packaging systems where customers can bring their own containers to fill".
Petcare isn't the only category where pouches have come under scrutiny for their lack of recyclability. Babyfood suppliers too have been racing to make their packs more sustainable.
Piccolo launched the UK's first polypropylene babyfood pouch in April this year, while Ella's and Danone teamed up to launch a collaborative recycling programme in September.