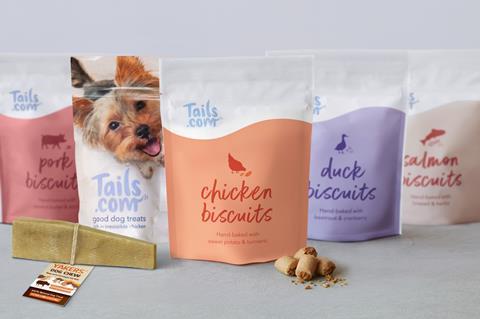 Tails.com, the direct-to-consumer petfood service, has kicked off its first partnership with another brand, adding Yakers dog chews to its portfolio.
Also known as 'occupiers', Yakers' chews are available in three sizes. They are made from a combination of skimmed yak and cow milks. Small amounts of lime juice and salt are added to help harden the mixture – which is then compressed into blocks and smoke-dried for 28 days.
Occupiers were "a significant growth sector, with many owners purchasing them to top up their dogs' existing food basket on a weekly basis" according to Tails.com. The partnership with Yakers would allow the DTC brand "to provide further health and wellbeing options for the 200,000 dogs it serves each month".
The milk-based, grain-free chews join Tails.com's own selection of premium treats, launched in 2018, which are hand-baked with natural ingredients.
Startup Yakers had "created a cult following over the last year as a natural, low-lactose occupier" said Tails.com head of proposition & range Lucy McCarthy-Christofides. "Unlike anything else on the market, they are 100% natural, long-lasting, and dogs love them – which is particularly important for owners given they need to keep dogs occupied in the house right now."
Yakers sales manager Rob Constance said the Nottingham brand's chews provided "the key nutritional values many customers are looking for".
"As consumer shopping habits shift further towards subscription and convenience, it is exciting for us to partner with Tails.com, who offer this to their customers and their pets so brilliantly," he added.
The tie-up comes as Tails.com marks the second anniversary of Nestlé Purina acquiring a major stake in the DTC business.