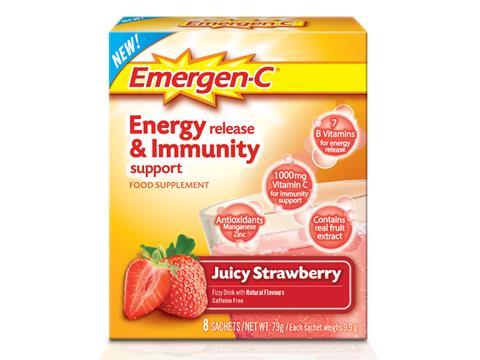 A Californian vitamin brand worth over $170m in the US has made its European debut in the UK.
Pfizer Consumer Healthcare launched Emergen-C, an effervescent vitamin and energy drink, in Tesco and Boots earlier this month (11 August).
It is the first time the beverage, which contains 1000mg of Vitamin C and seven B vitamins, has appeared in a market outside of North America.
The sachet-based drink, which is being promoted as an energy release and immunity support lifestyle product, will also be rolled out to all the major supermarkets later this year, falling under the vitamins, minerals and supplements, and cold and flu categories.
Zesty Lemon and Juicy Strawberry flavours will appear on shelf in September joining the Super Orange variant, which is currently on sale.
The brand has also confirmed plans to launch further flavours once the brand is established.
The sachets will be available in a single format (rsp: £0.99) across the convenience channel.
Eight pack (rsp: £4.99) and 24 pack (rsp:£13.99) boxes will be distributed to supermarkets and pharmacies.
"We have a very differentiated proposition with our dual benefit of energy release & immunity support, 15 key nutrients, three great tasting flavours all in a unique sachet format," said a spokeswoman.
"Emergen-C will also have a very unique tone of voice in the category, being a fun, playful and engaging brand we see ourselves sitting very much in our own space."
Matt Garreffa, Emergen-C brand manager, added: "Emergen-C is a completely new concept for the UK offering the dual benefits of energy release and immunity support in a brand that uniquely combines great tasting flavours, a lot of fun and a handy fast-dissolving sachet format.
"In the US, it's become a cult brand, which inspires a genuine love amongst its customers. We're really excited to bring this concept to the UK to shake up the energy and immunity categories ahead of the winter."