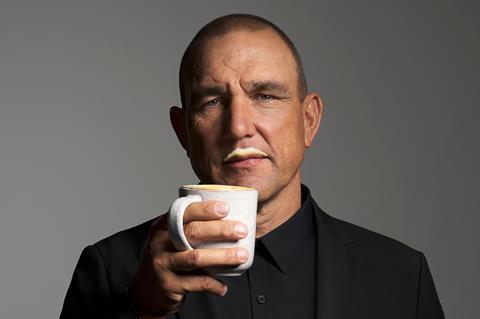 Alpro has launched a "playful pastiche" of the dairy sector's early 2010s 'Make Mine Milk' marketing campaign with a new ad starring the same celebrities, dubbed 'Make Yours Oat with Alpro'.
The campaign launched today (29 June) and features former football hardman turned Hollywood hardman Vinnie Jones, popstar Pixie Lott and pro-boxer Nicola Adams, who all wore 'milk moustaches' in the original dairy sector campaign.
Alpro's new ad push reunites the trio, but after a switch to plant-based diets, the celebs now don what the brand is calling 'mOAT-staches' in a series of creatives and tongue-in-cheek videos designed to promote Alpro's oat drink range.
The campaign started with a consumer media launch today and will roll out across social media, digital and out of home advertising until the end of July, alongside a radio partnership with Heart and Capital FM.
The original 'Make Mine Milk' ad push was launched by the industry-funded Milk Marketing Forum in 2010 in a bid to raise awareness of the health benefits of milk, and attracted a host of stars over the following three years.
Alpro's pastiche marks a departure in the brand's marketing strategy – which has to date avoided any direct comparisons to traditional dairy products – with the Danone-owned brand instead stressing it can live alongside dairy products.
Its UK & Ireland marketing director David Jiscoot insisted Alpro still believed "we can live next to each other". However, the new ad should also "open the eyes of shoppers to the fact there are other choices", he added.
"A lot can change in a decade. Ten years on from the launch of an iconic dairy ad, and three of its original stars have made the move to a more plant-based lifestyle, along with millions of others."
The campaign's goal was to "cheerlead the small, positive changes that Vinnie, Pixie and Nicola have all made over the past 10 years – and hopefully inspire even more people to get with the times and do the same", Jiscoot said.
"Each celebrity will be paired with a different product to showcase the different oat options we have to offer," he added. "They will highlight ease of usage by sharing quick, easy and great-tasting plant-based recipes on their social channels."