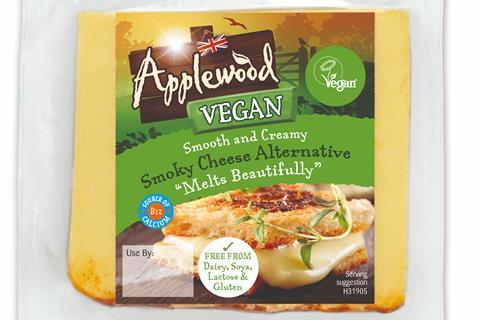 Asda has doubled listings of the Heather Mills-endorsed Applewood Vegan cheese alternative as sales "continue to rocket", according to the Norseland-owned brand.
The retailer, which exclusively stocks the cheese alternative, has expanded its listing to 470 stores – up from the 235 it initially appeared in back in October 2019.
Applewood said it was now in conversation with other retailers and food-to-go firms as it prepared for a wider rollout of the product.
"The success of Applewood Vegan has defied all expectations since it was launched," said an Applewood spokesman.
"The word spread so rapidly on social media that 40% of all stores sold out of Applewood Vegan on day one."
The cheese alternative, which has been made in partnership with Heather Mills' plant-based food company VBites, was launched at the end of September 2019 and consists of coconut oil, potato & maize starch and yeast extract with paprika and smoke flavouring.
It comes as Asda announced searches for the term "vegan" had gone up by more than 400% this month in comparison to January 2019.