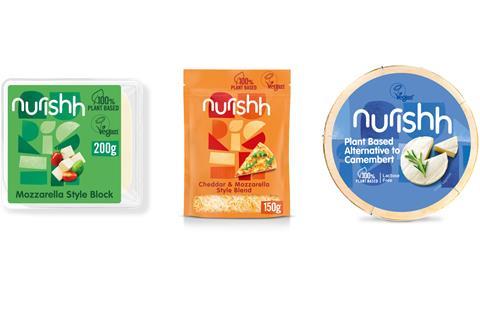 Babybel owner Bel UK has become the latest dairy company to move into plant-based with the launch of Nurishh, a range of coconut oil-based cheese alternatives.
Following the successful soft launch of a Nurishh camembert alternative in Sainsbury's in December, the brand was fully launched in Asda last week with a trio of products.
Bel said the Vegan Society-approved lineup included the camembert alternative (rsp: £3.50/140g), a grated cheddar and mozzarella-style blend (rsp: £2.50/150g) and a mozzarella-style block (rsp: £2.50/200g).
It was also available to order by other retailers, while a full range of plant-based slices, blocks, grated lines and spreads were now being developed, Bel added.
It cited a "growing demand" for plant-based alternatives to cheese as the main driver behind the brand's development. It added that research by IGD last September of 2,005 GB-based shoppers revealed 36% of people claimed to be following or were interested in following a flexitarian diet, with 22% saying the same for a vegan diet.
The Nurishh range was described as "a versatile selection designed to cater to all occasions", by Bel UK plant-based commercial manager Chloe Feminier.
"With taste highlighted as a key barrier to buying vegan products, and insights showing consumers are seeking inspiration for plant-based recipes, the new additions to the Nurishh range bolster the offering with varied formats, ensuring a delicious plant-based option for every occasion and recipe," she added.
"In addition, with insights showing plant-based options are no longer only for younger generations, with shoppers over 45 accounting for over two-thirds of growth over the last four years, the delicious and versatile range will help retailers meet demand, attracting valuable shopper groups into their stores and locking in long-term loyalty."
The launch of Nurishh marks the latest example of traditional dairy companies moving into the plant-based categories, and follows similar moves by the likes of Arla, Emmi and The Collective over the past year, in addition to Norseland and its growing vegan cheese lineup and Saputo Dairy UK's acquisition of Sheese owner Bute Island Foods in May.