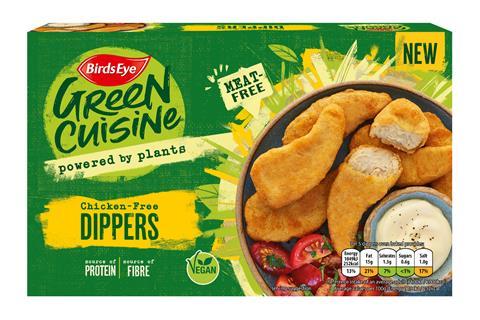 Birds Eye has extended its Green Cuisine range to include a line of vegan chicken-free products.
The three new products – Chicken-free Dippers (220g), Nuggets (250g) and Southern-Fried Strips (210g) – will be rolled out in Morrisons from 7 September and then across the rest of the big four (all rsp: £2.50).
The pea protein-based NPD aims to replicate what Birds Eye has identified as the most popular chicken products on the market in a bid to entice new consumers into the meat-free category.
According to senior brand manager Anne-Marie Gayer, the move has been partly inspired by increasing consumption of meat-free (up 43%) and plant-based (up 50%) main meals during lockdown [Kantar Food & Drink Usage Panel 8 w/e 17 May 2020].
"Birds Eye has a long-established heritage in producing great-tasting chicken products," said Gayer. "As a trusted, established brand, we're well placed to encourage shoppers to experiment with what the frozen plant-based category has to offer.
"We know shoppers are increasingly searching for new and exciting ways to enjoy meat-free meals [and] our aim is to make meat-free eating easy. By recreating the most popular chicken in the category, we want to bring in new shoppers to the category and show that frozen meat-free can be just as tasty and convenient."
Since its launch in March 2019, Green Cuisine has "established itself" in the meat-free frozen category, Birds Eye said, with value sales up by 2,069% in the year to June [Nielsen 52 w/e 11 July 2020].
It comes amid double-digit value growth for the meat-free category during lockdown. Sales shot up 18.4% to £134.5m [Kantar 12 w/e 14 June 2020], with burgers outpacing the market with 37% growth.