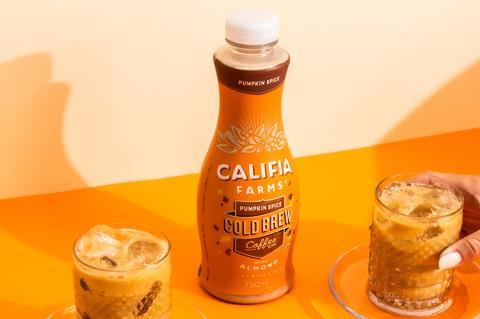 Californian plant-based dairy alternative Califia Farms has launched a Pumpkin Spice Cold Brew following the success of its cold brew range.
It went on sale in Asda last week, and will launch in Tesco on 17 September and Sainsbury's on 21 September.
The Pumpkin Spice Cold Brew (rsp: £2.75) is made with real pumpkin purée and almond drink, combined with a blend of cinnamon, ginger and nutmeg.
It is vegan friendly with added calcium and vitamin D, and only 120 calories per serving.
"Pumpkin Spice drinks aren't as readily available for at-home consumption like they are in the US but we can see that they have huge popularity in high street coffee chains," said Daisy Swiers, UK country manager at Califia Farms.
"We're constantly looking to innovate and with pumpkin spice now more popular than ever among millennials, our new Pumpkin Spice Cold Brew gives retailers the opportunity to bring customers into store who may have otherwise looked to high street coffee chains to enjoy the season's most sought-after flavour."
This latest piece of NPD has been created in response to the rising interest in pumpkin spice flavours, which according to Nielsen data, drove a 45% volume sales increase from 2019 to 2020.