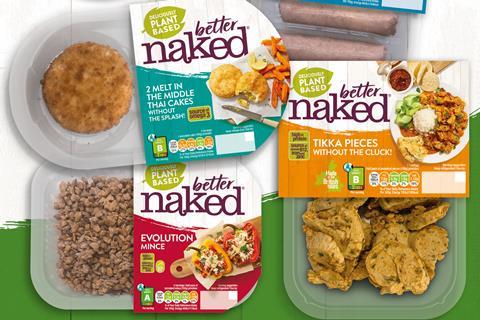 Finnebrogue has announced an exclusive range of products from its Better Naked line will be stocked in Co-op as part of a new plant-based partnership.
Among the six listings are four new lines which will be available across all 1,200 stores this week.
The new products include Evolution Mince (rsp: £3), Evolution Sausages (rsp: £3), Without the Cluck Tikka Pieces (rsp: £3) and Melt-in-the-middle Thai Cakes (rsp: £3.50).
The other two products are meatball alternatives, Evolution Balls (rsp: £3) and Evolution Burgers (rsp: £3). The Evolution range launched in September 2021 and was said by Finnebrogue to have a "comparable flavour, texture and protein to their meat equivalent". They were are also "as affordable and more sustainable than their meat equivalent", it added.
The mince and sausages are made from pea protein, are soya-free and gluten-free. The chicken imitation tikka pieces are high in pea protein. All three products are a source of vitamin B12, iron and zinc.
The Thai cakes are a blend of potato and rice with a lemongrass and chilli cream centre, coated in a crumb. They are a source of omega 3.
All six products will be available at the Co-op this week on a promotional launch offer of £2 per pack.