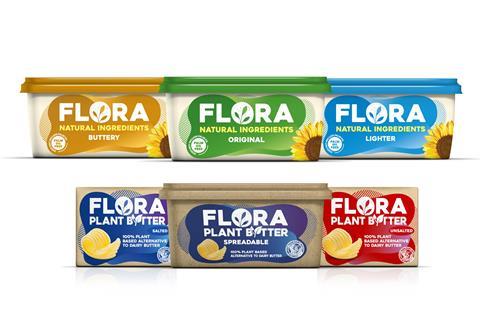 Flora has unveiled new recipes for its range, with all its products now dairy-free.
The Upfield brand said the new and improved recipes were all vegan and aligned with Flora's brand "purpose" – with all products made from natural, 100% plant-based ingredients, while also being dairy-free and palm oil-free.
In October 2020, Upfield put buttermilk back into its Flora Buttery variant as it said shoppers preferred "the familiar taste profile" and buttery taste of the line's previous incarnation. The spread's revamp meant 10% of the product was made from the dairy product, in a move that prompted complaints from vegan shoppers.
Some 16,000 people ultimately signed a petition calling on Upfield to change its mind on the introduction of dairy to the line.
However, the brand has now reversed its decision as part of the revamp. The main ingredients are plant based oils including rapeseed, sunflower and linseed in variable proportions.
"We have also been continuously working to deliver a fully 100% plant-based range that is even tastier, and are pleased that Flora Buttery is now deliciously dairy-free," said Ian Hepburn, marketing director UK at Upfield.
"Our purpose is at the heart of everything we do, and we will continue to make new products to continue the Flora movement," he added.
It comes as all Flora spreads have also been relaunched in the same brand style as its flagship Flora Plant B+tter alternative to dairy butter, which it launched in July 2020.
All spreads are packaged with a bold design and colourful palette designed to make it easier for consumers to choose their favourite.
Hepburn explained the brand's recent 'Skip the Cow' campaign had "driven record levels of awareness and consideration for Flora".
"The natural next step was to unite all our great Flora products under a single identity," he added.
The relaunched Flora range has started rolling out at all major supermarkets including Tesco, Sainsbury's, Morrisons and Asda.