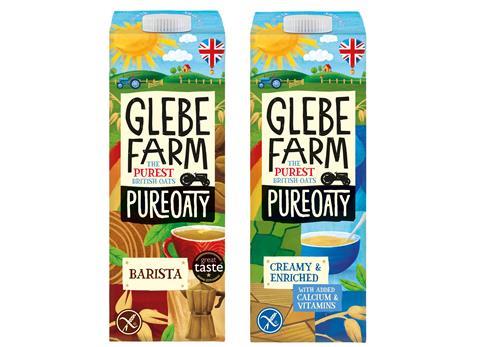 Plant-based drink and oat producer Glebe Farm has expanded its PureOaty range with two new 'smooth' oat drinks in revamped packaging designed to showcase the brand's British heritage.
Glebe Farm PureOaty Barista and Glebe Farm PureOaty Creamy & Enriched (rsp:£1.80/one litre) are ambient gluten-free products that went on sale in more than 350 Morrisons stores today (24 January).
The Barista variant was free from the gums and additives often used to create foamable milk, the Cambridgeshire-based supplier said.
It is made with four ingredients – oats, water, sunflower oil and salt.
The Creamy & Enriched SKU, described as being suitable for breakfast, smoothies and baking, is fortified with calcium and vitamins D, B2 and B12.
The NPD is also available through Amazon and via the company's website. Its pack design, meanwhile, aims to champion Glebe Farm's British roots by featuring a 'The Purest British Oats' tagline, alongside a picture of a tractor – which is set against a colourful animated farming background featuring a union flag-patterned hot air balloon.
Both products are said to be made with locally sourced oats which are then "milled and milked" on the family farm "so they know exactly where their oats have come from and what goes into each carton".
The plant is powered using solar panels and recycled biomass, which helped keep the carbon footprint low at 0.29kg CO2 per litre, Glebe Farm claimed.
The redesign comes after oat drink behemoth Oatly failed in its bid to sue Glebe Farm in 2021 over claims the PureOaty brand had infringed its Oatly and Oat-ly! trademarks.
Deputy High Court judge Nicholas Caddick QC dismissed the Swedish plant-based giant's case in August at the Intellectual Property Enterprise Court, after finding there was no likelihood of confusion between the PureOaty sign and carton and any of Oatly's trademarks.
"We couldn't be more excited to bring our British barista grade oat drinks to our customers," said Rebecca Rayner, co-founder of Glebe Farm.
"Plant-based milk is more popular than ever, driven by changing consumer tastes, and considerations around health and sustainability. A lot of people are increasingly looking to eat British foods and our oat milks tick all the boxes – especially with their best-in-class carbon footprint."