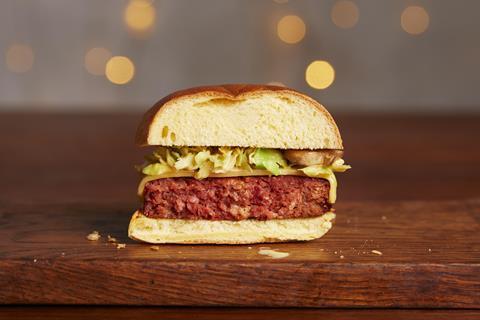 Recipe box delivery business Gousto has expanded its meat-free offering with the launch of a first plant-based burger patty.
The brand's Ultimate Vegan Burger patty, which is made from soya protein and beetroot, follows a surge in consumer demand for plant-based recipes of 158% since April 2017, Gousto said.
A fifth of its customers were now actively trying to reduce their meat consumption, it added.
The burger is available to Gousto subscribers now and will be used as part of its festive range in The Ultimate Vegan Christmas Burger – complete with sprout slaw, melty vegan cheese and a plant-based gravy for dipping (rsp: £2.98 per Gousto meal).
"We extensively tested the burger patty against a range of competitors and we're confident that it far surpasses similar products on the market, both in flavour and texture," said Gousto food director Rachel Chatterton.
The launch follows the introduction of Wagamama ingredients and recipes to Gousto's subscribers in September, as part of a six-month deal.