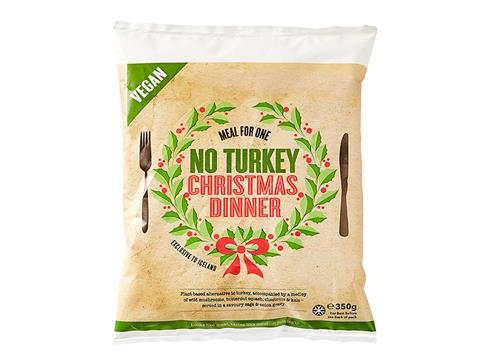 Iceland has launched a plant-based No Turkey Christmas Dinner - to offer "a helping hand to the growing number of vegans and flexitarians across the UK".

Available now, the new meal centre (£2.50/350g) combines Iceland's No Turkey strips of mushroom & soya protein with butternut squash, kale, chestnuts, wild mushrooms and sage gravy.
It came as "demand for meat-free food has risen 987% in the past year" Iceland said. With more shoppers looking to include meat-free dishes on their Christmas menu this year, No Turkey Christmas Dinner had been designed to relieve the "extra pressure to make sure everyone has a festive meal they can enjoy" added head chef Neil Nugent.

The new centre joins an Iceland vegan range that "has been a massive hit with our shoppers". It began in March with the No Bull Burger, before being joined later in the year by the likes of No Porkies Sausages, No Chick Fillets and No Bull Mince.