Shares in Beyond Meat soared on its Nasdaq debut on Thursday as investors piled in on a barnstorming first day of trading.
The Californian plant-based sensation's initial IPO valuation of $1.2bn (£922m) jumped to $1.5bn (£1.2bn) ahead of its flotation, with the stock closing 163% up at the end of its first full day on the exchange - valuing the company at a staggering $3.8bn (£2.9bn) and making it the best performing IPO so far in 2019.
Beyond Meat's shares were priced at $25 each at the start of trading, but touched $72 during the trading day before closing at $65.75.
"We've been overwhelmed with interest from some of the highest quality institutions in the world," said Beyond Meat founder and CEO Ethan Brown at the stock market launch.
But despite its stellar opening day, and the fact Beyond may well be one of the fastest-growing food businesses in the US, the valuation of the business has raised more than a few eyebrows.
Sure, the brand's global sales soared 170% to $88m (£67.3m) last year and its flagship Beyond Burger is now sold in more than 20 countries. But in the grand scheme of things, Beyond is still relatively small. Brits spent more on Rustlers burgers last year (£88m, according to Nielsen data to 8 September) than Beyond Meat racked up in worldwide sales.

What's more, by its own admission it has 'generated losses since inception' (in 2018 those stood at $29.9m) and 'may be unable to achieve or sustain profitability' in future.

So is Beyond Meat worth it?

"It's a revenue multiple, not an earnings multiple valuation," says one City source. "It reflects the fact shareholders and investors have said the future of the western diet is beyond meat, beyond beef, and beyond red meat in particular."

But that doesn't mean Beyond Meat's valuation is not "a bit bonkers", he admits. In fact, it has been described as everything from "brave" to "toppy" and even "downright worrying".

Beyond has been exciting investors for years, even gaining funding from US meat titan Tyson Foods. However, Tyson sold its shares ahead of the IPO amid reports it is looking to develop its own alternative proteins line. Indeed, growing competition from meat giants like Tyson and other vegan brands is one of the biggest challenges facing Beyond Meat.

To have any hope of maintaining its valuation, Beyond must also maintain a genuine and protectable USP.
"Technologies will become widespread and it will be about scale and distribution"

Yet industry experts say there's not much Beyond is doing that differentiates it from competitors. When broken down to its bare ingredients, there's "nothing unique on the list", they claim. Its burger is made with pea protein like Birds Eye's Green Cuisine, beetroot juice like Quorn's Ultimate Burger, and potato and coconut - both of which also feature in the Meatless Farm and Moving Mountains burgers.

And while its meat-like texture and mouthfeel are undoubtedly a feat of engineering and a real point of difference at launch, there are plenty of others now offering a similar experience.

That means the brand must work to protect its position in the future, says Sophie Lewis, chief strategy officer at marketing agency VMLY&R. "This is a pioneering brand, and a first manoeuvre advantage is a good thing," Lewis says. "But the world and her husband are working on plant-based foods. Its technologies will become widespread and, in truth, it will be about scale and distribution."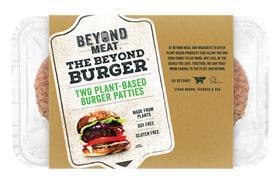 Price pressure
As Beyond looks to expand beyond the US, it also faces challenges around price competitiveness. There are now close to a dozen British companies, and even more European outfits, creating similar products to its Beyond Burger - and without having to shell out for frozen containers and space on transatlantic freight crossings from Beyond's US manufacturing base, many are able to do so at a lower price than its £4.95 for two quarter pounders.

In fact, so stiff is competition that the brand has already dropped its rsp by 55p since first appearing in Tesco last November.

Beyond could set up a manufacturing base in Europe to mitigate this. Indeed, its deal with Germany's PHW Group - currently limited to distribution - hints that a production partnership could be on the cards in the future. For the time being, however, production is run from its plant in Missouri.

All of which leads Robert Lawson, CEO of advisory firm Food Strategy Associates and former MD of Quorn, to conclude: "The valuation feels exceptional for a business losing $30m a year, particularly when compared with Quorn, which recently sold for £550m and is the highly profitable global leader in the category.

"On the one hand, this high valuation reflects the recognised growth potential in meat alternatives ," he adds. "The question mark I have is less to do with the business being loss-making, and more about the fact they have yet to prove they can win beyond the US."

Different consumer preferences on both sides of the pond could prove a further stumbling point, adds another plant-based expert. While burgers make up about 20% of beef sales in the US, the figure in the UK and Europe is closer to 5%. This suggests the Beyond Burger is unlikely to slot so seamlessly into everyday eating habits on this side of the pond.
"My question mark is whether they can win beyond the US"
Shopper expectations around health could pose further challenges. Like many vegan brands, Beyond benefits from the health halo surrounding plant-based foods at the moment - despite the fact its burgers contain in the region of 20% fat. As one of the biggest names in its category, it has put a target on its back for up-and-coming brands to match it on taste, while improving on health credentials, says one industry source.

He compares the IPO to the dotcom era and upcoming flotations from the likes of Uber and Deliveroo. "A lot of these businesses have failed to stop haemorrhaging money," he adds.

"As the founder of a plant-based business, it's encouraging to have such a buoyant precedent set, but as a citizen of the world, it's slightly nerve-wracking to see a string of very inflated valuations for companies yet to show any sign of long-term financial security."

Naturally, Beyond is confident it will live up to the hype. Its ambitious strategy is to challenge the global meat sector head-on by vying for shelf space right next to animal products.

And since it has already surpassed its heady $1.5bn valuation, there is - currently, at least - no shortage of investors who agree.