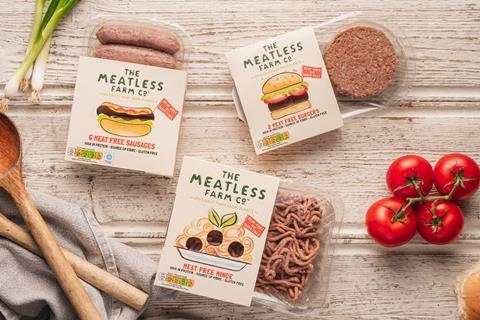 Plant-based challenger brand Meatless Farm Co more than doubled its value sales during Veganuary as the meat alternatives category posted close to 10% growth over the past year.
Like-for-like sales of the Leeds-based startup's products rose 157% (£210k) in the four weeks to 25 January, compared to the same period last year [Nielsen 4 w/e 25 January 2020]. It also saw volume growth of 158% over the 12 weeks to that date.
It comes amid wider growth in the meat alternatives category, which has leapt 9.6% to £26m over the past year [Kantar 52 w/e 23 February 2020].
"Veganuary is an important trading period for us, especially to drive trial," said Meatless Farm's founder Morten Toft Bech.
"This January, our sales increase was a real sign that consumer attitudes are becoming more open to meat alternatives. The more we can show consumers how easy and simple mini changes can be, like swapping out red meat for plant-based, the greater the collective impact on our planet and health."
Veganuary enjoyed its most successful year to date with 400,000 people signing up. Yet further Kantar data shows it has not entirely eaten the meat industry's lunch.
While volume sales of processed meat and poultry dipped 1.8% year on year, shopping trips to the meat aisle actually went up by 1.3 million [Kantar 12 w/e 23 February 2020].
Burgers and grills saw the biggest boost, with the value of their sales boosted 8.4% to £58.6m and volume rising 10.5%.
On the other hand, sales of fresh meat and poultry declined 2.3% in value to £1.5bn despite volumes increasing by 0.1%. The drop was largely down to pork (value down 9.4% and volume 13% lower), which suffered as a result of less promotional activity in retailers and shoppers moving away from roasts.
"Diets are changing, but it isn't as black and white as consumers making wholesale lifestyle changes," said Kantar business unit director for meat, fish and poultry Nathan Ward.
"Volume sales are down across all categories except primary meat and poultry, which is fairly static. While there are slightly more shoppers buying primary meat and poultry, we see each shopper is making fewer trips on average."
Kantar's figures do not include the coronavirus-related panic buying seen in recent weeks as its dataset ended before it had started to take place.