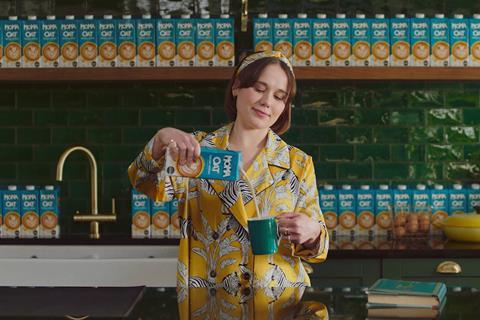 Oat company Moma has launched a £1m advertising campaign for its new Barista oat drink as part of a new growth strategy.
The campaign has been developed in partnership with agency And Rising and will run from 1 September across connected TV, outdoor and digital channels. It will highlight how Barista is perfect for both expert and home coffee making, using the slogan 'The Barista's Choice'.
The oat drink was launched by the brand in March 2020 but the ad push is Moma's first for the product.
Moma founder Tom Mercer told The Grocer he had wanted to focus on ensuring the product's quality before spending on marketing. "For us it has been really important to invest in that quality product, so it tastes really great. It foams really well. The texture is really good."
The brand is also using the campaign to relaunch itself as 'The Craft Oat Co', emphasising the company's heritage, expertise and passion for oats.
Moma currently produces the majority of its oat milk in the UK, where the brand uses home-grown British oats, a third of which are grown on Mercer's family farm in Staffordshire.
However, the brand also had plans to ultimately source all its oats from the UK, which would provide benefits in terms of sustainability and supply chain security, while supporting British agriculture, Mercer suggested.
"Oat milk generally is a sustainable product from a greenhouse gas point of view but having the oats grown and sourced in the UK goes that extra step," he said.
"We are not an anti-dairy brand; we are an oat brand and are pro-UK agriculture."
In the 52 weeks running to July 2022, Moma said its oat drinks had grown by 35% in value terms – twice as fast as the category. The drinks had now also overtaken Moma's porridge range to represent over 60% of the company's core business, Mercer said.
"The growth has been exceptional and is testament to Moma's commitment to growing and crafting the highest quality oat-based products," said marketing director Natasha Thompson. "Investment in advertising will help us achieve ambitious goals for growth, to bring new people into our unique world where delicious things exist alongside healthy and sustainable ones."
Looking ahead, Mercer said the brand would continue to grow with "more innovation in the oat milk space", as it was such a "nascent category".
In 10 years, he expressed his expectation that while "the gains will be smaller, I think the cumulative impact will be better-quality products on the marketplace and probably a slight rationalisation" of brands, which was why Moma intended to continue focusing on quality.