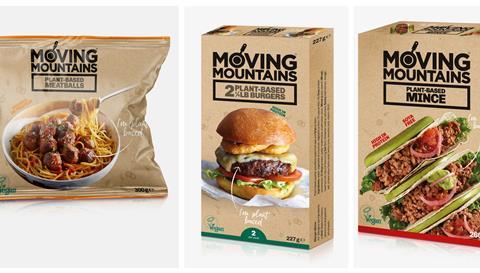 British plant-based brand Moving Mountains has launched its pea and soy protein-based 'bleeding' burger into retail for the first time.
The brand has partnered with Ocado to launch the frozen burger alongside new plant-based meatball and mince SKUs and its existing sausage burger, which first went on sale in Sainsbury's last December.
The Moving Mountains burger (rsp: £4.50/two patties) had previously only been available in restaurants, which sold seven million patties last year in more than 3,000 outlets. The brand's mince, meatball and sausage SKUs also cost £4.50 per pack.
"We have partnered with Ocado to extend our cook-at-home range at a time when the nation needs more plant-based choices than ever," said Moving Mountains founder Simeon Van der Molen.
"With the launch of our mince and meatballs, alongside our sausage burger and the exclusive retail launch of our signature bleeding burger, we are fulfilling our mission to make inspiring flexitarian cuisine available to home cooks across the nation."
The brand's plant-based alternatives could be easily incorporated into home-cooked meals, added Ocado buyer Juliet Hall. "Moving Mountains provides a delicious solution for our customers who are looking for healthy, flexitarian cooking inspiration."