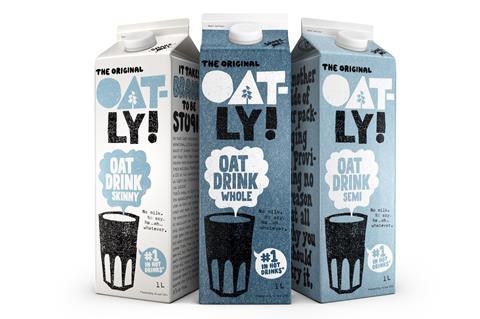 Oatly has announced plans to build its first UK factory, ending years of speculation over when it would make such a move.
The new facility, which will be based in Peterborough, Cambridgeshire, will be one of the largest dairy alternatives factories in the world when it opens in the first quarter of 2023, Oatly claimed.
It will initially produce 300 million litres of oat drinks per year using oats sourced from across the UK, with capacity to expand further to 450 million litres, and is expected to create at least 200 new jobs.
Oatly has also said it will aim to solely rely on renewable energy at the site and would meet its existing pledge to decrease energy and water consumption and wastage by 75% (against its 2019 environmental footprint) across the business by 2029.
"We look forward to supplying the UK with more oat drink [and] we're even more excited to do it in a sustainable way," said Oatly chief supply chain officer Johan Rabe.
"Like everything we do at Oatly, we've ensured that sustainability is core to our factory planning. Everything, from the sourcing of our oats, to the production of our product range, has sustainability at the heart of it. Even as we strive to grow one of the biggest plant-based dairy factories to its full capacity, this will still be our top priority."
Speculation over the possible opening of a UK factory began in 2019, when the Swedish brand's CEO Toni Petersson described the UK as "a big market" – words echoed by Oatly's UK general manager Ishen Paran today that "the UK is a really important driver of the global plant-based movement".
It comes at a time of massive growth and exposure for the brand. Its latest UK sales figures showed it had almost doubled its value and volume sales over the last 12 months, adding more than £41m to take it to over £84m in sales [Nielsen 52 w/e 02 Jan 2021].
Oatly is also rumoured to be eyeing an IPO in the USA. While the specifics of its float have not yet been announced, Bloomberg reported it could seek a valuation as high as $10bn (£7.2bn).
The brand is no stranger to controversy. It faced criticism last summer after it sold a $200m (£144m) stake to a consortium that included private equity player Blackstone.
The investment firm's sustainability credentials and links to the Donald Trump presidential campaign came under fire from activists.
However, Oatly stressed Blackstone's backing also sent "a powerful message" to global private equity markets that plant-based can be profitable and spark a "a massive flow of capital" away from categories such as fossil fuels and "into greener projects and companies".
Oatly has also drawn criticism for its recent TV advert, as well as its claims about the carbon footprint of its drinks.
But its biggest battle is in Europe, where it is currently fighting possible EU legislation which could extend existing restrictions around the use of dairy-related terms when describing or packaging plant-based foods, including banning phrases such as "does not contain milk" and stopping them from using carbon-impact labelling.
Describing the proposals as "censorship", Oatly has launched a petition alongside fellow plant-based brands including Quorn and Upfield to lobby for their rejection by the Council of Ministers. So far this petition has generated more than 360,000 signatures.