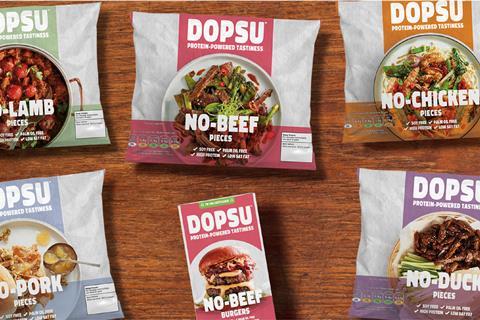 Red meat giant ABP has extended its reach into plant-based with the launch of Dopsu, a major new range of pea protein-based meat alternative pieces.
A portmanteau of the words 'doppelganger' and 'substitute', the frozen Dopsu range was also suitable for vegans, high in protein and low in saturated fat and sugar, ABP said.
Targeted at meat reducers, the brand is UK-manufactured and contains no preservatives, soy or palm oil. It consists of No-Beef Pieces, No-Chicken Pieces, No-Duck Pieces, No-Lamb Pieces and No-Pork Pieces.
Dopsu could be used in a wide selection of dishes such as stir fries, salads, burgers, pies and as pizza toppings, the supplier added. It will go on sale from July in supermarket and online channels and is already sold via foodservice. There are also plans to launch additional barbecue products over the coming weeks.
ABP first entered the meat-free category in 2011 and describes itself as a "market leader" in veg-based own-label meat alternatives. It has also launched plant-based lines under the Men's Health Kitchen brand, various Debbie & Andrew's lines and through its Equals brand, which launched into Asda in February 2019.
A spokesman for the supplier said Dopsu was a replacement for Equals, which was ultimately delisted in October 2019 after sluggish sales which "did not meet our expectations". It registered value sales of just under £102k in its first eight months on sale, according to data for The Grocer's 2019 Top Products survey [Nielsen 52 w/e 7 September 2019].
However, the supplier had "taken those learnings and used them in the development of the new brand", he added. For example, Dopsu will reside in the meat-free category whereas Equals was merchandised in the fresh meat aisle.
"With research showing the meat-free category has doubled in size over the past five years, we recognise the need to respond to consumer demand in the sector," said ABP UK CEO Bob Carnell.
"The product has already been very well received in the foodservice sector and we hope to build on that success in retail," he added.
"The launch of a meat substitute brand complements our core business, beef, and provides a choice for flexitarian consumers who are being driven by health, convenience and environmental considerations."