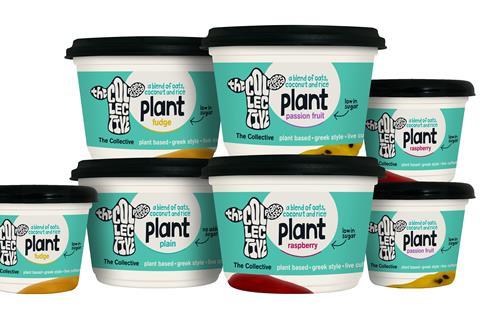 The Collective will take its first step into the plant-based category in January, with the launch of Collective Plant, a range of four vegan-friendly Greek-style yoghurt alternatives.
Made in the UK from a blend of oats, coconut and rice, the range has been in development since 2018 and meant shoppers would "no longer have to compromise on taste when choosing dairy-free", it said.
Collective UK general manager Sarah Smart described the launch as "the biggest we've ever done", with a move into plant-based part of a wider sustainability push, which follows The Collective's certification as a B Corp brand earlier this year.
Timed to coincide with Veganuary, the range will launch across the mults, and will be available in natural, raspberry, passion fruit and fudge flavours in 400g and 135g pot sizes (rsp: £2.20 and £1.25 respectively). It follows a rollout in New Zealand of a locally manufactured Collective Plant lineup last month.
Using a blend of ingredients allowed the brand to better replicate its dairy-based thick yoghurt, added product director Holly Pink, who also stressed the range had a lower sugar content than standard yoghurt.
The oats gave the product "earthy, sweet, caramel notes" with a smooth finish, while coconut gave it a creaminess and "decadent" mouthfeel, Pink pointed out, with the rice rounding off the flavour. The result was a "creamy and fresh" yoghurt alternative with a smooth and balanced flavour that would appeal to both vegans and flexitarians alike.
"We have always taken pride in creating great-tasting products and for us, there should be no compromise when it comes to plant-based," Smart said.
"Our team has worked passionately for more than two years, developing a unique recipe, sourcing the highest-quality ingredients and creating the best-tasting plant milk, that in turn creates a thick and creamy plant-based yoghurt," she added.
"The launch builds on our strong belief of bringing consumers great taste through real, natural food, and our commitment to do better for the planet."
Rolling out in 100% recyclable pots, the launch will be supported by a nationwide ATL awareness campaign in the new year, tapping into healthier consumer habits, backed by sampling activities through consumer, shopper, PR and digital channels.
The brand's move into plant-based follows the launch of plant-based alternatives to established dairy brands such as Activia, Actimel and Oykos by Danone this year. Emmi has also expanded into the category with its new Beleaf brand in June, while Arla unveiled its first ever plant-based product, an oat drink called Jörd, in September.