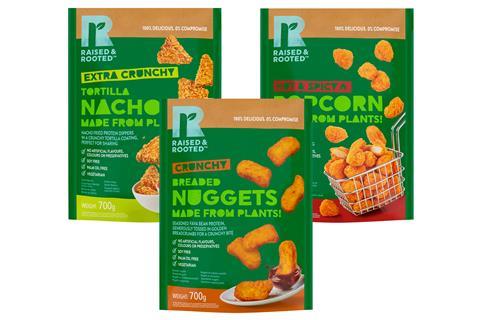 US meat giant Tyson Foods has bolstered its transatlantic ambitions through the launch of its Raised & Rooted frozen plant-based brand into European markets, including the UK.
The Raised & Rooted range, which was launched onto the US retail market in 2019, will initially be sold through foodservice channels in the UK. However, it is also set to be listed in Italian retail outlets soon, according to the US corporation.
Produced in the Netherlands using locally sourced ingredients, which are non-GMO, non-palm oil, egg free and devoid of artificial colours, flavours or preservatives, the fava bean protein-based range includes chicken-free nuggets and popcorn, tortilla nachos and garlic & herb dipping fries.
Each product will be sold in 700g packs made from a recyclable 60% bio-based plastic material.
Tyson said the UK was one of the principle target markets for Raised & Rooted and that it hoped to be able to replicate the "rapid growth" the brand had enjoyed in the US
in a European market where increasing numbers of consumers have turned to plant-based foods.
"Our unique capabilities in R&D and innovation, combined with our international footprint and infrastructure make us uniquely positioned to be a European market leader in alternative protein," said president of Tyson Foods Europe, Brett Van de Bovenkamp.
"Our focus has been on taste and texture, and we're confident our alternative protein products meet consumer expectations."
Tyson's flagship meat brand launched onto the UK foodservice market in May following the US giant's acquisition of major Brazilian meat firm BRF's European and Thai business last year.
At the time, Tyson said it could move its meat products into retail "over the next year".