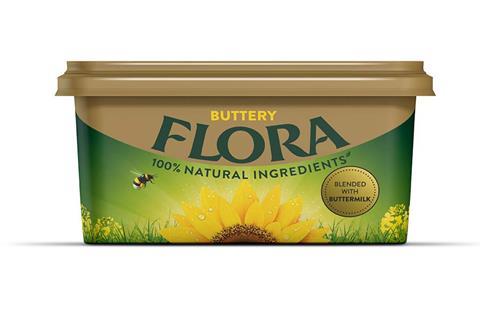 Upfield has bowed to shopper pressure by reintroducing buttermilk to its Flora Buttery variant – a year-and-a-half after it reformulated its entire range with 100% plant-based ingredients.
The plant-based giant said the move was in response to feedback that shoppers preferred "the familiar taste profile" and buttery taste of the line's previous incarnation.
The spread's new recipe, which will hit retailers this weekend as part of a raft of changes across the Flora portfolio, now includes 10% buttermilk.
Though Upfield's mission continued to ensure plant-based eating became more accessible, the supplier's UK & Ireland general manager Damian Guha conceded it needed to offer choice, as every consumer was "looking for a product specifically tailored towards their needs".
Upfield said the recipe change was clearly signposted on pack so that vegans could switch to another product in the range. It comes amid a revamp of other parts of the core Flora lineup – which will continue to be vegan-friendly.
Flora Light's recipe has been reformulated with a reduction in calories from 40 to 27 per portion. Fat levels have also been reduced from 45% to 30%, with saturated fat down from 1.3g per 10g portion to 0.62g.
Meanwhile, Flora Original has been given an "enhanced taste and performance in baking and cooking" with an increase in fat percentage from 70% to 79% and the addition of faba bean protein, which contributes towards an improved texture.
Upfield said both variants would continue to be made from 100% natural ingredients and contained omega-3 and 6, as well as vitamins A and D. As a result of the reformulations, it had decided to delist its Flora Dairy Free variant "since these two new recipes will be widely available".
"These changes deliver a range of products for everyone and includes options for different dietary needs, eating occasions and taste preferences," it said. "The range now includes vegan, dairy-free, and low-calorie options – all with great taste."
The recipes of Flora's plant-based low cholesterol ProActiv range and its new Flora Plant block butter alternative remain unchanged.