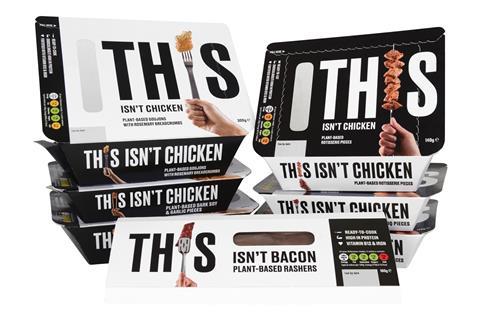 Plant-based meat alternative brand This has secured major new distribution deals with both Tesco and Müller's Milk & More doorstep delivery service.
The UK-based brand first launched its soy and pea protein-based bacon and chicken alternatives last year into Holland & Barrett, followed by the likes of Waitrose, Ocado, Co-op, Brakes and a number of restaurant chains.
As of this week, its This Isn't Bacon Rashers (rsp: £3.15/120g) and This Isn't Chicken Tikka Pieces (rsp: £3.15/140g), will be available to the Müller platform's more than 500,000 customers.
The listing on Milk & More was "breaking down barriers between plant-based and animal-based products", the brand said, with co-founder Andy Shovel describing working with "a legacy dairy distributor" as a "watershed moment for the brand".
The two products, alongside the brand's This Isn't Chicken Salt & Pepper Pieces and This Isn't Chicken Goujons also went on sale in 744 Tesco stores this week, in a move that would further accelerate sales, Shovel suggested.
It followed a doubling of supermarket revenues between February and March, while sales growth over the past year rose at a compound rate of 35% month on month, putting the brand on track to post annualised revenues of £7 to £10m later this year.
The brand also raised £4.7m from strategic venture capital investors earlier this year, to scale up operations and keep up with growing demand for its products.
"We want This to punch a gigantic hole in this category, on-boarding millions of meat-lovers who haven't yet been won over by plant-based food," Shovel added.