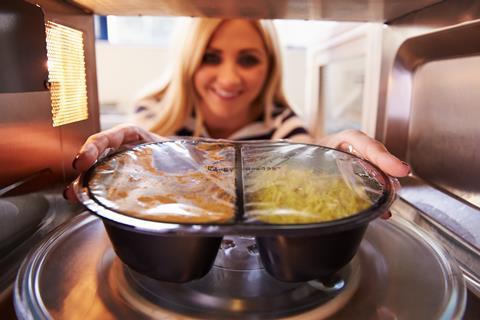 Plant-based ready meals have seen a jump in availability across the mults, with their price points now routinely weighing in below those of their meat equivalents, new research from the Eating Better coalition has found.
According to its March 2021 survey of 2,743 ready meals across the UK's top 10 supermarkets, the report stated there were now 267 plant-based meal options available to consumers – up 92% compared with its first iteration in 2018.
The biggest upticks in SKU numbers during this time had come from Aldi (up 175%) – where plant-based products made up a quarter of its ready meal offering – and Tesco (up 103%). Nine retailers had increased the proportion of their plant-based and vegetarian ranges since 2018, with Waitrose the only one to slip back, from 24% to 23%.
Meat-based products still made up 70% of ready meal ranges – but this represented a drop of 9% against 2018's benchmark.
Eating Better – which aims to encourage consumers to eat "less and better" meat and dairy for health, environment, animal welfare and social justice reasons – also found that meat-free ready meals were now cheaper, per portion, than meat-based equivalents at seven of the 10 supermarkets it surveyed.
The average price per portion for plant-based across the mults came in at £2.62, with meat products costing 3p more. Vegetarian meals, meanwhile, were priced even more cheaply at £2.15.
The report cited the Co-op as being one of the drivers of this change, with the supermarket making meat-based prepared meals 9% more expensive than plant-based ones. This marked a swing of 17% at the Co-op as meat had cost 8% less in 2020.
Eating Better executive director Simon Billing said that while the results of this year's survey were positive, retailers still had further to go.
"Retailers influence how and what we eat and have a responsibility to help us make healthy and sustainable food choices," he said. "Climate-friendly food needs to be mainstream and shouldn't cost more, so it's good to see progress on choice and affordability.
"Now, we need the same drive on meat options, to make up no more than 50% of the ready meals ranges at all retailers."
The results come after a different survey carried out by The Vegan Society and plant-based influencers Bosh found more than 25% of UK adults had removed or reduced meat from their diets during the past five years.
Based on a food survey of 1,000 respondents aged 18 to 64, which was conducted by pollsters Attest, they found over-55s were reducing their meat consumption at a faster rate than younger consumers.
However, when it came to dairy intake, 25% of 18 to 25-year-olds had cut back compared with 19% of all those surveyed.
In the cases of both the meat and dairy reducers, health was cited as the principal reason for the dietary shift.