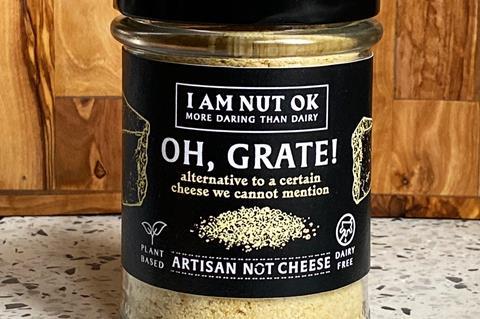 A British vegan startup has been forced to change the labelling on a product after being accused of "violating" the Protected Designation of Origin (PDO) for parmesan.
London-based firm I Am Nut OK's product was originally called Parmesans, carried the taglines 'Grated Italian style' and 'Artisan not cheese'. It also had labels stating it was "dairy-free" and "plant-based".
Its ingredients included cashews, nutritional yeast, Himalayan salt, garlic and truffle oil.
The Parmigiano Reggiano Consortium said it amounted to "counterfeit branding" which "would tarnish the Parmigiano Reggiano name" and cause confusion among consumers.
After contacting the vegan brand on 9 December, the Consortium said it received a response on 19 December and decided not to pursue legal action.
I Am Nut OK then changed the name of the product to 'Oh, Grate!' and added the new tagline 'An alternative to a certain cheese we cannot mention'. It has kept its listing in Selfridges.
Selfridges has been approached for comment.
"The latest intervention in the UK shows us that it is possible to fight and win against cases of illegitimate branding," said president of the Parmigiano Reggiano Consortium, Nicola Bertinelli.
"The Consortium monitors these cases on the field daily and will continue to do so in 2020 by working alongside the government and European institutions to face the terrain of international agreements and disputes with the same attitude and determination."
"We didn't know they wouldn't really have a sense of humour"
However, while I Am Nut OK's director Angela Chou admitted to an "oversight", she criticised the Consortium's approach to the matter.
"We didn't know that they wouldn't really have a sense of humour. Anyone who does a quick search will know we're not trying to make cheese," she said.
"We're proudly produced in the UK and we're not trying to make a knock-off."
Under European law, names registered as PDO have strong ties to a geographical area and products carrying the marque often must conform to strict specifications in production and labelling.
In 2008, a case was brought against Germany by the European Commission in the European Court of Justice after the country's government refused to recognise the PDO for parmesan, arguing it had become a "generic name".
However, the court found that use of the term for cheese "which does not comply with the specification for the PDO 'Parmigiano Reggiano'" should be seen as an infringement of the law protecting PDOs.
According to the Parmigiano Reggiano Consortium, the UK is the fourth largest foreign market for parmesan, with its own figures showing 6,940 tonnes were imported in 2018.