At the end of 2019, single-use plastic reduction and the creation of sustainable packaging were high on the agenda. Has the coronavirus pandemic given the movement more weight – or scuppered it?
This year was going to be one of seismic change for packaging. Because towards the end of 2019, the food and drink industry was setting out some truly ambitious targets. Stark warnings such as the one from the Ellen MacArthur Foundation and the World Economic Forum, which forecast the oceans would contain more plastic than fish by weight by 2050, meant something had to be done. And so the industry united under one common aim: to reduce the detrimental impact of packaging on the environment.
Supermarkets and manufacturers established packaging as an urgent priority. But then came a challenge even more immediate than environmental destruction: Covid-19. The effect was to push sustainability down the priority list, as the industry dealt with a more pressing need: to feed the nation, amid huge supply chain disruption, and unwieldy spikes and shifts in demand, and all the while keeping employees safe.
Plus, packaging suddenly assumed a whole new function in the pandemic: safety. That has left the industry with no option but to up its use of materials in some cases, while environmentally friendly schemes such as refill schemes come under fresh scrutiny.
So where does that leave the lofty ambitions of the sector? Will coronavirus put a stop to efforts to cut back on packaging? And how is the industry juggling safety with environmental concerns?
So far, no one has publicly reneged on their commitments to reduce plastic. And there were plenty of commitments made last year. Sainsbury's departing CEO Mike Coupe laid out plans to halve the supermarket's plastic packaging by 2025, in what he branded an "urgent" effort. Tesco, which unveiled its plan to remove one billion pieces of plastic from products in UK stores by the end of 2020, said the need for action had "never been more pressing". Asda accelerated its own plastic reduction commitment by five years, as CEO Roger Burnley said the agenda was "top of our minds". Morrisons too committed to halving branded plastic packaging, as it hammered home that "our industry needs to urgently change".
Manufacturers set out similar goals. Unilever confirmed it would reduce its absolute use of plastic packaging by more than 100,000 tonnes, halve its use of virgin plastic and "collect and process more plastic packaging than it sells" within five years. Nestlé was "determined" that 100% of its packaging would be recyclable or reusable by 2025, and PepsiCo promised that within five years all its packaging would be recyclable, compostable or biodegradable.
Public attitudes
But there is no doubting that the landscape has changed since those commitments were made. Consumers have played a central role in convincing fmcg companies and retailers to reduce the amount of packaging produced. An ING survey conducted prior to the arrival of Covid-19 in the UK, in December last year, found 34% of them considered plastic packaging to be the most pressing problem for the environment.
Those good intentions remain. Indeed, 55% of people globally have now become 'more concerned' about the environment as a result of Covid-19, found a survey by Fmcg Gurus. At the same time, coronavirus fears mean they aren't necessarily acting on those good intentions. Shoppers are veering towards packaged, less sustainable options, as they look to avoid food that may have already been handled, or coughed upon, by fellow shoppers.
"Due to coronavirus, there's an increased awareness [of] hygiene measures and thus an increasing demand for protection," says Joost van Dun, circular economy lead at ING.
That mindset is driving many shoppers towards wrapped produce. Kantar figures show sales of loose foods fell by 6% over the past month, in part due to shopper preference for pre-packed products amid "safety concerns and hygiene considerations".
Packaged foods can also fit better with the new way of shopping, adds ING's van Dun. "In many cases wrapped produce has a longer shelf life than loose and also provides a bit of convenience," he points out. "This can make wrapped produce more attractive for consumers, especially now as people have reduced the frequency of shopping for groceries."
Susan Hansen – global strategist for supply chains at Rabobank – says this has created a sea change in public attitude. "Plastic went from being a hero to a villain in the past 12 years. But during coronavirus it went back from villain to hero," she says. "Consumers want it back for hygiene reasons, people feel it's safer. It's played a big role."
The massive shift to online grocery – Kantar says it now accounts for 11.5% of all grocery sales, having attracted more new shoppers in 2020 than in the previous five years put together – has only compounded this effect. Because in many cases, that adds another layer of packaging to a shop. Morrisons food boxes, the government's shielding food parcel scheme and Heinz's home bundles – all come in sturdy cardboard boxes, rather than the reusable bags a shopper might have used in a physical store.
Standard online deliveries are changing, too. The major players are also now refusing to take back plastic bags at the doorstep to ensure social distancing. The government has suspended charges for the use of single-use carrier bags to "minimise any cross-contamination from reusing crates".
The latter example highlights another element at play. Consumers aren't the only ones increasing their use of packaging – retailers are also doing so temporarily as a safety measure.
See the fate of refill stations, which were rapidly gaining ground before the pandemic in the likes of Waitrose, M&S and Asda. Today, many retailers are having to either put those schemes on hold or make sure they fit with the new environment. On a similar note, the planned UK launch of TerraCycle's 'circular shopping platform' Loop – in which users receive food in durable, reusable containers and return them once consumed – in March was also pushed back due to coronavirus.
It's a depressing picture across retail. Last week, The Grocer reported many convenience retailers were reluctantly increasing their use of packaging. Thornton's Budgens in Belsize Park had to wrap its pastries and bread rolls in single-use plastic after bakery sales fell 35% in April. The Eros Retail convenience chain in Scotland has put its confectionery pick & mix into disposable sealed cardboard boxes, and loose fruit & veg now come in single-use plastic bags.
In the out-of-home sector, Starbucks, Pret a Manger and Caffè Nero have suspended the use of reusable 'keep-cups' in the name of safety. That's despite nearly 130 scientists signing a letter confirming reusable systems can be utilised safely during the pandemic by employing basic hygiene.
The coronavirus is also having an impact on recycling efforts. The move towards recyclable materials, as opposed to virgin plastic, is being challenged on two fronts as a result of the pandemic.
First, office and business recycling collection volumes have dried up over lockdown. While household volumes have risen, the waste is more expensive to collect and process. "Material collected from commercial sources tends to be of better quality and requires less sorting than domestic material. During lockdown, with more material being collected from homes, the quality has suffered," explains Simon Ellin, CEO of The Recycling Association.
That coincided with 46% of UK recycling facilities reducing or stopping treatment in the early days of lockdown, according to an Association of Directors of Environment, Economy, Planning and Transport survey. A recycling industry already facing strain and stagnation – the proportion of material collected for recycling has remained at around 45% in England for years – was put under further pressure.
Put simply, there is now less recycled plastic in the system. "Packaging, fmcg and retail companies might face difficulties meeting previous commitments related to the use of recycled plastic due to disturbed supply chains," says van Dun. "As a result, the use of single-use plastic may increase again."
Compounding the situation is that single-use plastic has become a more affordable option. Lockdowns led to a slump in demand for fuel, which sent the price of crude oil plummeting. "The low oil price has led to much cheaper virgin plastic prices, and some manufacturers have moved away from using recycled content to very cheap virgin content instead," says Ellin.
"That has created a very challenging situation for plastic recyclers," he adds. "I can totally understand why manufacturers have opted for the cheaper option."
How long can the virus survive on different materials?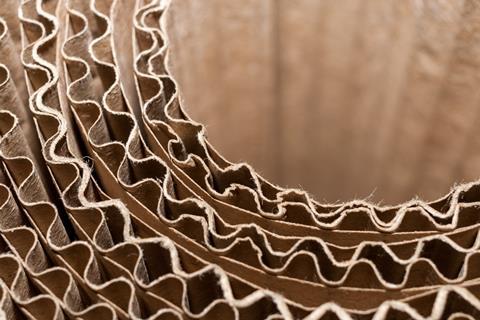 Coronavirus lives three times longer on plastic than on cardboard, found a study published in the New England Medical Journal in April, which timed how long it remained viable on surfaces. Although there is no evidence that the infection is transmitted that way, the World Health Organization recommends items are washed with soap and water, transferred to clean containers or quarantined for up to three days.
Plastic: 72 hours
Stainless steel: 48 hours
Ongoing commitments
But the coronavirus hasn't stymied sustainability efforts altogether. Despite the upheaval, many are pressing ahead with environmental pledges.
"Many businesses have committed — and during this pandemic even recommitted or raised their ambitions further — to create a circular economy for plastics, so I don't think this will change the overall course and direction," explains Sander Defruyt, new plastics economy lead at the Ellen MacArthur Foundation. "While we might need to slightly tweak how we get there, there is still a clear commitment."
As van Dun puts it, sustainable packaging commitments "are made for the long term and are not easily abandoned", even in a pandemic.
Nestlé is one company that seems to have taken that attitude. Its UK&I group packaging manager Alison Bramfitt describes the launch of its recycled paper-wrapped Smarties share pack in June as an "important demonstration of our intent, despite the pandemic".
Granted, the crisis did push a planned transition to paper for the entire Smarties brand by the end of this year to the start of next. But Bramfitt stresses that Nestlé is "still very much committed" to its sustainability goals, including its ambition to make all its packaging recyclable or reusable by 2025.
Coca-Cola European Partners is similarly keen to avoid going backwards during Covid-19. Indeed, it has even brought forward some of its packaging commitments. "Despite the current uncertainty we know it is absolutely critical we do not lose sight of our sustainability aims," says head of sustainability Nick Brown. "It's still a priority for us as we look ahead."
Smaller suppliers also remain committed. Princes Gate Mineral Water is readying to launch its first 100% rPET bottle this July, despite significant challenges in acquiring enough high-grade plastic. "There's no denying the sector is in one of its most challenging times. However that doesn't change our responsibilities," says general manager Endaf Edwards.
Meanwhile, pasta brand Barilla launched 100% recyclable packaging "in the midst of the pandemic's peak, despite the increased pressure on the supply chain", says its marketing manager Alberto Costella.
"Understandably, the overall focus shifted to ensuring production was at a high enough level to provide consumers with the supplies they needed, but we believe that as things go back to normal we will see an increase in focus on this topic once again, so we wanted to continue with the launch," he adds.
Retailers are similarly keen to point out that, in the long term, the drive towards sustainability is as strong as ever. Tesco says it "remains committed to removing all unnecessary and non-recyclable plastic from our business". The supermarket has, for example, reduced the amount of plastic used to pack chilled fruit juices since the start of the year, in a move that should save 410 tonnes annually. Some 239 tonnes will be saved by replacing the full shrink sleeve with smaller labels on the side of the bottle, while redesigning the shape and structure of the bottle will reduce a further 171 tonnes.
Asda likewise has continued with its plastic reduction programme, this month taking 24.5 million plastic forks out of its own-label salads and protein bowls. "We understand hygiene, safety and convenience are high on customers' minds at the moment. However we do not believe this will lead to a shift in attitudes towards tackling plastic pollution," a spokeswoman says.
Packaging manufacturers hammer home that Covid-19 is simply a blip in the industry's steady progress towards sustainability. Amcor says its "commitment to more responsible packaging remains at the heart of our strategy". Smurfitt Kappa has even observed growing demand for its sustainable lines, as focus on the environment begins "intensifying". For DS Smith, sustainability "will always remain at the core of what we do, even during challenging times", says the company's UK sales director James Lomax. "We're hopeful the global conversation around a green recovery will mean even more brands and companies will see the importance of sustainable packaging," he adds.
Indeed, Greenpeace argues the coronavirus will actually increase public concerns over the environment. "The pandemic has brought our attention back to the important things in life – how we protect our health, our families and our world. We need to keep up the momentum on drastically reducing how much single-use plastic we use so we can protect our environment and wildlife – our birds, seas and rivers, valued even more highly since lockdown," says plastics campaigner Nina Schrank. Because unlike Covid-19, the plastic problem is far more than a blip in our history.
The refill question: how stations and schemes have fared in the Covid-19 era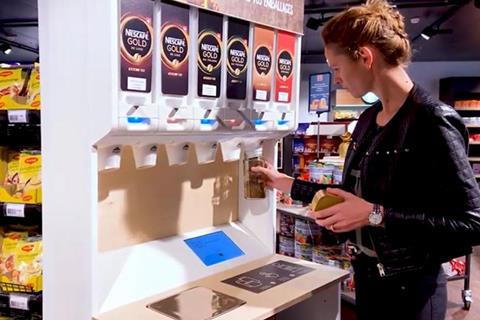 Prior to the pandemic, refill stations were a no-brainer. By bringing in their own refillable containers, customers could avoid generating mountains of packaging in their grocery shop – and enjoy the novelty of pouring out their own cereal, too.
So M&S, Waitrose and Asda were among the major mults to test out these sustainable format in selected stores.
But the arrival of Covid-19 means the idea of customers all touching the same refill station suddenly seems a whole lot more fraught.
So retailers are having to weigh up the environmental benefits with customer safety.
Some have decided to make temporary changes. At Thornton's Budgens in Belsize Park, customers must now use single-use plastic bottles at its milk dispenser, rather than their own reusuable containers. Others, like Asda, have put plans for refill stations on hold.
However some are pressing ahead with the concept. M&S and Waitrose are keeping their refill areas open while ensuring cleaning measures are in place. And mid-lockdown, Nestlé expanded its trial of refillable dispensers, which had commenced earlier in the year at three stores in Switzerland.
Consumers can bring reusable containers to fill up on Purina catfood and Nescafé instant coffee.
Nestlé is also embarking on a separate pilot called Refill Plus, a water dispenser that allows consumers to "personalise their water" with 64 flavour combinations. "We have been working hard to rethink how we design our packaging for better environmental impact," says beverage strategic business unit chief Philipp Navratil.
Plus, the fmcg giant is joining forces with Loop, the circular shopping platform that provides consumers with branded reusable containers, which are refilled.
The platform is currently only live in the US and France. Its UK launch, which will see it partner with Tesco, was delayed as a result of the crisis and is expected to take place in a few weeks.
Loop is confident in its potential. "The shift in consumption to online is definitely supporting the deployments, which are mostly online," says Loop Europe spokesman Stephen Clarke.
If the rise of online shopping is anything to go by, it could be onto a winner.
The risks of inaction on plastic packaging
Doing nothing is no longer an option when it comes to plastic packaging. Companies that take no action have much to lose amid rapidly changing consumer sentiment and looming government regulations.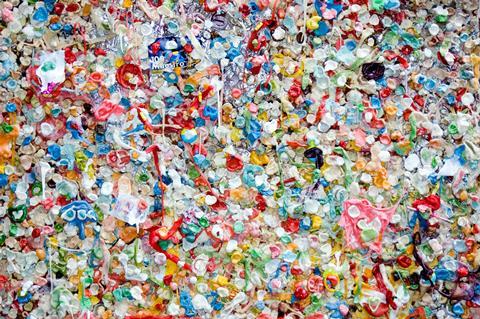 Disgruntled consumers: According to an ING survey, Europeans dispose of an average of three pieces of plastic waste every day. And they're not happy about it. "Plastic waste is a very tangible environmental problem that people come face to face with on a daily basis. Partly because of this, the issue is a top priority among consumers," says ING food economist Thijs Geijer. "Despite the pandemic many still have mixed feelings toward wrapped fruit & veg."
Virgin plastic tax: In April, Defra confirmed the UK's ban on plastic straws, stirrers and cotton buds would be delayed for another six months "to avoid additional burdens for firms at this challenging time". But the UK government still plans to introduce a plastic tax in April 2022, levied at £200 per tonne of plastic made from less than 30% recycled materials. The tax would increase the use of recycled plastic in packaging by 40%, "equal to carbon savings of nearly 200,000 tonnes" claims Chancellor Rishi Sunak.
Lost sales: Consumers prefer sustainable packaging and are buying more products with environmental credentials. Analysis by NYU Stern's Center for Sustainable Business last year found market share growth of sustainability-marketed products was faster than their conventional counterparts. Accenture found 81% of survey respondents said they expect to buy more environmentally friendly products over the next five years.
On the back foot for the future: "While unthinkable a decade ago, the scenario of a complete ban is a possibility today," writes Cambridge University's Bradley Gibb in a recent report on plastic in the UK beverage industry. It's been more than a decade since the sleepy town of Bundanoon in Australia became the first community in the world to ban the sale of plastic water bottles. A few years later San Francisco did the same across all city-owned property. And the UK parliament took measures to "virtually eliminate" single-use plastics in Westminster last year.