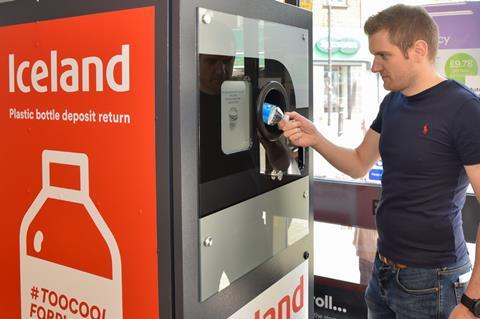 The government has told the industry it is willing to reconsider its time frame for the introduction of extended producer responsibility and a deposit return scheme, as it comes under pressure to tackle the cost of living crisis.
With the two landmark environmental schemes expected to cost the industry upwards of £2.5bn a year, environment secretary George Eustice told an FDF parliamentary reception in Westminster yesterday that the government recognised the issues facing the industry were "complicated".
Whilst stressing he believed the two landmark initiatives were "the right policy", he said ministers would be prepared to consider calls for a delay, which follows a previous decision in March to water down the plans by reducing the expectations on industry to pay for the costs of recycling and litter collection.
There is also speculation PM Boris Johnson and his newly appointed chancellor Nadhim Zahawi are planning to announce a rethink of DRS and EPR as part of a plan to tackle the cost of living emergency, but the plan was disrupted after Johnson was forced to resign last week.
Last year a dozen different trade bodies wrote to Eustice warning EPR proposals were based on an "unrealistic" time frame.
The minister's speech was welcomed by James Bielby, CEO of the FWD, who said: "It's encouraging that the government are looking at measures they can take to help business facing the cost-of living crisis.
"Whilst it unfortunately could mean a DRS delay, it makes sense considering the cost this is set to impose on the industry and the impact it could have on prices."
However, another source at the event described the remarks as "weasel words from the SOS designed to keep the room happy".
A supplier source added: "It makes perfect sense that the government is prepared to consider a rethink on these policies, and so they should, given the cost of living situation. But the reality is given current events it may not be George Eustice who ends up making the final decision."