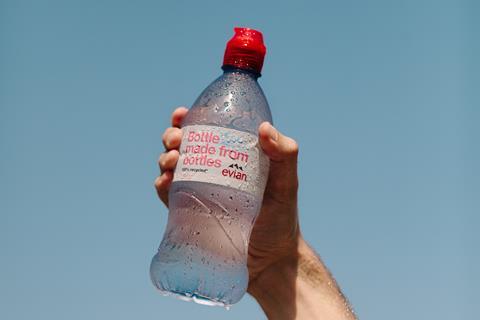 The UK's bottled water and soft drinks giants are ramping up packaging sustainability to mark this year's Wrap Recycle Week.
Bottled water behemoths Evian and Buxton have both lifted the lid on major sustainability achievements: Evian has begun rolling out 100% rPET bottles across 500ml, 750ml and 1.5-litre bottles of water in the UK.
Its bottles were already recyclable, but they are now also made from 100% recycled plastic, a move the brand said reduced the carbon emissions of a plastic bottle by up to 50% compared with virgin plastic bottles.
Evian VP of marketing Shweta Harit said the move marked "an important milestone" in Evian's sustainability journey. The brand has already achieved carbon neutrality and is committed to continue reducing its carbon emissions, becoming a fully circular brand by 2025.
Buxton, meanwhile, has partnered with sustainable waste management business Biffa, which will manufacture recycled plastic bottles for the brand, by collecting recyclable plastic bottles and reprocessing them into rPET.
In soft drinks, Coca-Cola European Partners revealed this week that 50% of the plastic used in its core portfolio – Coca-Cola Original Taste, Coca-Cola Zero Sugar, Diet Coke, Fanta, Sprite, Dr Pepper, Schweppes Sparkling Mixers, Oasis and Powerade – now comes from recycled sources.
Lilt will transition to a 50% recycled plastic bottle by the end of September and Glaceau Vitaminwater by the end of November.
Lastly, Suntory Beverage & Food has begun trialling paper straws for its Ribena cartons in Tesco.
SBF business transformation manager Jo Padwick said Ribena had conducted "hours of consumer testing" to make sure the paper straws could puncture the carton and didn't become soggy. It said it hoped the trial would provide more feedback before rolling out the straws more widely.
Soft drinks suppliers rally for DRS
CCEP is throwing its support behind calls for the UK to introduce a deposit return scheme. It would "really encourage more people to recycle" and would help more bottles to be collected in a clean, efficient way to be remade into new bottles, said CCEP general manager Stephen Moorhouse.
CCEP's pledge of support for such a scheme falls in line with new research commissioned by Britvic, which suggests that more than two thirds (68%) of consumers believe a DRS would encourage more people to recycle bottles and cans.
Britvic director of sustainable business Sarah Webster said it was time for Britvic and the wider industry to "take responsibility to create a world-class scheme to support the drive towards a healthier planet that we can leave for future generations".
Recycling on the rise – but work still remains
It comes as data from Wrap's Recycling Tracker for the year to March 2020 shines a light on Brits' recycling habits: 87% of UK households now say they recycle regularly, with just 9% who recyle "occasionally" and one in 25 (4%) who recycle rarely or never.
Recycling was also increasing and becoming more consistent in the year prior to lockdown, said Wrap, with 62% of UK citizens reporting they recycled extra items over the year to March 2020 versus 60% the prior year.
However there was still "a way to go in terms of correctly identifying what can and cannot be recycled", said Wrap UK director Peter Maddox. Wrap found 82% of Brits had mistakenly put one or more items in the recycling that were not accepted locally. Uncertainty as to what can and can't be recycled was named as by far the largest barrier to recycling.
Other barriers included lack of recycling capacity in bigs, bags or boxes and local councils "not collecting enough things for recycling".
Only 3% of Brits said they did not see the point in recycling.