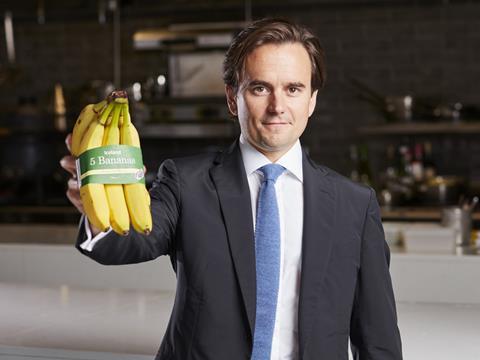 Iceland expects to have eliminated 2,000 tonnes of plastic packaging annually by early next year, the supermarket has said.

The reduction will take the retailer one eighth of the way to achieving its commitment made in January this year to eliminate plastic from own-label products by 2023, Iceland's director of corporate affairs Keith Hann told The Grocer.

Hann's comments came after Iceland published a progress update on its website detailing how 850 tonnes had already been eliminated and outlining steps it was taking. These steps include swapping black plastic with paper-based trays for frozen meals and wrapping bananas in recyclable paper bands instead of plastic.

"The 850 tonnes saved so far is entirely plastic meal trays," said Hann. "Other initiatives are just starting. The paper banana bands will save 57 tonnes of plastic, which we will add to the total once we have completed the rollout by the end of this year.

"We expect to have removed over 2,000 tonnes of plastic by early 2019. Ultimately the target is to remove 16,000 tonnes of plastic per annum in own-label food packaging and single-use plastic bags by 2023."

Iceland's update, posted on Friday (14 September), said the chain was on track to have removed black plastic trays from a 'high proportion' of frozen meals by the end of the year, replaced with paper-based or aluminium alternatives.

It said further alternatives were being evaluated including sugar beet, bamboo and bagasse from sugar cane.

Work is progressing to eliminate the thin plastic laminate on the first paper-based meal trays, making them completely plastic-free, with the optimum solution likely to be a fully compostable pack.
Meanwhile Iceland was lobbying government to make food waste collection from the home mandatory throughout the country, including compostable packaging.

Iceland's update also set out the next products set to go plastic-free, with mushrooms, strawberries and grapes to get paper-based alternatives to plastic punnets 'in the coming months'.

'We are on track to replace plastic packaging with pulp trays across our own-label egg range,' the update said.

It set out longer-term hurdles on the way to achieving its commitment, including tackling milk cartons.

'We are also exploring potential alternatives for milk containers, and are considering a number of different solutions that could significantly reduce their plastic content,' it said. 'This has to be a longer-term goal within our five-year plastic removal plan, because of the massive amount of investment that the dairy industry has made to integrate plastic into the milk bottling process.'