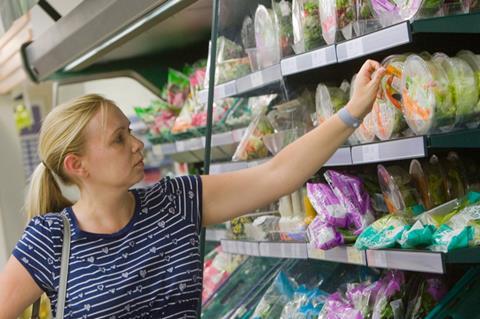 Richard Walker, MD, Iceland Foods
"We are incredibly proud that we galvanised change in the sector with our announcement last year. This remains the boldest and bravest of all the supermarket pledges, aiming to remove all plastic packaging from our own-label range by the end of 2023. We remain single-mindedly focused on this commitment and, while we don't have absolutely all of the solutions yet, we are firmly on track against the metrics in our five-year plan.

"We have a different demographic to the new leaders in the survey - our customers do care, but unlike Waitrose shoppers they don't have the luxury of spending more money. Therefore we have to be more innovative and invest to offer solutions without charging more. This is vital if we are to democratise environmentalism, as I believe we must.
"Since the survey results were compiled in the summer we have made even more progress. We have improved the recyclability and labelling of our current packaging. We are working intently with our own label suppliers and have written to over 400 branded suppliers asking for their support in moving towards the goal of plastics removal. We are also lobbying Westminster and the Scottish government in support of a deposit return scheme, and challenging the business sector as a whole to do more on plastic removal.

"Most importantly, we welcome the moves the other supermarkets are making. This isn't a competition: we've got 10 years to save the planet. We must work together as supermarkets and with our suppliers to significantly reduce the amount of plastic created. We must not fall for the myth of recycling and the emphasis on the circular economy, which is just kicking the problem further down the road."
Asda spokesman
"Whilst we are disappointed by our ranking in this year's EIA report, we recognise that this is reflective of our increased sales year on year rather than our level of commitment to this important issue. Relative to our baseline year, we have already removed more than 6,500 tonnes of plastic for our customers and we're constantly looking at new ways we can push ourselves and our suppliers harder in this area, including in trialling refillable and reusable packaging options. We're committed to reducing the amount of plastic in our business, with at least 30% of our plastic packaging to come from recycled sources by the end of 2020, which will remove 19,500 tonnes of virgin plastic from circulation, and an overall reduction of 15% by February 2021. All our packaging - of whatever material - will be 100% recyclable by 2025."
Sian Sutherland, co-founder, A Plastic Planet
"Another year of plastic pacts, pledges and promises and yet the numbers don't lie. Retailers' pace of change is shockingly slow. Our UK supermarkets have tremendous buying power and can influence brands to stop using toxic indestructible plastic.

"But instead of collaborating together to dramatically reduce the use of plastic, they continue to grab headlines with tokenistic paper-thin gestures that clearly do not translate to real action. We need rapid expansion into refill and reuse. The shopping public no longer wants the grocery guilt.

"Let's ask the supermarkets: where is all this plastic ending up? They have no idea. Instead just ask Malaysia; ask Myanmar; ask Mozambique. Over 60% of our plastic is being shipped abroad for others to deal with, often to developing countries with little infrastructure.

"But the tide is turning and we are driving our call for a law to ban these exports through whichever party gets into Downing Street on 12 December. All parties are claiming they will take drastic action on plastic. For the sake of our oceans, our soil and the health of future generations, we need to ensure they actually deliver."



Helen Munday, chief scientific officer, FDF
"Plastics and all other packaging materials play a crucial role in protecting food throughout the supply chain and thereby maintaining food safety and helping to prevent food waste, thus contributing to the wider sustainability of the food supply chain. Therefore, changes to current packaging of food and drink products must be made through holistic, evidence-based interventions. These need to take particular account of strict regulations of materials used in contact with food.
"FDF and its members are fully committed to working in partnership with the government and other stakeholders to build a truly circular economy for food and drink packaging in the UK, including plastics. We support the proposals for reform of the packaging producer responsibility system and for the introduction of a DRS for beverage containers put forward by government earlier this year. FDF is also proud to be a founding signatory of the UK Plastics Pact (UKPP), as are several of our members who are working alongside the entire plastics value chain to deliver against an ambitious set of targets.

"Unfortunately, this report does not capture the progress being made under the UKPP, which was launched in 2018. There is a role for the entire packaging value chain to play in keeping packaging in the circular economy and out of the natural environment. There are many examples of branded food and drink manufacturers making changes to address this issue. Finally, overall packaging tonnage may not be the most useful metric to consider, since it may be a result of sales going up rather than relative quantity of packaging being increased.

"It goes without saying that progress in the area of limiting the environmental impact of packaging and plastics is of the highest priority to FDF and our members and we are working on many projects to that end."
Andrew Opie, director of food & sustainability, British Retail Consortium
"Retailers are taking many steps to remove plastics from their stores, such as removing all polystyrene packaging and plastic cutlery and trialling packaging free and refillable options. This helps explain how supermarkets achieved a drop in the amount of plastic across their own brand products. However, more needs to be done, which is why retailers have set challenging reduction targets and are committed to ensuring all packaging is 100% reusable, recyclable or compostable."