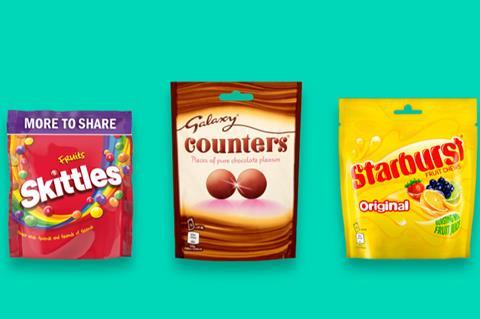 Mars is slashing plastic from the packaging of its sharing pouches.
The Galaxy and Minstrels owner this week unveiled plans to cut approximately 51 tonnes of plastic per annum from the supply chain by reducing the pack sizes of Galaxy, Skittles, Counters, M&Ms, Minstrels, Revels and Starburst by 10% – equating to 647,000 square metres of plastic per year.
The move means Mars will also be able to fit more packs into shipping boxes, increasing its efficiency and taking the equivalent of 90 lorry loads of boxes off the road each year, its interim GM Nick Reade said.
It's the latest in a series of sustainability moves from the supplier, which has said it wants to develop "packaging that is 100% reusable, recyclable or compostable" and decrease virgin plastic use (to/by?) 25% by 2025.
Mars isn't the only supplier cracking down on plastic – brands across the spectrum of fmcg have made similar moves over recent months.
November saw Ribena cut the plastic sleeves of its bottles in half in a bid for greater recyclability, while KP Snacks relaunched its Popchips brand in October with 10% smaller packs it said would remove 23 tonnes of plastic from the supply chain per year.
The news comes on the back of a rough year for Mars's confectionery business, whose lockdown sales were devastated by a mechanical breakdown at its factory earlier in the year. Over the 16 weeks to 8 August, sale of Galaxy, Maltesers and M&Ms plummetted 23.5%, 29.7% and 8.3% respectively [Nielsen].