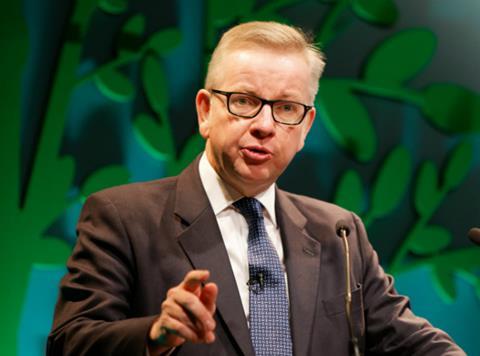 Environment secretary Michael Gove is to deliver a major blow to retailers today, as he signals the government will throw its weight behind an 'all-in' deposit return scheme.

Gove is expected to reject alternative plans for an 'on the go' system, favoured by retailers, despite the BRC claiming the more comprehensive model would cost £1.4bn to introduce across the UK.

In a speech at Kew Gardens today, the Defra boss will warn that "time is running out" to tackle what he refers to as the "plastic menace".

His backing for an all-encompassing DRS system comes after the Scottish government in May decided to push ahead with DRS that includes all types of plastic and glass materials - as well as all sizes of container.

The issue has caused a major split between retailers and suppliers, with the BRC leading opposition to the more comprehensive scheme, arguing it would cost a further £600m to introduce and instead urging ministers to concentrate on 'on the go' return facilities.

In February, The Grocer revealed Gove was considering watering down proposals for DRS with an option that would limit the scheme to containers of less than 750ml that are sold in single format.

However, Gove will today throw his weight behind a scheme for all sizes of containers. And following the Scottish decision, he will say it should also involve glass, despite widespread opposition from the industry.

Today's announcement of an 'all-in' system was welcomed by Gavin Partington, director general of the BSDA.

"We think this move makes sense," he said. "We have made the case for a GB-wide system and clearly with the Scottish government having set out its plan to have an all-in system by 2021, the onus is on the UK government."

Another source said: "The writing was on the wall after the Scottish government backed an all-in system. It would have been very difficult for the UK government to go for an on the go model. It would have left them open to huge criticism from the environmental lobby and would also have raised the possibility of chaos on the border, with two different systems."
BRC director of food and sustainability Andrew Opie said: "We need a targeted Deposit Return Scheme that complements kerbside recovery and works for customers.
"However, the inclusion of glass would create a significant challenge for consumers and businesses. Glass is a difficult, bulky material to manage and will be a heavy burden to consumers who must carry them back to their local shops, rather than recycle them at home.
"The addition of glass to a DRS also creates a huge cost implication – around £600m per year - for a retail industry that has already seen a sharp fall in both jobs and stores. This is on top of an annual cost of approximately £1bn per year associated of running a DRS for plastic bottles and cans.
"It is key that we develop a comprehensive UK-wide recycling system that complements our successful kerbside recycling schemes, works for households, and ensures consistent collection and recycling of waste."
The Daily Mail said Gove would say the all-in model would give "a clearer financial and social signal to recycle".

Gove's announcements come amid speculation over whether he will stay on at Defra after the results of the Tory leadership election. There is speculation some in the Tory party want to create a new 'super-eco department' to tackle the threat of climate change.

In his speech Gove is expected to say:

"Time is running out to make the difference we need; to repair the damage we as a species have done to the planet we have plundered. Nature is in retreat - we have seen a catastrophic loss of biodiversity across the globe as a result of man's actions.

"There is an economic need to act - because unless we restore our natural capital then we will have depleted soils incapable of yielding harvests or sustaining livestock, we will have oceans with more plastic than fish, we will have dried up or contaminated water sources and we will have severe weather events endangering lives and livelihoods.

"And there is a moral need to act - because, as Margaret Thatcher reminded us, we do not have a freehold on this planet.