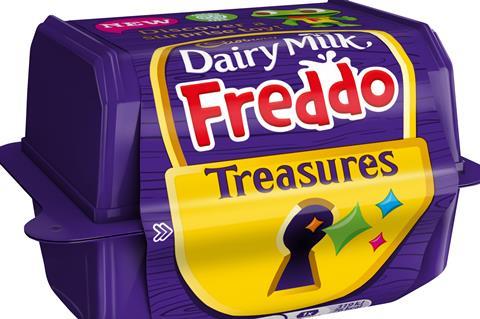 Snacking giant Mondelez has joined two high-profile initiatives focused on tackling plastic waste, as it seeks to further its sustainability efforts.
The Cadbury owner today (25 March) announced it was now a signatory of the Ellen MacArthur Foundation's New Plastics Economy Global Commitment and a member of the UK Plastics Pact. The two ventures share a collective ambition to address plastic waste and pollution at its source by moving toward a circular economy.
"The announcement marks an important step forward in Mondelez International's ambition to create positive impact for people and planet and achieve zero-net waste packaging," said the company.
It has set a 2025 deadline to ensure 100% of its packaging is recyclable, contains on-pack recycling information and contributes to the business's commitment to reduce CO2 emissions. Currently, 93% of its total packaging – both plastic and non-plastic – is designed to be recycled.
Sector-wide initiatives, in collaboration with government, were "key to reducing the impact of packaging on our planet" said Christine Montenegro McGrath, VP of sustainability & global impact at Mondelez.
"Through our partnership with the Ellen MacArthur Foundation and in joining the UK Plastics Pact, we are accelerating our work toward creating zero net waste packaging and improving recycling globally, and we are fully committed to their vision," she added.
The New Plastics Economy Global Commitment and its signatories are aiming to eliminate problematic or unnecessary plastic packaging by 2025, make 100% of plastic packaging reusable or recyclable, use at least 5% recycled content (by weight) across all plastic packaging, and move from single-use towards reusable "where relevant".
The commitment united "businesses, governments and others behind a clear vision of a circular economy for plastic" according to Sander Defruyt, lead of the New Plastics Economy.
"Our vision is for a world where plastic never becomes waste or pollution. It will be a challenging journey, but by coming together we can eliminate the plastics we don't need and innovate, so the plastics we do need can be safely and easily circulated – keeping them in the economy and out of the environment," he said.
By becoming a member of the UK Plastics Pact, led by Wrap, Mondelez has also committed to working towards the 2025 targets of eliminating unnecessary and problematic plastic packaging and products, ensuring all plastic packaging is recyclable in practice, and using recycled plastic in packaging wherever possible.
Wrap was "delighted" to have Mondelēz sign up to pact, said Wrap CEO Marcus Gover. "We are working together with governments, citizens and business to transform the way we make, use and dispose of plastic so that we retain its value, but prevent it from polluting the environment."