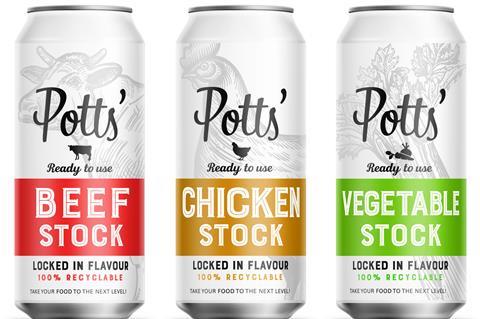 Fine food maker Potts' has kicked off efforts to eradicate single-use plastic, pouring a selection of its ready-made stocks into an aluminium 'beer' can especially for Tesco.
Potts' estimates it could save up to 1.1 million tonnes of plastic a year by switching to the 100% recyclable new format for its Beef, Chicken and Vegetable variants of ambient liquid stock. They will roll out from late October into Tesco, replacing the plastic pouch that will continue to be available in other retailers.
The 500ml can was "completely unique", Potts' claimed. Using relatively little energy, it could "be recycled an infinite amount of times in a closed loop recycling process. Consequently, this greatly reduces plastic waste and landfill pollution."
The eco-friendly pack was a "standard drinks can with a standard opening" and a recyclable label, said Potts' head of sales Ian Butt. Its similarity to a beer can is strengthened by the 'tssst' sound it makes when the seal is broken. This was due to the "bit of nitrogen" inside to prevent "a soft can" Butt added.
The result of "considerable investment", Potts' canned stocks have the same rsp and 18-month shelf life as its ones in plastic. They will be exclusive for six months in Tesco, which encouraged the brand to create is sustainable pack. "We think it's going to do well," Butt said.
If successful, Potts' hopes to roll the format out to other grocers, as well as extend it across the Wiltshire brand's portfolio, which includes gravies, table sauces, dressings and condiments.
Products containing vegetable chunks would probably require a "360 aperture", where the can's entire top was removed, said Butt, who estimated Potts' could remove almost 4.5 million tonnes of plastic a year from the waste stream.
The news comes after Tesco chief executive Dave Lewis last month said the supermarket would from next year "reserve the right not to list" products with excessive non-recyclable packaging – as part of its increased clampdown on plastic.