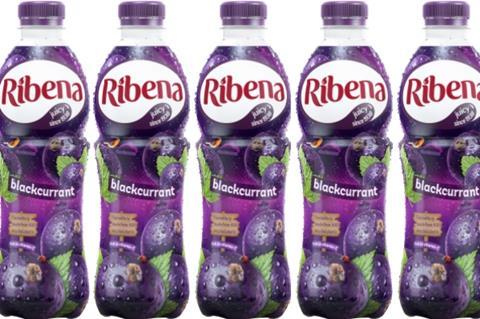 Some of Lucozade Ribena Suntory's best-known soft drink brands are set to be the first in the UK to have "100% sustainable" plastic bottles, according to the supplier.
Ribena, Lucozade Energy and Lucozade Sport were on track for PET packs that could "better prevent plastic pollution from harming our oceans and planet" LRS said.
It comes following a "major breakthrough" by bio-industrial solutions company Carbios. It has developed a process through which a newly created mutant enzyme breaks down PET waste into chemicals. They are then recycled in an "extremely efficient" manner into high-quality new packaging.
Carbios' enzymatic recycling process was "the first of its kind" said LRS. It heralded "a real transition to a circular economy" – and paved "the way for recycling PET fibres, another major challenge in guaranteeing a clean and protected environment for future generations".
The technology – reported in a peer-reviewed paper published in scientific journal Nature – has the backing of a consortium of industry heavyweights, including LRS parent Suntory Beverage & Food Europe, as well as Nestlé Waters and PepsiCo.
"Hitting our goal of 100% sustainable plastic bottles within a decade requires us to think differently, which is why we've invested in the Carbios consortium" said Suntory chief R&D officer Roberto Vanin. "Innovative ideas such as enzymatic recycling can help reinvent the lifecycle of plastic waste, turning post-consumer plastic waste back into a resource."
Caribos hopes to have scaled up its new tech to industrial level within five years. It offered "a way of avoiding mixed, coloured or food waste-contaminated plastic being lost" Vanin added. "We're excited to be at the forefront of worldwide efforts to enhance the recyclability of PET and bring a fully circular economy for plastic closer to reality."