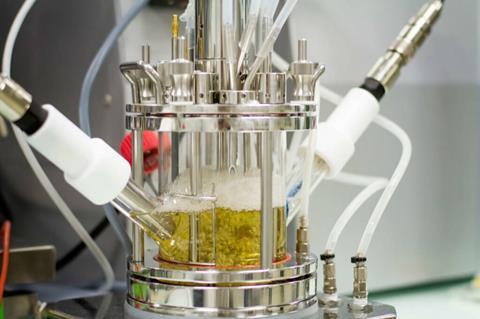 Nestlé Waters, PepsiCo and Suntory Beverage & Food Europe have announced a partnership with a consortium developing a means to return used plastic to its virgin state.
The trio of soft drinks giants are backing development of a recycling technology that uses enzymes to break down plastics.
The work is being carried out by a consortium founded by beauty multinational L'Oréal and Carbios, a bio-tech company, with the intention "to reinvent the lifecycle of plastic and textile polymers" and market the solutions on an industrial scale.
Nestlé, PepsiCo and Suntory today (29 April) joined the consortium to support development of Carbios' enzyme-based enhanced recycling technology, in a bid to support the circular plastics economy.
Carbios has developed a process that breaks down PET waste into its original 'building blocks', which can be used to produce high-quality material equivalent to virgin plastic.
The process can handle all forms of PET plastics and polyester fibres. It requires "limited heat" and no pressure or solvents, which improved its environmental impact, said the consortium.
Under the terms of a four-year agreement, Nestlé, PepsiCo and Suntory will aim to bring the tech to market and increase the availability of high-quality recycled plastics to fulfil their sustainability commitments.
The biological approach to enable plastics to be repeatedly recycled was "a world-first and moves the UK a step closer towards creating a truly circular economy for plastic recycling" said Michelle Norman, director of external affairs & sustainability at Lucozade Ribena Suntory, part of Suntory Beverage & Food Europe.
"We're pleased to be teaming up with Nestlé Waters, PepsiCo and L'Oréal on a shared vision and approach, as we work together to bring this latest sustainable technology to market."
The consortium's tech would help Nestlé Waters achieve its goal of increasing the amount of recycled PET content in its bottles "without compromising on quality" said the company's head of R&D, Massimo Casella. It would also "contribute to creating an environmentally sustainable world for the next generation" he added.
PepsiCo's ambition was to help create "a world where plastics need never become waste" according to its president of global foods, Simon Lowden.
"Achieving that requires collaborative efforts to drive transformative change across the packaging lifecycle. The consortium offers us the opportunity to accelerate the development of this promising enzymatic recycling technology, which, alongside mechanical and chemical recycling, can move us closer to a circular economy for plastics."
The news comes just days after Unilever eyed a commercial launch of its own work to convert waste plastic into virgin-grade material for use in food packaging.
The supplier announced a partnership with tech startup Ioniqa and Indorama Ventures, the world's largest producer of PET resin, in April 2018, to pioneer chemical-based technology.
On Friday, Unilever vice president of brand building foods & beverages Andre Burger said the first commercially viable 'resurrected' plastic would likely begin to appear in packaging "as a percentage inclusion from early next year