Supermarkets are tackling the problem of recycling flexible plastic and film packaging, but are these recycling points a long-term solution, or just a drop in the ocean?
A new kind of store fixture is popping up in prime position in hundreds of supermarkets. It may not look particularly exciting, but the flexible plastic recycling point is fast challenging the status quo.
As plastic waste becomes an ever more pressing issue, all major supermarkets have installed the fittings – be it on a trial or estate-wide basis – while brands have ploughed cash and support into the schemes. Efforts have only intensified over the past year, as a growing number of stores accept the full range of plastic packaging, from bottles to pouches to punnets.
They are working to improve a disappointing statistic: according to Defra figures, less than half (47.3%) of plastic packaging waste was recycled in 2020.
That's a big problem for the planet. Because the remaining 52.7% gets burned in incinerators or dumped, either in landfill or in the environment, where it leaches hazardous chemicals into the environment. Or it gets blown into the oceans, where at least eight million tonnes of plastic end up each year, according to the International Union for Conservation of Nature. Otherwise it gets sent abroad, where Greenpeace has warned the "dumping and burning" of plastic waste "poses a serious threat to people's health".
A major drag on the plastic recycling rate is film and flexible packaging such as single-use carrier bags, bread bags and confectionery wrappers, which are only accepted for kerbside collection by a handful of local authorities. This has resulted in recycling rates for plastic of this kind wallowing at just 5%, according to a 2019 Recoup household survey.
That's particularly worrying given that the material makes up a third of the estimated 2.4 million tonnes per year of plastic packaging in the UK market. And these materials are "the deadliest plastic items in the sea" says Greenpeace.
This isn't the only motivation for tackling the problem. The government is also making brands and retailers pay for their own waste disposal through the Extended Producer Responsibility (EPR) scheme, and there will be incentives to encourage higher recycling rates.
So how far are supermarkets and their suppliers going to boost recycling rates of this troublesome material? And are in-store recycling points a long-term answer or a sticking plaster?
What the retailers are doing to boost flexible plastic recycling
Supermarkets have stepped up their efforts to help the majority of customers who are unable to put flexible plastics in their home recycling bins. Rollouts of collection bins across store estates have accelerated, supported by suppliers also working to provide a solution to the postcode lottery of kerbside collections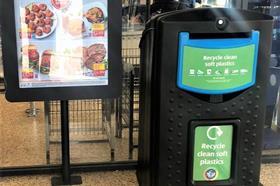 Aldi
In May, the discounter launched in-store recycling points for soft plastics at 20 stores across Yorkshire, Derbyshire and Greater Manchester.
Customers can drop off "all types" of clean, soft plastic packaging, irrespective of where it was purchased. Aldi is working with its recycling partner, SWRNewstar, to establish the best routes for the plastics to be processed, it said.
Aldi says it is monitoring the trial closely, and, if successful, the recycling points will be rolled out to all 900 of its UK stores.
Asda
In some Asda stores, shoppers can recycle plastic bags at specified bins. However, soft plastic collection points are limited. The supermarket says its target to reach at least 30% recycled content in Asda brand packaging is "helping to stimulate the market for recycled content, enabling investment in new recycling infrastructure and technologies".
Meanwhile, plastic film used in the transport of goods to stores gets returned to distribution centres, and some of it returns as an Asda Bag For Life.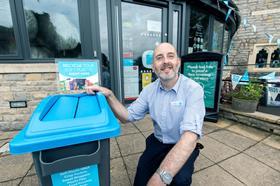 Co-op
Recycling units for soft plastics launched in 1,500 Co-op stores in July, with a total of 2,300 branches due to feature collection points by November.
The retailer estimates 300 tonnes of plastic bags and food wrapping could be collected per year once the bins are fully in place.
"By offering a simple and convenient solution to an everyday issue, we believe we can help communities to make small changes that together will add up to a big difference for our environment," says Co-op Food CEO Jo Whitfield.
Iceland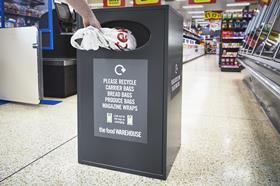 Iceland in July launched recycling points for soft plastics, introducing the bins in 13 branches of The Food Warehouse. The business plans to roll them out across The Food Warehouse's estate of about 140 stores in the year ahead.
The supermarket said it would collect data on the amount and types of plastic left by customers ahead of a wider rollout of the scheme.
"Reducing the production of plastic remains an absolute priority, but we are also keen to offer a convenient solution for recycling," says MD Richard Walker.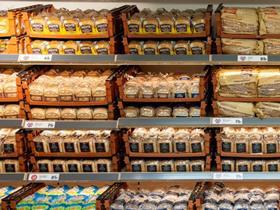 Lidl
The discounter this month announced the launch of a 'soft plastic' packaging collection trial from October in selected stores. Those stores will feature "easily accessible drop-off points" at their entry points.
Lidl has vowed all eligible soft plastics will be recycled into products, such as refuse sacks and construction products.
"By offering convenient solutions … we are hoping to give customers the opportunity to take small steps to reduce and recycle their plastic packaging," says Christian Härtnagel, CEO at Lidl GB.
Marks & Spencer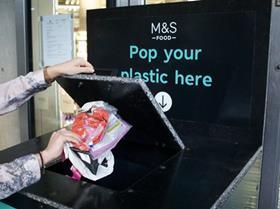 The retailer launched recycling points in stores in 2019 enabling customers to bring back non-recyclable plastic packaging. Customers can drop a variety of plastic packaging in the bins which have rolled out estate wide, including crisp packets and sauce sachets – "which aren't currently recycled by local councils and typically end up in landfill".
The collected plastic gets a "new life" the supermarket said - recycled into store fittings, furniture and playground equipment for schools.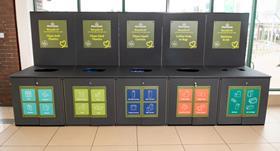 Morrisons
Morrisons this month launched six 'zero waste' stores in Edinburgh, which will be able to operate with zero waste – generated by the store or its shoppers – by 2025.
They feature recycling points for customers to drop off the full range of recyclable materials including soft plastics and plastic bags. This soft plastic will be turned into new eco board products in the UK.
Sometimes you need to take giant steps and we believe that waste is one of those areas," says its sustainability procurement director Jamie Winter.
Sainsbury's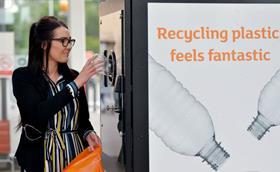 Over 2021, Sainsbury's has been steadily increasing the number of its stores offering soft plastic recycling facilities.
In February, a trial across 63 stores in north east England offered customers the opportunity to bring back polypropylene film – commonly used for items such as salad bags, frozen food bags and rice packaging – for recycling.
The supermarket joined the Flexible Plastic Fund initiative in May and has since widened the scheme to accept all flexible plastics at 520 Sainsbury's locations.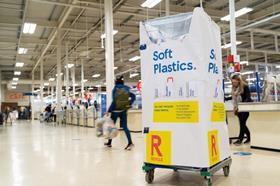 Tesco
The supermarket introduced soft plastic recycling points across 171 stores in Wales and the south west of England in March.
The move was a hit. At the trial stores, 85% of customers said it helped them recycle more than they would have done otherwise. Shoppers also reported they liked the convenience of being able to combine recycling with their shopping.
In August, Tesco rolled out recycling points into all its large stores – a move it says will collect more than 1,000 tonnes of soft plastics for recycling each year.
Waitrose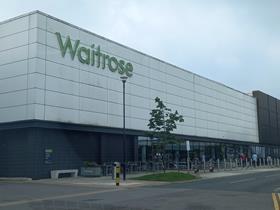 Waitrose in May announced plans to retrofit drop-off points historically used to recycle plastic bags to accept an expanded range of flexible plastics, including crisp packets, sweet wrappers, bubble wrap and cling film.
The trial encompasses 37 branches in the north of England, and permits all clean flexible plastics "that can be crunched up, stretched, squashed or unfurled".
The trial will be used "to provide critical insight on the volumes, type and level of contamination of the packaging collected".
The consumer will to recycle is certainly there. According to an Ipsos Mori poll conducted in 2018, 85% of UK consumers were either fairly or very concerned about plastic.
That is translating to action in many cases. A 2019 survey by The Grocer Vision and PwC found nearly a third of shoppers claimed to have switched their regular food brands because of their attitude to packaging. That proportion is even higher – 48% – among 18 to 34-year-olds.
Shoppers also expect the government to intervene on the issue. A recent poll conducted for Greenpeace UK by YouGov found 85% of people in the UK want the government to make retailers cut the amount of plastic packaging on the market.
And the government is acting in the form of EPR legislation. Set to come into force in 2024, it will force food and packaging companies to pay the full net costs of managing their packaging once it becomes waste.
"We are committed to providing solutions for recycling hard-to-recycle materials, such as film and coffee pods"
This includes the cost of collection, recycling and disposal, as well as criminal fly-tipping and litter collection. It's a big financial hit – the government's own calculation of cost to industry has rocketed from the £1.1bn estimated in 2019 to £2.7bn. Furthermore, from April next year, any plastic packaging items containing less than 30% recycled plastic will be liable under a new plastic packaging tax to be charged by HMRC at £200 per tonne.
Defra says EPR fees will be used to support waste management services, and in turn "the increased quantity and quality of recycling collected will help producers to meet packaging obligations and demonstrate that packaging placed on the market is properly recycled". Furthermore, there will be a producer fee 'modulation mechanism' to incentivise positive outcomes such as increased recycling.
Of course, not all of this is within the power of producers themselves. Only 17% of UK local authorities currently collect plastic film and flexibles in kerbside collections, in what Co-op has branded a "confusing postcode lottery". As a result, research by Morrisons in 2019 found two-thirds of customers are unsure whether they can recycle such plastics – including fruit & veg bags (64%), plastic wrap around toilet rolls (66%), and plastic bread bags (62%).
The role of supermarkets
So in many ways, it makes sense for supermarkets to step in to fill the gap with clearly signposted collection points. "Until we have consistent and comprehensive household collections across the nations, supermarkets play a critical role to enable customers to recycle key items not collected at home," says Helen Bird, strategic technical manager at Wrap.
Sustainability expert Professor Edward Kosior of Nextek also champions the role of supermarkets. "They're putting their hand up and saying, 'we've given you this material, bring it back and we'll do something with it'," he says.
"Supermarkets also have the advantage of reverse logistics. Trucks dropping food off at stores could leave full of recycling going back to the distribution centre for processing – that's almost carbon-free transport, which is great."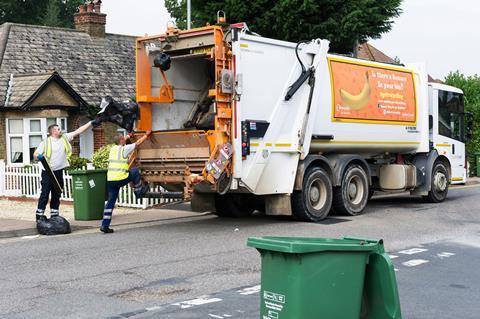 For Tesco's director of quality, Sarah Bradbury, the recycling points installed at its large stores in August "make sure that every piece can be easily recycled". In a recent sample, Tesco was able to recover over 80% of the soft plastic returned by customers. The recycled material is now being used to pack various products.
A project last year highlighted what results can be achieved through this method. Material collected from customers at 10 Tesco stores was sent to Plastic Energy, which converted the packaging into oil through an advanced recycling process called pyrolysis.
This recycled oil was used by chemical manufacturing company Sabic to make new plastic pellets that are "as safe and effective as virgin plastic". The pellets were then used by Sealed Air in one of their existing plastic packaging designs while still meeting the performance requirements of Tesco's own-label cheese supplier, Bradburys.
The supermarket is now working with recyclers to explore what can be done with the remaining 20% of soft plastic, currently sent for energy recovery.
Tesco isn't the only one experimenting. At Co-op, which installed points in 1,500 stores in July, the recovered soft plastic is sent to partner Jayplas. There, it is turned into post-consumer plastic granules, which are then made into products including bin liners, buckets and material for the construction industry.
Morrisons says flexible plastic collected from points at six stores will be turned into new eco board products in the UK – and "will not be sent overseas for reprocessing". The plan is to roll out the scheme to 498 stores.
Brands are supporting this work. In Morrisons' case, Nestlé – which has committed to all its packaging being reusable or recyclable by 2025 – has partnered with the supermarket to handle the soft stuff.
"We are committed to providing solutions for recycling hard-to-recycle materials, such as film and coffee pods, so we're delighted to be part of this initiative," said the company's UK group packaging manager Alison Bramfitt.
Archana Jagannathan, senior director of sustainability at PepsiCo UK & Ireland, also highlights the importance of "manufacturer and retailer initiatives to provide a critical boost to modernising the UK's recycling infrastructure". PepsiCo is a member of the Flexible Plastic Fund and is "collaborating with other brand owners to get more of this material recycled".
Plastic film and flexibles stats
1/3
Of the 2.4 million tonnes of plastic packaging placed on the market annually in the UK is plastic film and flexible packaging [Defra]
5%
The recycling rate for plastic of this kind, according to a 2019 Recoup household survey
17%
Proportion of UK local authorities currently collecting plastic film and flexibles in kerbside collections, according to Wrap research
70%
The UK Plastics Pact target for the proportion of total plastic packaging that will be 'effectively recycled or composted' by 2025
The £1m Flexible Plastic Fund is backed by PepsiCo as well as Mars UK, Mondelez International, Nestlé and Unilever, with an aim of making flexible plastic recycling "economically viable for recyclers and easier for consumers".
Crucially, the fund will guarantee a minimum value of £100 per tonne of recycled product to incentivise recyclers to process flexible plastic. All material will be fully traceable and tracked from the collector through to new products. Unlike other schemes, recyclers will only be paid if the plastic is definitely recycled.
Brands are also backing deposit return schemes (DRS), which are expected to boost recycling rates of other plastics – though the plans have been stalled in Scotland and England by the pandemic.
"We have long supported the introduction of a well-designed DRS across Great Britain," says Julian Hunt, VP, public affairs, communications and sustainability at Coca-Cola Europacific Partners. "We believe it is a vital step towards reducing litter, collecting a higher quantity and a higher quality of packaging for reuse, and helping to achieve our ambition of a world without waste." CCEP is working with Circularity Scotland towards this aim.
The collaborative impact of these initiatives, along with in-store recycling points, should help boost plastic recycling rates. "All these programmes put together play an important role," explains Jagannathan. "They're also starting to create a demand for the reprocessed material, incentivising the creation of the recycling infrastructure needed."
Kerbside collection
Here's the rub. Store collections have received "overwhelming customer support", according to Tesco, and research from the University of Sheffield suggests 95% of Brits would be willing to recycle their flexible plastics. But brands and supermarkets alike know the flexible plastic problem will only truly be solved with one thing: nationwide kerbside collections.
In-store collection points will capture "only a fraction" of grocery-generated soft plastics, says Kosior. "Because it's only the early adopters, the 'green greens', that will do this. So we can expect maybe getting 10% or 15% of what's out there," he estimates. "The majority of people don't care enough at the moment. You don't have that depth of enthusiasm. It begs the question, why don't we have a more uniform collection?"
Brands are asking the same thing. "We've been determined to play our part and are investing millions to find the best solution to tackle plastic waste, but these investments can only go so far," Jagannathan says. "Ultimately, we want the material to be collected consistently and at scale via household collection to ensure we have high recycling rates". That is coming. Eventually. Defra plans to include plastic film in its 'core set' of recyclable materials that have consistent kerbside collections by local authorities. "The inclusion of plastic films will simplify recycling for households and will contribute to achieving the ambitious plastic packaging targets that will be placed on producers," it says.
But plastic film is being treated as "an exception" to other recyclable materials – namely metal packaging, glass, paper and card and other types of plastic packaging – which Defra expects all local authorities to collect from October 2023. Councils have been given until "no later than the end of 2026/27" to implement collections for films, Defra says.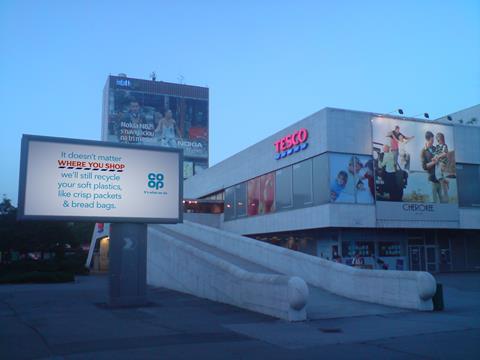 Producers want action much sooner – especially considering EPR is coming into force at least two years beforehand. "We want bread bags to be readily recycled as part of a consistent household kerbside collection, and then re-processed into other materials to ensure the bags remain in the recycling loop," says Chris Craig, Kingsmill's joint MD.
"This needs to happen earlier than the proposed date of 2026/27 and we are calling for all parties, from other bakery brands and our supply chains to wider industry partners and government, to work together in driving positive, lasting change."
Jagannathan is similarly pressing for more urgent action. "We want to see flexible plastic included as part of the core list from 2023, without the lengthy transition that's being proposed. We know this won't happen overnight, but Defra should be ambitious; the sooner councils start to collect this material from households the quicker we will see infrastructure investments and, ultimately, closed-loop flexible packaging."
The environment is right for these changes to be made. The introduction of DRS will further help the collection of flexible plastics by freeing up space on recycling collection vehicles, leaving them with a 36% 'average fill', according to recycling company Suez.
And besides, sorting centres will need to be reconfigured anyway after the loss of materials covered by DRS from kerbside collections, making them more ready to recycle flexible plastics.
"The responsibility cannot sit with supermarkets and suppliers alone," says CCEP's Hunt. "In order to create a truly circular economy, it is vital to implement the necessary infrastructure across the UK to ensure that packaging can be collected on a much wider scale."
The big suppliers have done their bit, so now should councils, argues Robbie Staniforth, head of innovation and policy at producer compliance scheme Ecosurety, which is leading the Flexible Plastics Fund.
"We hope that by boosting this infrastructure, government and local authorities will be motivated to quickly facilitate flexible plastic recycling in the UK by making it easy for consumers to recycle via household collections," he says.
But there's tension between recycling stream stakeholders about how fast things should be moving. In a 2019 government consultation on consistency in household recycling, most stakeholders supported the inclusion of plastic film in the 'core set'. But 42% of local authorities wanted longer than 2023. When mixed in with other recycling, plastic film has a tendency to snag on equipment and its inclusion "could require significant investment in sorting infrastructure", consultation respondents noted.
"Supermarkets play a critical role to enable customers to recycle key items not collected at home"
The Local Government Association argues that the later 2026/27 deadline still "may require councils to break or amend long-term contracts at significant cost" and is seeking guarantees that costs will be covered.
However, Wrap modelling indicates that it is possible for around 80% of local authorities to make contract changes within three years of 2023.
In the meantime, the government is placing the emphaisis on retailers and brands. "Until household collection of plastic film is fully in place, packaging labelling would need to instruct the consumer to take their film to the nearest front of store recycling point, or to check if the material can be recycled locally," it says.
So in-store flexible plastic recycling points may be a good short-term solution. But everyone involved in their development is hoping they will soon be obsolete.
"Our ultimate goal is to make recycling flexible plastics as easy as recycling a plastic bottle in your household recycling bin," says Jagannathan. "But we need the system in place to do it."
This article is part of The Grocer's Green Issue
Sponsored by