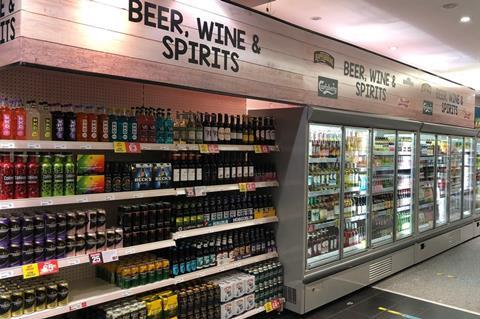 Poundland has launched beers, wines and spirits in the latest step in its transformation programme.
The booze 'shops in shops' are offering branded wines, gin, rum, vodka, ready-mixed drinks, lagers, ciders and real ales, supplied by Bestway Wholesale.
They include a four-pack of 568ml Carling for £4.75, a 75cl bottle of Blossom Hill red for £5 and a 35cl bottle of Gordon's Pink Gin for £10.
The trial has launched in three pilot stores, in Cannock, Stockport and Stoke-on-Trent, as Poundland tests which products should be part of a wider rollout in 2021.
Poundland is in the midst of one the biggest transformations in its history. Last year it introduced new multiple price points as it grew its grocery range and this year it has been busy rolling out frozen and chilled shops in shops, supplied by Fultons Foods, to about 60 stores.
In July, it announced plans to split its estate into three types of stores, 'convenience', 'core' and 'destination', each with a fuller range than the last. It also plans to launch online shopping later this year.
"We've been steadily expanding the ranges we offer customers and moving into beers, wines and spirits is the next logical step," said Poundland trading director Tim Bettley.
"We're already the go-to destination for our customers for groceries, health & beauty and household products, as well as Pep & Co clothing and homeware, so it makes sense to give them the convenience of adding their drink of choice to their shopping basket."
Last month Poundland launched a new home range, including towels, cushions, throws and ornaments. All its 800-plus stores have benefited from the range, while 120 larger branches have gained dedicated new displays for it.
The new BWS range includes:
Beers, lagers and ciders
Abbot Ale 500ml, £2
Guinness 4x440ml, £4.99
Carling 4x568ml, £4.75
Stella Artois 660ml, £2
Kopparberg Mixed Fruit 500ml, £2
Strongbow Dark Fruit 4x440ml, £5
Wines
Blossom Hill red 75cl, £5
Kumala Pinotage Shiraz 75cl, £5
Echo Falls Rosé 75cl, £6
Isla Negra Chardonnay 75cl, £5
I Heart Pinot Grigio 75cl, £5
Ardizi Prosecco 75cl, £6.50
Spirits and premix
Gordon's Pink 35cl, £10
Malibu Rum 35cl, £7.75
Smirnoff Vodka 35cl, £8.50
WKD Blue 70cl, £3
Jack Daniel's & Cola 330ml, £2
Gordon's & Tonic 250ml, £1.50