Demand for online grocery shopping has soared under lockdown. Our power list looks at who's managed growth best, and the challenges they now face, from retention to profitability
Online growth in grocery was slow before. Now it's on steroids. Millions of consumers have changed their food shopping habits. Overnight.

Estimates vary. Kantar puts share at 11.5% of all grocery sales and says the channel has attracted more new shoppers in 2020 than in the previous five years put together.

Nielsen puts the online share of the grocery market in the four weeks to 16 May even higher, at 13%. That's nearly double its share for the same time last year.

Dealing with the massive demand - which has come from all demographics, not just older people - has seen the leaders listed here pulling off feats unimaginable just months ago, fuelled by a desire to serve the most vulnerable in society and a devotion to customer satisfaction.

Is this, then, the 'new normal' for online grocery? And if so, what does it mean for the sector's online leaders?

It is fair to say that online grocery was not fully prepared for the national change in shopping behaviour sparked by the lockdown.

Websites and apps strained and sometimes snapped under the weight of traffic. Ocado pulled its app "due to performance issues driven by continued high demand" as its website wrestled with a 1,000% uplift in traffic, its systems thinking they were suffering a denial of service attack.

Waitrose.com was intermittently unavailable, which the supermarket blamed on "IT issues due to the amount of traffic on the site". Tesco, Sainsbury's, Morrisons and Asda were all struck by temporary website outages.

"The speed at which this traffic increase happened affected the ability of all retailers to keep their websites functioning," says Asda VP e-commerce Simon Gregg. "My team worked incredibly hard behind the scenes."

Virtual queueing systems were introduced. Several supermarkets stopped onboarding new customers completely. Available delivery slots were pushed weeks into the future.
Increasing capacity
As immediate technical issues were being ironed out, the supermarkets worked flat out to increase delivery slots.

"The online team met several times a day and we worked to make meaningful progress every 24 hours. This meant fast decision making, even when all the data was not available," says Tesco MD online Chris Poad. Tesco has increased the number of online orders fulfilled each week from 590,000 in the first week of the crisis, to more than 1.4 million.

"At the time, we didn't know how we were going to get there. However, we found and implemented about 50 different ideas to maximise the number of customers we could serve - mostly through our existing assets," Poad adds.

Asda has grown capacity from 450,000 slots to around 725,000. Sainsbury's has doubled capacity to 600,000 online slots per week.

Iceland has increased its online delivery capacity by 250%. "This task, which would typically take years, was achieved in weeks," says chief customer and digital officer David Devany.

Thousands of new staff have been employed to pick these orders from stores and in warehouses, and deliver them to customers. They are starting earlier and doing more than ever before.

Even Ocado, with no stores from which to increase picking, has squeezed out extra capacity by keeping sites running longer "at best-ever efficiencies", hiring more workers and reducing range. Suspending sales of mineral water, for example, means it can deliver to 6,000 additional households per week.
"Thousands of new staff have been employed to pick orders. They are starting earlier and doing more than ever"
Others are meeting the challenge with the help of external partners. Morrisons and Amazon have extended their collaboration, more than doubling the number of stores groceries are picked from to serve Amazon Prime Now members.

Deliveroo has also proved a key player, signing and extending deals with Co-op, M&S and Aldi, among others.

All this has been done against the backdrop of commitments to prioritise the most vulnerable, those stuck at home shielding from coronavirus, for whom online grocery was the only option to access food. Many in our power list have much to be proud of in this area.

"The overall scale of what we needed to do and the speed at which we had to operate was immense," says Sainsbury's retail and digital director Clodagh Moriarty. Now demand for online grocery has "somewhat stabilised" she says. But it has done so at an exceptionally high level.

"Demand for delivery slots across all grocers is well ahead of the supply," adds Waitrose digital director Ben Stimson.

Is the high demand here to stay? There is an air of caution from industry players in making predictions about what will happen over time. One supermarket CEO likened the act of forecasting right now to shaking a magic eight ball.

Even Amazon, with its wealth of online customer data, cannot be drawn. "We have learnt over the years that it is hard to predict the future so we tend to put our energy into focusing on the things we think are not going to change," says UK boss Doug Gurr.

There's universal consensus, though, that this has been a game-changer in accelerating the switch to online grocery. Iceland's Devany believes "the past few months have completely changed the retail landscape; we've acquired many new customers that may never have shopped online before, and whilst we expect some of them to return to in-store shopping, we will likely retain even more as online customers," he says.

For Asda's Gregg, the recent growth "marks a new high point for online grocery in the UK market. Demand will remain, and I believe it will increase."
How long will demand last?
There are many factors at play. The speed at which restrictions are lifted, and how soon people feel comfortable frequenting stores again. Let's face it: physical stores have yet to make the shopping experience enjoyable again. A Shopmium survey of 2,066 UK shoppers published this week found 74% feel more nervous about making supermarket visits than they did at the start of lockdown. And while queueing outside isn't so bad in the recent hot weather, doing the same in the cold and rain is something most will seek to avoid.

Adds Poad: "No one can predict whether the current demand will continue and for how long. However, it's safe to say that if demand for online grocery shopping subsides, it will return to a higher baseline than we saw prior to the pandemic."

Attention is now turning to making the massive growth of the channel profitable.
"This demand is going to drive some lasting problems for grocers"
"This is going to drive some lasting problems for grocers - it's well documented that online is less profitable than stores, but when it was just 5% to 7% of sales it was a burden that could be managed. When online sales are 15% of your gross sales, coming from your best customers, you can't afford to ignore these issues," says Publicis Sapient retail analyst Halliwell.

Profitability issues are worse for those that have leaned heavily on external partners like Deliveroo, he adds. "Delivery businesses are a lot more expensive than internal fulfilment and they need to turn their own profits, Looking longer term, they are part of the profitability problem, not a solution to it," Halliwell explains.

With labour costs soaring, grocers will be seeking to better automate the process to reduce ballooning payrolls, leading to a "significant shift in investment" towards automation and robotics, Halliwell adds. The question is how.
Dark stores and automation
The advantage of store-picking online models is proximity to the customer base and incremental labour costs, but with extra demand and social distancing, they are becoming more resource-intensive. So Waitrose, as well as adding in-store picking at more stores, last month opened a second CFC in Enfield (adding to the one in Coulsdon) as it gears up to compete following the loss of the Ocado contract. It will employ 850 people when running at full lick.

On the other hand, dark stores are hugely costly in terms of capital outlay, and with lots of spare space in its huge Extras, Tesco has switched its focus from its 'dark stores' (it has six) to omnichannel stores featuring greater automation. Pre-pandemic it outlined plans to roll out 25 automated urban fulfilment centres - using Takeoff robotics - in the back of larger stores over the next three years. Given Walmart's investment in Alert Innovation-made robotic CFCs in the US, a similar move by Asda seems likely. As to Morrisons, it says it is expanding stores to provide space for thousands of Amazon order packers, but it's not clear how automation might play a role.

Ocado's solution to this age-old conundrum is a hybrid, with smaller automated facilities set to become a strategic priority. Its micro-CFC rapid grocery Zoom facility in Acton has achieved "planned end game capacity" a year ahead of plan, while the first mini-CFC in Bristol will open by the end of 2020 or early 2021 - opening the door to further regional rollouts.

Another approach is to tempt newly won online customers into stores and click & collect, where their custom is more profitable.

"The key focus for grocers now has to be retaining those new online customers post-lockdown, and converting them into omnichannel customers," says Miya Knights, head of industry insight at Eagle Eye.

"Their next phase should focus on building relevance and consistency across their online and store channels, and recognising and rewarding their best customers that shop across both," she adds.

Some of our power list are already on the case. Moriarty alludes to this work when she says: "What this period has shown is that we need to offer our customers a choice of both physical and digital ways to shop with us quickly and conveniently."

Poad shares a similar strategy. "Hardly anyone, including me, exclusively shops online for food," he says. "Our mission is to continue to grow with our customers' demand, continue to exceed their expectations, but ensure we create seamless experiences whether they're shopping online, doing a big shop in a large store or topping up their shopping in a convenience store."
Tim Murray
Director, Newton
There's no doubt the Covid-19 crisis has accelerated the move towards online. Kantar figures show more new online grocery shoppers in 2020 than in the previous five years, with online now making up 11.5% of grocery sales. That equates to nearly one in five British households having ordered groceries online in the past four weeks.
While some retailers have fared better than others, as a whole the industry has done a good job at stepping up capacity to service this surge in demand. It won't feel like it right now, but I'm afraid to say that's the easy bit. The real challenge, and the big opportunity, is to retain these new customers while structural change is put in place to meet the full demand in an effective and efficient way.
During the crisis many customers are just happy to get a delivery containing most of the essentials. That sentiment won't last. As lockdown starts to ease, customers will become much more demanding on product availability, their concerns over the freshness of produce will resurface, and the need for convenient delivery slots will return. So now is the time for retailers to ensure their online proposition is attractive.
Achieving the best medium to long-term result requires prioritisation of customers. This is where the chief digital officers on this list can really earn their salt.
Digital has a huge role to play to provide the data-derived insight needed to make the right decisions.
Modelling which customer groups are most valuable and tailoring the proposition to give them a great experience will make or break whether online revenue growth delivers increased profit.
Power List: the 10 most influential players in online shopping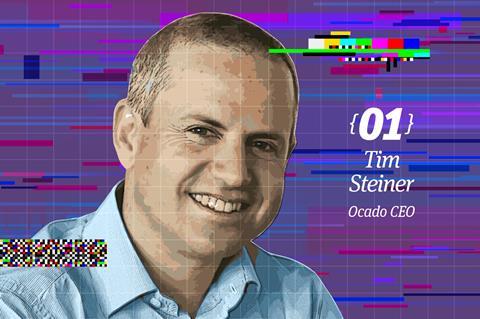 The balance of power within grocery has changed. Even before the pandemic, Ocado's market capitalisation easily exceeded that of Sainsbury's and Morrisons. Under Tim Steiner's inspired leadership, it's now more than three times their size – and while Tesco is still larger, it's retreating internationally, while Ocado continues to expand its global footprint. Indeed, such has been Steiner's success, Tesco was forced to remove Ocado from its competitive set, just so its senior team could get a decent bonus.
Of course, Ocado is not entirely a grocery company. It is partly: Ocado Retail is edging close to 2% of the total UK grocery market, and 14% of online, and was outperforming even the discounters ahead of coronavirus. Even more so now. Ocado Retail was able to grow revenues by 40% in Q2 – despite the devastating fire at Ocado's Andover CFC last year limiting capacity. And now with its own CEO, Mel Smith, its share could grow still further, as its joint venture with M&S goes live this September, while plans for further mini- and micro-CFCs accelerate.
But Ocado is best thought of these days as a solutions company, or as Steiner describes it "a technology-led, global, software and robotics platform business with a strong retail heritage". And through its Ocado Solutions business, which has UK and international arms, Ocado has been signing up a slew of grocers globally. This year marked delivery of the first international CFCs to Groupe Casino in France and Sobeys in Canada. Kroger in the US has commissioned up to 20 CFCs, and more are being built for Coles in Australia and Aeon in Japan.
The pandemic brought Ocado "quite a different challenge to many" Steiner says, as it had to help its clients "launch their online businesses more rapidly". And more potential partners will be knocking "as the migration to online globally gains pace", he adds.
Meanwhile, Ocado's technology division is automating still more of the fulfilment process, rivalling Amazon in terms of innovation.
The secret to Ocado's success? It's down to its "most important characteristics: resilience, innovation, focus and execution", says Steiner. A reflection of the man himself.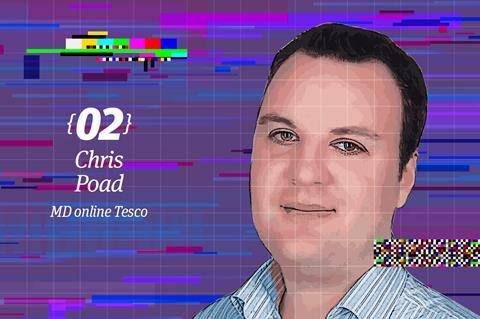 It's no idle boast. "In six weeks we've built a grocery delivery business that is probably the biggest in the world," Tesco CEO Dave Lewis noted. But despite doubling online grocery orders to 1.2 million a week, it isn't stopping there. "We know there's still more we can do and we'll keep working hard to find ways we can serve even more people through this time," Chris Poad says.
It's been a mammoth effort for Poad, who only joined the company in October following more than a decade with Amazon.
Growth in slots has mostly been achieved by ramping up in-store picking. "We've rapidly changed our online business to help create more slots for people that need them most – from recruiting thousands of new colleagues to changing the way we pick and pack orders," Poad explains.
Those additional labour costs are likely not sustainable in the longer term. Fortunate then that Tesco has already laid out plans for 25 highly automated urban fulfilment centres to be installed in the back of large stores, ready to be rolled out post-pandemic. Having won so many new online customers, Poad's challenge now is to keep them – and make their custom profitable.
Its French operations were disrupted by striking workers concerned about contracting coronavirus, and in the US protests have seen Amazon scale back deliveries in several major cities. By comparison, Amazon UK has had it easy, but it's not been all smooth sailing for the e-commerce giant.
"Our biggest challenge has been balancing capacity and demand," says Doug Gurr on how Amazon has dealt with the pandemic. "Demand has been strong, but capacity has been slightly down following over 150 process changes to our operations to ensure our employees are safe."
It's been quick to adapt – working around capacity and demand issues by temporarily refusing to stock certain items in its warehouses in March. It has since changed the length of delivery windows and at the end of the month will kill off Amazon Pantry.
Amazon's leadership principles serve as a guiding light for decision-making. "Customer Obsession and Think Big have been two particularly important principles and our teams have had to think about different ways we can serve our customers and communities during this time," Gurr says.
Amazon's growth in grocery is chiefly coming via its partnership with Morrisons, rapidly expanding its Prime Now delivery service from 17 to more than 40 stores in two months. If its Deliveroo deal is permitted, Amazon will be involved in the grocery operations of Co-op, M&S and Aldi as well.
"We've also increased our ability to serve Prime Now customers from our own fulfilment centres, meaning more customers can benefit from same-day and next-day grocery delivery from Amazon," Gurr adds. As The Grocer reported, there's a new Ultra Fast Fresh service on its way, too, and an Amazon Go store in London is currently under construction.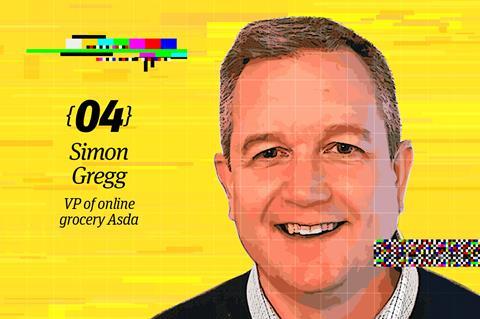 The challenge for Asda in meeting the demand for online grocery during the pandemic has been three-fold, says Simon Gregg: the first "to significantly increase physical capacity of online in our stores and home shopping centres", the second "to work out how to resource for the increased levels and adapt our operating model to pick significantly more while still getting vans out on time" and the third, to keep the e-commerce site "stable and available" amid record levels of traffic.
Asda adapted quickly – making the most of the space it had in stores, acting first "where it was most needed" – including the use of "temporary 'pop up' online operating areas". Additional delivery vehicles were acquired and click & collect capacity increased significantly. In-store picking now starts at 2am instead of 5am. The result: an additional 300,000 delivery slots per week.
This was done while going further and faster than rivals in helping those shielding, with regular slots and free delivery, as well as a "market first service" providing dedicated slots for 3,600 care homes.
Gregg, who in his four years with the supermarket has "seen us grow to be number two in market share", leads by maintaining an all-inclusive culture "where all feel comfortable to contribute". "So we get the best out of the whole team and do a brilliant job for our customers," he says.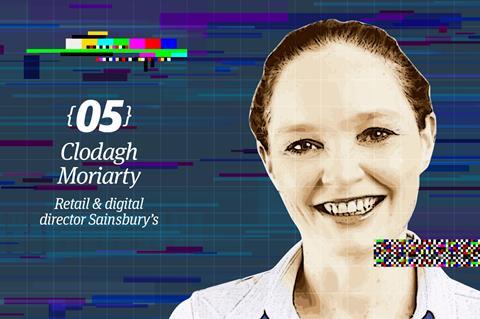 "As our customers' lives have changed over the past two months, so have we," said Sainsbury's new CEO Simon Roberts on his first day in the role this week.
To reflect that change – which has seen Sainsbury's increase online delivery slots to 600,000 per week and expand its rapid Chop Chop service to 50 stores – one of Roberts' first actions as CEO was to promote Clodagh Moriarty to the new role of retail & digital director.
Combining Roberts' old role as retail ops director with Moriarty's online responsibilities shows how crucial online integration is to Sainsbury's strategy – and how highly rated ex-Bain strategist Moriarty is too.
"To ramp up our online grocery delivery capacity, we've had to innovate quicker than we ever have before to offer our customers more of what they need right now," Moriarty says. Mobile scan and pay, click & collect, and rapid delivery service Chop Chop have also been extended, "to adapt and leverage them to meet these new challenges", she adds.
With demand for online deliveries now "somewhat stabilised" following "an exceptionally challenging period to satisfy as many customers as possible", Moriarty is now taking stock of how Sainsbury's creates a culture "where our teams can feel bold, brave and part of something great" – built on the "very clear" principle of "doing the right thing for our customers and colleagues".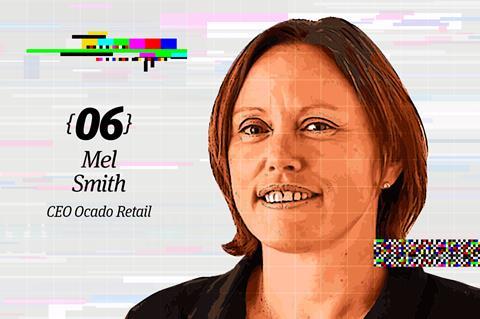 Early last year, Ocado and M&S formed a 50/50 joint venture: Ocado Retail. Its inaugural CEO joined from M&S, where the Kiwi was strategy director, with a remit to grow sales – aided by a supply switch from Waitrose.
As online grocery demand swelled in the pandemic, Ocado appeared to falter. Facing 10 times normal demand it temporarily stopped taking orders, and then stopped taking on new customers. "We've had to make some difficult decisions," Mel Smith wrote to customers.
But by squeezing more capacity from its CFCs, Ocado's Q2 sales rose 40%. Bullish Smith will be looking not only to maintain sales levels post-switchover but to switch new converts to online grocery. To do that she'll need more capacity – and to change perceptions about Ocado's value versus the big four.
Having built its brand on delivering take-aways for restaurants, Deliveroo has emerged during the pandemic as the partner of choice for all manner of grocers wanting to quickly establish and grow online grocery offerings.
After a rocky start to the year – with its investment from Amazon under threat from the CMA and its restaurant partner base on the ropes as a result of lockdown – Will Shu has capitalised on the demand from customers in the grocery sector, forging and expanding deals with Aldi, M&S, McColl's and Co-op.
"We want to do everything possible to help people get the food they want and need during this worrying period. We hope we can play a role in supporting people who have to isolate to get the food they need," Amazon-idolising Shu says.
The present boost to the business could work against Deliveroo: the CMA provisionally let its merger with Amazon through based on its dire financial situation as a result of restaurant closures. Its rivals argue this is no longer a valid reason for the let-off, given its current success. The CMA's final decision comes later this month.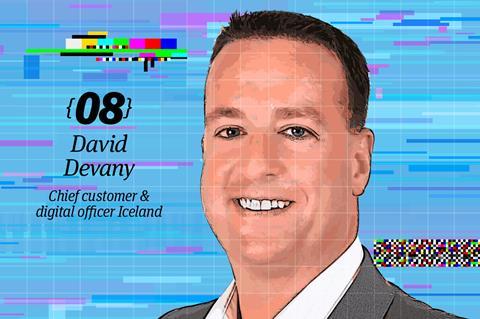 During David Devany's four years at Iceland, his team has redesigned and replatformed the website to become "the fastest-growing online grocer".
But in the pandemic, Devany has put aside the "usual metrics", with Iceland's priority "always clear: to get as much shopping as possible to customers that need it most".
So, even before government shield lists were shared, Iceland put a 'think before you book' message on its website that encouraged customers able to shop safely in stores to do so. Later, more than 400,000 shielding customers were offered priority booking slots.
"The speed at which we've adapted, and knowing we're helping customers who need us, now more than ever, is a massive achievement. I couldn't be prouder."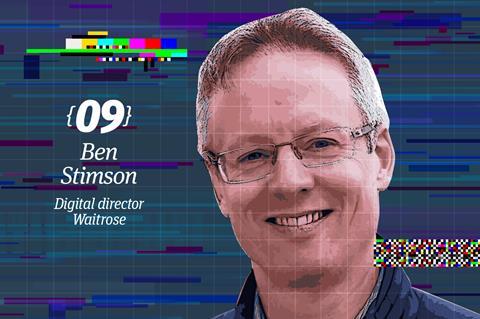 Coronavirus came at a curious time for Waitrose: it was busy preparing its own online operations ahead of severing ties with Ocado in September. Those preparations proved a "big advantage" says Ben Stimson, and it is thanks to "the herculean efforts of the entire team that we were able to finalise and pull forward our plans by six months".
Waitrose has grown its online business by over 100% in the past 10 weeks, a replatforming of the website is close to completion and a £100m capital investment programme has been accelerated. Capacity in London has been doubled and more stores are now doing deliveries, bringing total online customers to more than 140,000 per week.
"While I wouldn't say for one moment we were ready when the crisis hit, my job was to make sure we moved as fast as we could and that we had the confidence we could pull this off," Stimson says.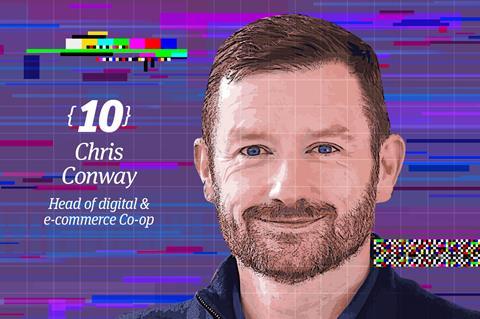 Co-op's online offer was "in its infancy" when the pandemic hit, but it met massive demand with "the most accelerated rollout of online grocery the market has seen in recent times", Chris Conway believes.
The Co-op's advantage lies in its store network which act as "local micro-distribution hubs" – 650 will be fulfilling online orders by the end of the year, Rapid delivery is key. "Why should a customer have to wait until the next day, or longer? I knew from day one at the Co-op we were best placed to deliver this service, as we are closer to our customers and agile enough to roll out quickly," he says.
Partnerships with Deliveroo, robot delivery service Starship and most recently Buymie have "super charged" this work.
Conway is a 'servant leader'. "I back them when they have ideas, and let them know it's OK to speak out – no idea is a bad one."