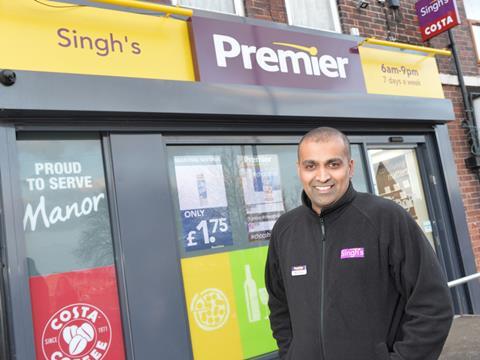 Booker has refreshed the Premier symbol fascia with an updated look and mission-based layout.

The concept has been trialled at Singh's Premier in Manor, Sheffield, where sales rose 35% in the seven weeks following the refit. It will be available to retailers from April.

The new fascia features the Premier name boxed off and centred above a grey shopfront, while keeping the purple and yellow livery. Inside, there is a greater focus on bigger value packs of household and ambient, where suitable, to allow retailers better sales and higher PoR.

"We are always looking at new ways to help retailers sell more and make more," said Premier director Martin Swadling. "With added pressures such as auto pension enrolment, tobacco going dark and the living wage, it is more important than ever that we achieve this."

To increase profitability, the new Premier model has more food-to-go options and includes mission-focused areas such as the new Kid Zone, which features self-serve slushie machines delivering 60p profit for every 80p cup sold.

The average refit will cost £30k-£50k and take four weeks to complete.