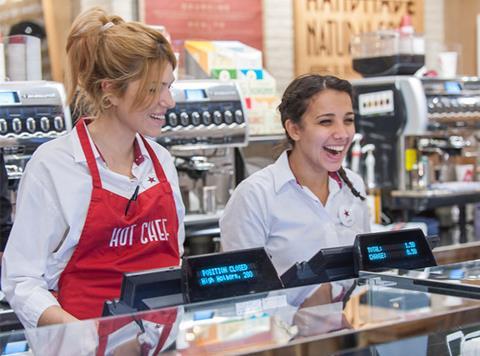 Pret A Manger is launching a new work experience scheme to encourage more British job applicants in the wake of Brexit.
Pret's Big Experience Week, which will be launched this summer, will offer 500 one-week work placements for 16 to 18-year-olds in the UK.
The company says the initiative, which will include work in food production, customer service, finance and social responsibility, will address the issue that only one in 50 applicants to its London recruitment centre is British.
"As we head towards Brexit, this statistic has generated a lot of discussion," said Pret HR director Andrea Wareham. "Attracting British applicants is not exclusively a Pret problem, and is symptomatic of a wider cultural bias. British schools and parents don't always take careers in the hospitality industry seriously, but they really ought to.
"The industry has changed dramatically over the past 20 years and today it is strong, dynamic and growing. Around 20% of all new jobs created in the UK since 2010 have been in hospitality - a pace of growth that fuels brilliant careers."
To support the initiative, Pret said it would increase its recruitment advertising, share information about working for the chain on social media, double the intake of its School Leavers Programme and work with Jobcentre Plus.
Prime minister Theresa May confirmed this week that she plans to trigger Article 50, the mechanism by which the UK will leave the EU on Wednesday (29 March).